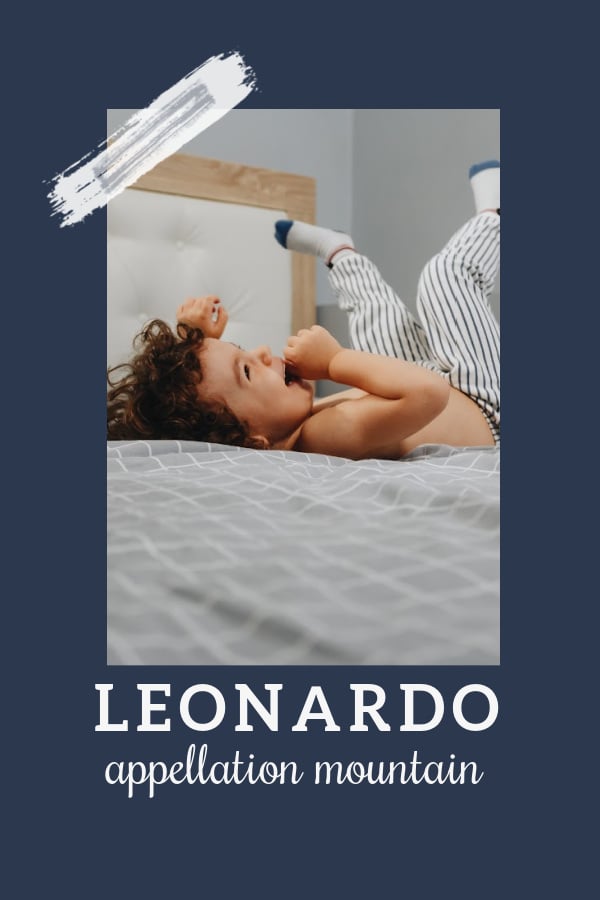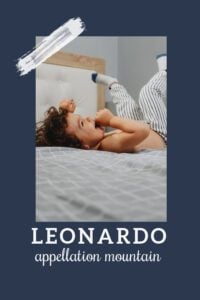 The baby name Leonardo belongs to the original Renaissance Man and a Hollywood A-lister.
Oh, and a Ninja Turtle, too.
Thanks to Kelly for suggesting our Baby Name of the Day.
LEONARD OF NOBLAC
Like so many names in long use, this story begins with a saint.
During the sixth century, the nobleman Leonard of Noblac converted to Christianity. Rather than accepting a comfortable bishopric, he devoted his life to working with prisoners before entering a monastery.
Miracles aplenty are attributed to him, from helping a queen safely deliver a male heir to convincing prisoners to reform their ways. He was kind of a big deal.
Some recorded his name as Linhart and Lienard, but Leonard appeared, too.
Names like Leontius were in use during the early medieval era, which makes Leonard fit right in.
LION
They all come from the Germanic lew – lion, via the Latin leo or maybe the similar Greek word – paired with a variety of other endings.
The baby name Leonardo's –hart meant brave, so Leonardo is brave as a lion.
LEONARD
Before we talk about the baby name Leonardo, let's look at Leonard.
From 1880 to 1957, Leonard ranked in the US Top 100. That's a lot of Leonards – and Lennys and Lens and Leos.
Here's the thing: the baby name Leonardo is simply the Italian and Spanish form of Leonard. Odds are that some of those American Leonards were still Leonardo at home with grandma.
Today, though, Leonard languishes. It ranked just #634 as of 2020.
And the baby name Leonardo? It's white hot.
DA VINCI
It's hard to think of a more accomplished figure than Leonardo da Vinci. His achievements range from painting the Mona Lisa to pioneering flight with sketches of a helicopter.
Da Vinci was wildly, rock star-level famous during his lifetime. And he remains a household name, more than 500 years after his death.
Visit Salt Lake City's The Leonardo museum to explore the intersection of art, science, and technology. There are ships, public squares, colleges, and even a crater on the moon that bear his name.
Still, da Vinci wasn't the only notable Leonardo. Mathematician Fibonacci, a pair of saints, and an early Renaissance historian also wore the name.
DICAPRIO
Then there's Oscar-nominated actor Leonardo DiCaprio.
His first appearances were as a child in the 1990s.
By 1993, roles in This Boy's Life and What's Eating Gilbert Grape brought him considerable praise.
Then came 1997's Titanic. As the ship went down, DiCaprio became a superstar.
Since then, he's racked up five more Academy Award nominations, including a win for 2016's The Revenant. He's played Jay Gatsby and Howard Hughes. And he's become – just like da Vinci – a household name.
BY the NUMBERS
It's the actor that gets credit for pushing the baby name Leonardo into the spotlight.
In 1997, the name ranked #357. After diCaprio's star turn as the ill-fated romantic hero Jack, the baby name Leonardo shot to #257.
The 1999 single "Hey Leonardo" by Blessid Union of Souls? A DiCaprio shout-out.
The name has climbed steadily, reaching the Top 100 in 2016, and standing at #86 as of 2020.
COWABUNGA
DiCaprio might get credit for the name's rise.
But we're back to da Vinci for the other famous Leonardo.
Created in 1983, the quartet of mutant turtle superheroes all take their names from Renaissance artists: Donatello, Michelangelo, Raphael, and Leonardo.
The heroes in a half shell dominated the late 1980s and early 90s, as action figures, comic book characters, and a popular cartoon.
Reboots, live action movies, and video games – to name just a few of the spin-offs – have never stopped.
Leonardo is the leader of the pack, the level-headed strategist.
And yes, he's named for da Vinci.
ROMANTIC and ACCOMPLISHED
Overall, the baby name Leonardo presents as both romantic and accomplished.
It's not quite as dramatic as Romeo or Orlando. But it's got more oomph than Arlo or Milo, or, for that matter, just plain Leo.
Though – for what it's worth – both Leonardo and Leo followed a similar trajectory, with Leo also rising post-Titanic.
Creative, charismatic, and accomplished, it's easy to see the tremendous appeal of this name.
What do you think of the baby name Leonardo?
First published on September 22, 2010, this post was revised and re-posted on October 19, 2021.