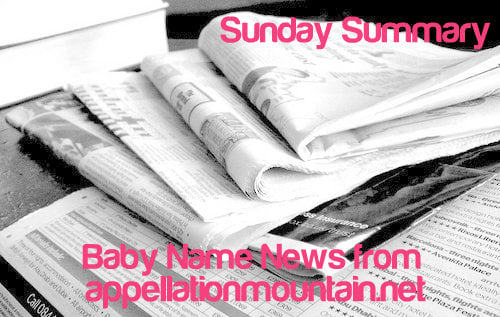 A few years ago, I left home without my grocery store loyalty card.  It was one of those stock-the-pantry trips, so when I reached the register sans card, I hated to check out without it.  The cashier handed me an application, and in a moment of whimsy, I filled out another name: Cordelia Chase.
She's a creation of Joss Whedon's on Buffy, the Vampire Slayer.  She's one of my favorite fictional character names, but I still can't explain why I settled on Cordelia and not, say, Blair Warner or Laura Ingalls Wilder.
Somehow, my original card never surfaced and I now use Cordelia's card exclusively.  I was reminded of that yesterday, when after a quick trip through the express lane, a polite young cashier named Demetrius said, "Thank you, and have a nice day, Mrs. Chase."
It's fun to have another name sometimes, even at the Safeway for a few seconds.
Back to the baby name news:
That's all for this week!  As always, thank you for visiting and have a fabulous week.