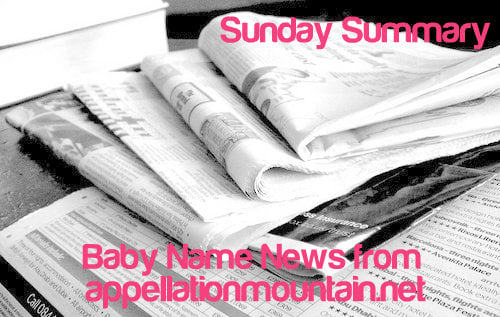 Let's start this week with a predicament: Swistle tries to help another family trying to avoid trendy names, when their tastes run to Camden and Avery, Beckett and Hadley. I love this quote:
Here is what I think is making you stuck: you want to avoid trendy, common names, but your tastes are absolutely on-trend. Every single name you like, every single sound you're attracted to, is what is in style right this minute. What it comes down to in these cases is which is more important to you: a name that fits your preferences for unique, or a name that fits your tastes?
There are some great suggestions in Swistle's lists and in the comments, but it is a tricky question.  If you love a name, how popular does it have to be before you'll pass it up?  And is it reasonable to let a name go because of its popularity?
Elsewhere online, in baby name news:
On the same note, if you love Olivia, would you consider Odilia or Olympia instead?  Elisabeth has plenty of other suggestions.
There are popular names, unusual names, and then there are nearly one-of-a-kind baby names.  Nancy turned up a bunch of true rarities in Ontario: boys called Warsame and Kalervo, girls named Mimma, Verdun, and Jeanne D'Arc.  That last one surprised me – I'm all for Joan and Jeanne, but Jeanne D'Arc seems like too much to live up to!
Do you have a great-grandmother named Mary?
Loving Eponymia's round-up of 2012 royal births.  Few of these were high profile enough to make baby name news, but they are a terribly intriguing set.
Joe Jr. somehow lost out on a middle name!
I'm all about Swithin and Kasiani on Nameberry's newest finds list.
Another unusual and pleasingly preppy possibility: Collins, profiled by Blue Juniper here.
This is a very pretty name, but is Dimity too delicate?
Wild dolphins have personal names.  To date, no dolphins have name blogs, but I'll be on the lookout.
Names big in Baltimore – Harper makes the Top Ten.  I can't wait to see what Harper ranks when the 2012 data is released in May.
That's all for this Sunday.  As always, thanks for reading!