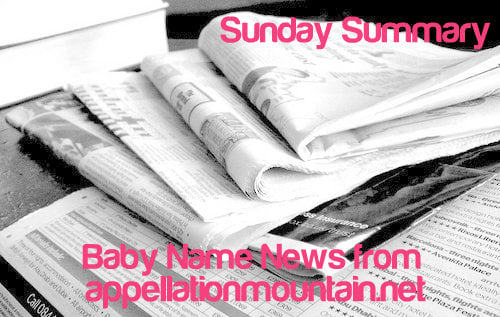 Hello!  This post is going live much later than usual thanks to our Big Family Adventure of the day.  We went to Medieval Times.  We wore the paper crowns.  We cheered for our knight.  We ordered blue slushies in light-up cups.  (One can safely assume that the blue slushies were not authentic.)  And so I rushed home to look up this post on Medievalizing the Top 25 Girls' Names.  So much fun to write …
Elsewhere in baby name news:
If baby #5 is a boy, can you help this family think of a C name?
What do you think of Sybella?  I kind of love it as a substitute for Isabella, and at the same time feel like it is so close to that heard-everywhere name that it would be irritating.
Love the room.  Love the name Hazel, too.
For Real spotted a Daison.  I love the Day sound, but it occurs in so few English language names.  (There's Uday, but I'm not sure he works outside Indian circles.)  Daylee, Dayson – they feel too nouveau to me.  Are there any other possibilities that share the upbeat sound?
Surprises in the Dutch baby name game.  Dante and Luana, anyone?
Speaking of Dutch, Anouk features in the Nameberry tag cloud right now.  Is it wearable?
My favorite Siblings Spotlight at British Baby Names ever!
Have you seen this thread on the Nameberry forums?  It's interesting to see how we can love Eliza, but dislike Elizabeth – or vice versa.
I completely agree with the Name Lady on this one, probably because I so completely sympathize with Megan.
A mom-to-be asked about the name Cosmo on the Facebook page, and one of her friends (who I can only assume is not a name-nerd) responded with the following advice: "Throw a dart into the periodic table and let fate decide. Hope for a noble element."  I kind of love it … though when I did it, I hit Seaborgium, followed by Osmium.  Hmmm ….
That's all the baby name news for this week!  As always, thanks for reading and have a great week.