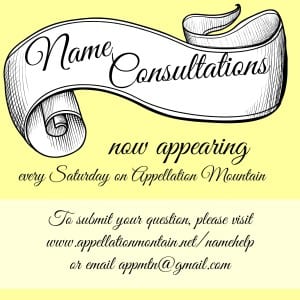 Name Help is a new series at Appellation Mountain. Every Saturday, one reader's name questions will be discussed.
We're relying on thoughtful comments from the community to help expectant parents narrow down their name decisions. Thank you in advance for sharing your insight!
T and her husband are expecting a daughter in January.  She writes:
I skew more unique and my husband more traditional. I like both spunky/feisty names and more romantic/melodic names.
We don't want anything with too much of a religious connotation, nor do we want a place name (I have one).
We are oh-so-stuck. Help!
Read on for my answer – and please leave your suggestions in the comments!
Hi T –
I can see why you're struggling.  If every name you love is too daring for him, and every name he loves is too dull for you, well … that's a recipe for getting stuck!
Especially in an age when wild, unconventional names feel more and more commonplace, it can make even relatively unusual names feel a little on the safe side.
So, where can we start?  Based on your original note and the emails we've exchanged since, the ideal name will:
Hit the sweet spot – not too traditional, not too unusual
Possibly have a meaning or story behind it, though that's a bonus, not a must
Be wearable as is – if a nickname comes, fine, but it shouldn't be a name that automatically shortens
Feel at least a little bit feminine, since the baby's middle name will be T's surname – two syllables, ends-in-n, sounds like it could be a boy's name
It will not be:
A place name
Obviously religious
Currently in the US Top 500 – note: this isn't a rule from T, but based on names they've rejected for popularity, this seems like a safe bet
Happily, this actually does narrow things down.  Your daughter won't be Brooklyn, Emily, or Esther.
But this still leaves an awful lot of possibilities!
The list of names T appreciates ranges from Fiorella to Odette, but her husband doesn't love any of her choices.  Meanwhile, he's suggested the popular Violet – which doesn't square with T's preference for an unusual name.  One name that hasn't been nixed is Saskia, but that's not much of a shortlist.
And now, some names.  I looked at choices currently in the US Top 1000 for girls, but not above 500:
Colette – There are a handful of ends in-et/-ette names on your lists.  For years, Colette has had that unexpected classic vibe.  The only hang-up?  Colette currently ranks #608 and has been gaining.  Colette is still no Scarlett, but she's not Saskia, either.  Impeccably literary, thanks to the writer.
Simone – Colette made me think of Simone.  Also an off-the-radar classic, but unlike rising Colette, Simone has fallen in use.  And yet, she's quite cool, thanks in part to Nina Simone.
Severine – So I'm on a French kick here, and for what it is worth, Severine seems like one of those serious, interesting names that would work for a family – French or not – assuming they wouldn't automatically call her Sevvy.
Amoret – And yet, I'm stuck on -et names, too.  In Edmund Spenser's The Faerie Queene, Amoret is Belphoebe's sister, the personification of married love.  It comes from the Latin amor – love.  Literary, meaningful, very rare.
Cosima – Saskia makes me think of Cosima.  Downside?  Possible pronunciation issues.  I'm saying it coh SEH mah, but can easily imagine others saying CO see mah or … something else.  If you can overlook that, though, what a cool name.  It shares roots with cosmos – originally meaning order, but eventually referring to the universe, the whole of the world.
Garnet – If longing for meaning is an issue, I wonder if there's something related to your daughter's birth that might appeal?  A few years ago, I might have suggested Winter – but that's a stylish name on the upswing.  Garnet is the birth stone for January – and if girls can be called Ruby and Pearl, surely Garnet is wearable.
January – Which also makes me think of January as a name – yes, there's January Jones, who was named after a character in a Jacqueline Susann novel.  And yet, January is rich with symbolism.  It's the new year, the beginning of all sorts of things.  And it seems like an unusual, but very wearable name for a daughter.
Zora – All this talk of newness makes me think of Zora, a name that means dawn in Serbo-Croatian.  My first thought is Zora Neale Hurston, a literary connection that makes this unusual name familiar to many.
Or is the challenge harder still?  When we were debating names for our daughter, my husband and I were miles apart.  We'd decided on a family name for the birth certificate, but what to call her?  He rejected everything.  Until I suggested Clio and he said, "That could work."
Often it seems like adding too many new suggestions confuses things – but in this case, I think a few more brilliant ideas could help T and her husband find The Name!
Readers, let's see if we can come up with great, unusual names for T – it feels like a bigger list might help us find the one that works for this family!