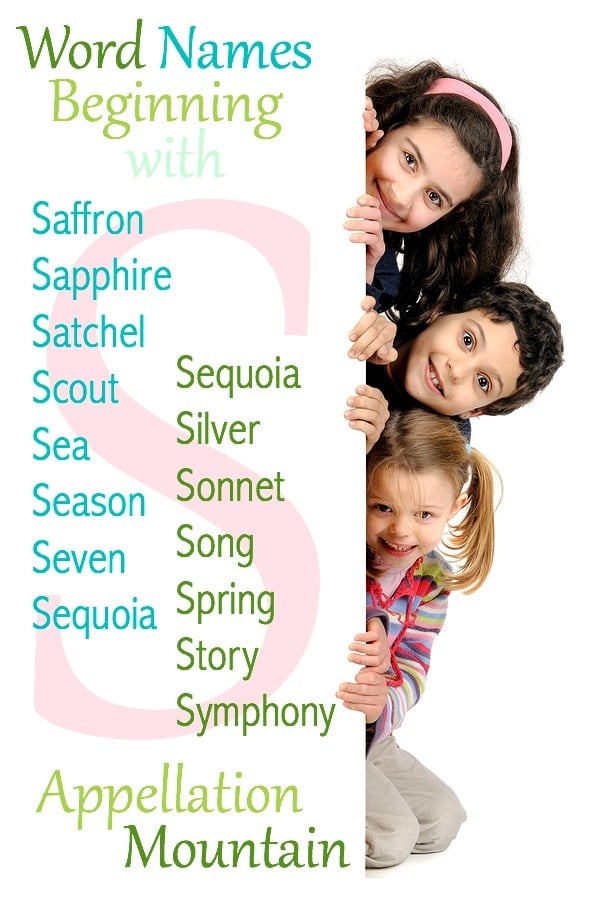 Lately, I've had word names beginning with S on the brain.
Think about it for a minute, and oodles come to mind: Scarlett, Serenity, and Sky all feel pretty mainstream. I wouldn't be surprised to meet a child named Star or Stone or Sailor, either.
Not all of the word names beginning with S work, though. Shimmer and Shine is a sweet little Nick Jr. animated series about twin genies in training. But somehow Shimmer and Shine seem a little too-out there as given names for real girls. (In fact, the series played it safe with the human kiddo's name. She answers to Leah.)
But flip through the dictionary, and more than a dozen word names beginning with S leap out of the pages as wearable rarities.
Word Names Beginning with S: Saffron & Sapphire
Saffron – You might have saffron in your spice rack; you wouldn't be the first. Records trace the first trade in the spice to the seventh century BC. The word comes from Arabic, though the exact meaning is lost. You might consider Saffron a color name (deep yellow), a spice name, or just a straight-up nature name, but it definitely belongs with word names beginning with S.
Absolutely Fabulous gave us the most famous Saffron, Edina's sensible daughter. Simon and Yasmin LeBon also have a daughter by the name. 21 girls were given the name in 2015, down slightly from prior years when AbFab boosted its use. You're far more likely to meet a Saffron in the UK, where it cracked the Top 200 in the late 1990s.
Sapphire – Ruby ranks in the Top 100. A few other gemstone names feel mainstream, like Pearl.
Writer Sapphire – born Ramona Lofton – is known for Push, the novel that inspired critically acclaimed film Precious. Lofton borrowed her pen name from a character on the Amos 'n' Andy show. I suspect the show might be why this name saw so little use in the early twentieth century – audiences considered the original Sapphire abrasive.
Like Saffron, Sapphire occurs more often in the UK. But this name is gaining in use in the US, too, with 144 girls receiving the sparkling name in 2015, up from just 74 a decade earlier.
Word Names Beginning with S: Satchel and Scout
Satchel – If Saffron and Sapphire belong to the girls, send Satchel to Team Blue. As a word, satchel refers to a bag. But as a given name, it brings to mind Leroy "Satchel" Page, a legendary baseball pitcher who played from the 1920s into the 1950s.
In 1987, Mia Farrow and Woody Allen named their son Satchel, and there's a tiny uptick in the name's use in the years following. (Satchel is now known as Ronan.) In the 1990s, Spike Lee gave the name to a daughter. As of 2015, fewer than five boys or girls were named Satchel, but I still think it feels wearable – a sports legend name with an on-trend sound.
Scout – Satchel fades, while Scout soars. On the heels of Harper and Atticus, this name from To Kill a Mockingbird has gone from rare to just outside the US Top 1000 for girls.
Scout could lean masculine, like Ranger. But the name belongs to a female character in Harper Lee's enduring novel, a young girl born Jean Louise Finch. An adult Scout narrates the novel. She also serves as the main character in Lee's other novel, Go Set a Watchman. With Harper among the current girls' Top Ten, it's no surprise that parents are also embracing Scout.
Word Names Beginning with S: Sea and Season
Sea – The trouble with Sea? It sounds just like the letter C. Then again, we could say the same for Kay and Jay, and I even know a Tee. And Sea brings to mind all of the gorgeousness of the ocean, in a compact, mini-name package.
Sea has been given to just a handful of children, despite a reality television boost. Kelly Bensimon, former Real Housewives of New York cast member, named her older daughter Sea Louise.
Season – I first heard Season mentioned by the marvelous Rebecca of Girls Gone Child. If we're naming our children Autumn, Summer, and Winter, why not Season? Season feels slightly spiritual (think Ecclesiastes – to every thing there is a season) and vaguely hippie chic. (After all, The Byrds turned the Biblical verse into an enduring anthem.)
Interestingly, Season had a good run in the 1970s. Credit to the lingering influence of hippie nature names? Not exactly. Actor Season Hubley – born Susan – enjoyed some success in the decade. Miss Hubley almost certainly explains the name's increased use.
In 2015, just 7 girls were given the name, but this one is ready for recosideration – for a daughter or a son.
Word Names Beginning with S: Seven and Sequoia
Seven – Like Season, it's possible to read something spiritual into Seven. After all, the seventh day is the Sabbath, the day of rest. Seven symbolizes good fortune. We count seven wonders of the world, and seven virtues.
And yet, Seven started out as a punchline. Seinfeld's George insisted it would the name of his future child – despite the objections of his then-girlfriend. Years later, when David and Victoria Beckham welcomed Harper Seven, the name felt much more mainstream.
Sequoia – Towering Sequoia evergreens stand in the forests of California. This makes Sequoia a nature name and a tree name, too. But long before it identified a tree, this started out as a given name. Sequoyah belonged to the Cherokee people in Alabama. Born in the 1770s, he trained as a silversmith. But Sequoyah is remembered for another reason: he invented a syllabary, allowing the Cherokee language to be written for the first time.
We believe botanist Stephan Endlicher named the tree in honor of Sequoyah, but he never explained his choice.
The name enjoyed a brief spike in popularity for girls between in the early twenty-first century. I can't explain why – yet – but between 2000 and 2007, more than 100 girls received the name every year. Despite this, Sequoia's roots remain masculine, and, as with many tree names, it feels like a strong choice for a son.
Word Names Beginning with S: Silver and Sonnet
Silver – The reboot of 90210 included a character named Erin Silver, who preferred to be known by her surname. The series debuted in 2008. Sure enough, the number of girls named Silver doubled that year. Except going from 10 births to nineteen is hardly the mark of a future top name.
In 2015, 40 girls and 9 boys received the name. While Silver remains rare, and 90210 has left the air, the name fits right in with our affection for ends-in-r names for boys and girls alike, as well as color names.
Sonnet – Literally literary names can make great choices. Story might be the most familiar, but Poet, Lyric, and Fable all count, too. And how about Sonnet? Words names that aren't used in everyday speech often work best. Unless you're a literature professor, Sonnet is probably safe.
A handful of high profile families chose this name for their daughters, including actor Forest Whitaker. Even so, a mere 12 girls received this name last year.
Word Names Beginning with S: Song and Spring
Song – Aria, Harmony, and Cadence rank in the US Top 1000. Perhaps musical Song can join them? A given name and surname used in Korea and China – the Song Dynasty lasted from the tenth to the thirteenth centuries – Song makes an intriguing choice for a child.
While it's not unused, it is rare. Fewer than five boys or girls received the name in 2015.
Spring – Summer, Autumn, and Winter are bestowed as children's names, so why not Spring? Actor Spring Byington – yup, that's her real name! – was nominated for an Academy Award for Best Supporting Actress back in 1938.
Miss Byington's popularity boosted her unusual given name, but only later in her career when she starred on television series December Bride. The name actually peaked in the 1970s.
Upbeat and active, Spring makes for an active verb name that brings to mind a lovely time of year. 21 girls were named Spring in 2015, meaning that the name remains quite rare.
Word Names Beginning with S: Story and Symphony
Story – Story has never cracked the US Top 1000, and yet it feels vaguely familiar. Celebrities have used the name for their sons in recent years. The name slowly gained in use beginning in the 1970s.
67 girls were named Story in 2015, and fewer than five boys, but don't automatically rule this name out for a son. If you love literally literary names, it's perhaps the most mainstream of the possibilities.
Symphony – If Song – and Cadence and Lyric and Aria – work, perhaps Symphony will, too? It's a three-syllable name for girls, in the key of Kimberly and Emily and Dorothy, as well as more modern favorites like Avery and Everly. Add it up, and there's good reason to believe Symphony works well for a daughter born today.
The numbers agree. Symphony has gained slowly in use since the 1980s, and reached a new high last year – 139 newborns.
That's all I have for this list, though I considered at least five more names that didn't make the final cut. Would you consider any word names beginning in S?