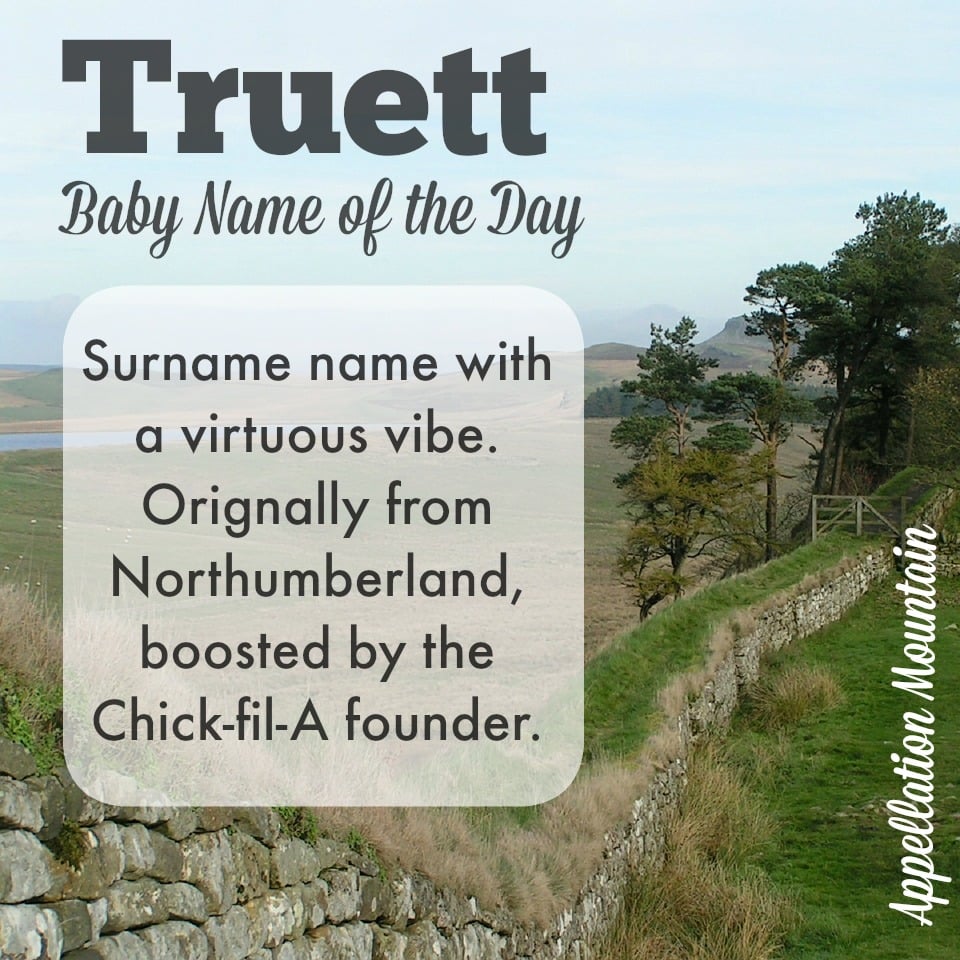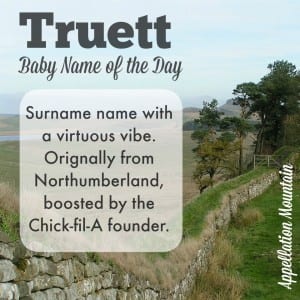 It's a surname name associated with a chicken sandwich.
Thanks to Britt for suggesting Truett as our Baby Name of the Day.
Truett: In the News
Samuel Truett Cathy, better known by his middle name, opened his first restaurant back in 1946.  His challenged fast food burgers with his fried chicken sandwich, opening the first Chick-fil-A in a Georgia shopping mall in 1967.
You probably know the rest: the chain became huge in the South, and has expanded rapidly.  Chick-fil-A is known for many things besides chicken: the closed-on-Sunday policy, the super-courteous staff, the cows.  And, of course, the statements made by Dan Cathy, Truett's son, opposing same-sex marriage.
Suddenly, a chicken sandwich was a political statement, and pundits hurried to praise or criticize the Cathys, and the Cathys have taken steps to distance themselves and their business from the fracas.
Founder S. Truett himself passed away in September of 2014.
Whether you've never eaten at a Chick-fil-A or know their menu by heart, odds are that you've spotted Truett in a headline in recent years.
Truett: Surname Name
Truett is a surname name, and like any surname, has some history in the first spot.  Alternate spelling Truitt is also seen.
The name comes from Trewhitt, in Northumberland, the northernmost part of England, once the Kingdom of Northumbria.  The first element is likely Old Norse – tyri – dry wood.  (Though in Nordic names, the element tyr generally refers to the gods.)
George Washington Truett was a former president of the Southern Baptist Convention and an incredibly influential preacher, known for a 1920 speech about freedom of religion given from the steps of the US Capitol in 1920.  I'm not sure if Cathy was named in his honor, but it seems possible – he was born in March of 1921.
The surname name – both spellings – has been on the rise during the twenty-first century, from 12 boys in 2000 to 107 in 2013 for the -ett version, and from 14 boys in 2000 to 39 in 2013 for the -itt spelling.
Does credit go to Cathy?  Maybe some.
Truett: You Know It's True
There's been a trendlet towards True names in recent years.  Consider:
True – 40 girls and 49 boys were given the name True in 2013, down slightly from 2012's peak of 45 girls and 53 boys.
Truth – Truth reached a new high for boys in 2013 – 39 boys.  14 girls called Truth were born that same year.  I've seen True and Truth as middles, too.
Truely – TLC reality show Sister Wives welcomed  Truely, daughter of Kody and wife Christine, near the beginning of the series.  In 2011, 5 girls were given the name.
Truly – Despite the one high profile Truely, Truly is the spelling catching on – from seven girls in 2000 to 39 in 2013.
Truman – Presidential Truman comes from trow – a Middle English word meaning faithful, forerunner of our word true.  It's also the only name on this list to appear in the current US Top 1000, ranking #947.
This lends Truett a virtue name feel, putting him in the company of names like Valor and Sage. Plus, Truett boasts an -ett ending, shared with stylish picks like Emmett, Everett, Elliott, and Beckett.
All of this makes Truett a possibility with considerable style power – a virtuous vibe, an on-trend sound.
If you're after an unusual choice that feels just right in 2015, Truett is one to consider.
What do you think of Truett?  Is it a name you would ever consider?