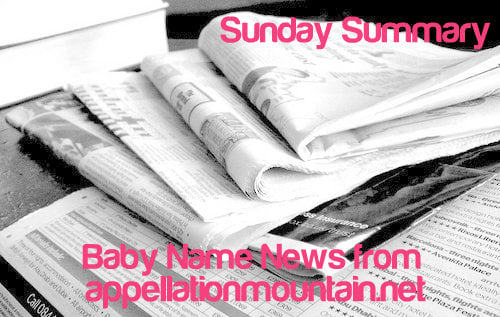 With all this talk of banned names in New Zealand, are there any rules that you would impose on parents in your country?
Limit first name choices to a specific list?  Require names to clearly indicate gender?  Spelling rules?  Banning names that have negative associations?
I think the simple truth is that I like the possibility of parents choosing names that I will very much dislike.  Names like Lucifer give me pause – that does seem to cross some invisible line, where it isn't just a matter of taste but of cruelty.
And yet, I'd rather leave the door open for offensive names than close it to invention and discovery.
All of this reminds me – are you on Facebook?  Appellation Mountain's occupies a lively little corner here.  There are some great discussions – like this one, in response to the question "What are the kinds of things that name nerds know – but civilians are completely unaware of?"
… there are distinct trends for middle names too. Yesterday's Kristen Marie or Jessica Lynn is today's Isabella Grace or Olivia Rose. – Sarah A.

That Sadie and Sarah are the same name, as are Margaret and Daisy, as well as James and Diego. – Danielle

We also know to laugh when people mock our love of vintage names as being 'old lady names' but then go on to name their daughters Chloe, Ava, Isabella and Olivia having no clue that those names were 'old lady names' just a few years ago! – Sarah S.

… if you are suddenly hearing a new name you think is lovely, it is probably part of (a) trend. It seems that many mommies have the same great idea at the same time. – Nicole


Namenerds know that there are very few names that are truly UNIQUE, they are more often UNUSUAL than unique …

Children, however, ARE unique no matter what name you give them – Hazel

That no name will please everyone; that people will object to names for reasons that you never imagined or considered … – Megan

Elsewhere online:
Achilles was the name given to the freak May snowstorm.  Love the name.  And I'm happy I'm not shoveling snow in Maryland.
I was listening to a local radio station earlier this week, and caught them talking about unusual names worn by real people, like Successful and Silver.  My favorite?  A caller named Philosophy.  "My friends call me Philo," the caller added.  She pronounced it fee LO – it had some appeal.  Then the DJ asked: "Are you a deep thinker?"  "Not really," she replied.  The perils of word names.
An ecard that might resonate with some of us.
Big in Britain, but obscure in the US.  How would Freya on these shores?
What's your favorite translation of Willem-Alexander?
Alva on a girl, in this installment of Living with Kids from Oslo!
Zarie – possibly problematic if it rhymes with scary, gorgeous if it rhymes with Marie.  How would you say it?
A possible update to Gregory?
Stumbled across a baby Nytlee this week.  Haven't seen that one before.  As night-themed names go, I'm still all about Twila.
I like the idea of naming a boy Donovan in honor of grandma Donna.
Check out the most popular names in Russia.  It feels like their lists are dominated by traditional choices, with the exception of Joelia.  That's not one that I recognize … anyone else know the story there?
Evander and Huxley!  And … Luc Skai?  And Norman and Melvin and Payne.  Tons of intriguing boys' options here.
Start with a shortlist and narrow it UP, not down.  Brilliant advice.
Perhaps you're off to celebrate Cinco de Mayo, but I've just realized that the Fifth of May marks a slightly different occasion 'round here.  Five years ago, I started writing Baby Name of the Day posts.  The first official one was Juniper, published all the way back on May 5, 2008.  May 5, 2009 was Heath.  2010's May Fifth name was Portia.  So many great names …
As always, thank you for reading & have a great week!