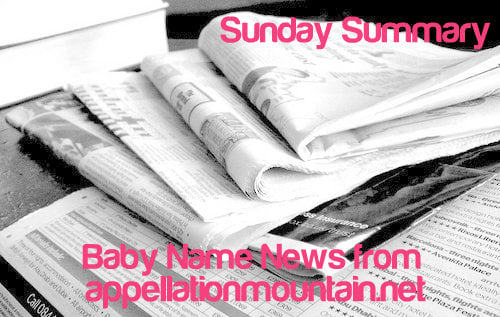 My baby brother graduated from law school on Friday.  In between scanning the crowd for my brother and clapping politely for the commencement speaker, I read the first and middle names of every one of my brother's classmates.  I can confidently tell you that the world now has two future attorneys named Brandie and Candee, no relation.
And from what I know of law, those names won't keep them from having successful careers, though they might raise an eyebrow or two along the way.
Because you know the "district attorney" test?  When you say the name "District Attorney Brandie Clark" and decide it sounds wrong, so you should name your daughter Eleanor instead?  I scanned a list of DAs across the US and found women with head cheerleader names like Kristi, Daisy, and Bonnie, as well as more conventionally serious choices like Beth, Meredith, and Ellen.
It might be easier to be taken seriously as a prosecutor or surgeon or teacher or investment banker if your name is Katherine, but it is perfectly possible to have a killer career as a Sherri.
There's nothing wrong with choosing classic, sophisticated names for our daughters – but it isn't a requirement for their future success or happiness.
Putting my soap box away, and turning to name news from elsewhere:
Nancy has calculated the most popular first letters for baby names in 2013.  A is huge – for the fifth year in a row!  But there's some change in the rankings.
On a recent episode of Elementary, there was a former MI:6 agent named Arthur Cadogan West.  Cadogan!  They pronounced it like the place name in London – cah duggin.  I love the look of that name, but I always want to say it more like cardigan.
The big screen version of Alexander and the Terrible, Horrible, No Good, Very Bad Day is coming out later this year, starring Steve Carrell and Jennifer Garner as the parents.  Will this push the name even higher?  He's fallen from #4 in 2009, but remains in the US Top Ten.
Sophie's post on unexpected flower names is a great list.  Speaking of, I keep hearing this song on the radio – "Fancy."  The Australian singer/rapper goes by Iggy Azalea – and her birth name is Amethyst!
Philomena in use!  Loved spotting her in this round-up at For Real.
If my mother's Italian family had stuck with the traditional naming system, her youngest sister would've been Philomena.  (They'd moved out of the city to the Jersey 'burbs by then, so she was Linda instead.)  Can you imagine the complexities of this Balinese naming system?  And yes, apparently, nicknames abound.
A nice sum-up of the big changes in name usage can be found here: "parents today work a lot harder to stay away from common monikers."
Ah, but do we go too far?  Nameberry lists some of the wackier names that were given to more than five babies in 2013.  Tuf and Pistol, anyone?
Oh, I do hope they go with Charles, nickname Charlie, and Magnolia, nickname Maggie, for their twins!
That's all for this week – as always, thank you so very much for reading.  And have a great week!