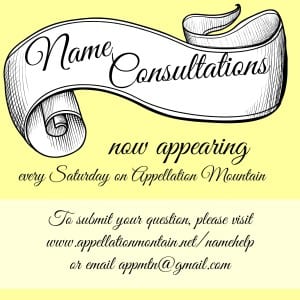 Name Help is a series at Appellation Mountain. Every Saturday, one reader's name questions will be discussed.
We're relying on thoughtful comments from the community to help expectant parents narrow down their name decisions. Thank you in advance for sharing your insight!
Becky and John are parents to Audrey Kate, and are expecting their second baby. It's a boy! She writes:
My husband and I cannot agree on a name. We know the middle name is Magner (family obligation) and our last name sounds like Ryder-with-an-L. While I don't hate Magner, it just bothers me that it ends in the -er sound and the flow of Magner Ryder-with-an-L is funky.
To make matters worse, many of the names we like end in -er, and I can't stomach him having a triple -er name.
John's short list includes Weber, Fletcher, Parker, Tripp, Clark, Truman, and Richard. My list is Rhett, James, and William.
John thinks James and William are too common. I won't use Richard because of the possible nickname Dick.
I love Archer, Walter, and Carter, but won't use them because of the repeating -er dilemma.
Can you please help us common up with a name that is classic, strong, and works for a boy as well as man? Thanks in advance!
Please read on for my answer – and share your ideas and thoughtful comments, too!
Hi Becky,
So many parents find themselves in your shoes! There are great names that we love, love, love but just don't fit with our families. I had Mariel on my girls' list for ages. Until I married a wonderful man with the last name Sandel. Mariel Sandel … no. Sigh.
I think ends in -r names are the same situation for you. Maybe if it wasn't the middle and the last. And maybe if they weren't all two syllables. Parker Ryder-with-an-L, maybe. But Parker Magner Ryder-with-an-L? It sounds more like a corporation than a child! I couldn't do it.
Let's drop Richard since that's a definite no for you. And then let's drop all of the ends in -r names from both of your lists. That leaves us with:
James and William – Great, classic names – but too popular for John's taste.
Rhett, Clark, Tripp – All single syllable names that feel very cool and current in 2015. They're all ranked in the US Top 1000, but all are pretty uncommon – above 500, as of this writing. (New data is expected any day now!)
Truman – A great surname name ranked #947 in 2013. It has the same style as many of your other favorite choices, but without the problematic -er ending.
Maybe you're divided because none of those names quite deliver what you've described – a name that is familiar, but not too common. Any of them could be a brother for Audrey Kate, but none of them is quite what springs to mind.
Let's take a look at name that might work, going from most popular to least:
Alexander – #8, rising. This name is probably too popular to consider, but I'm adding it for two reasons. First, it's the very definition of a strong name for a son (Alexander the Great!), and it's a great example of how an ends in -er name might work. Alexander Magner Ryder-with-an-L. Alex Ryder-with-an-L. Another name along these lines is Oliver. 
Henry – #37, rising. Another strong classic, but less common than William and James. Retro nickname Hank is great, but there's no need to use it. Henry Magner Ryder-with-an-L, Henry and Audrey.
Carson – #90, falling. My first thought. It takes your Carter, but gives it an ending that works your middle and last names.
Declan – #121 and rising. Declan isn't a surname – it's Irish – but it fits with the two-syllable, ends-in-n sound of Carson and company. Declan Magner Ryder-with-an-L, Audrey and Declan. Another possibility along the same lines? Duncan.
Jude – #162 and flat. I think I've heard Audrey and Jude as a sibling combination before. Jude feels like a more common alternative to Tripp and Rhett. It's less Southern, very stylish, and works well with your last name.
Axel – #167 and falling. Maybe it's my suggestion of Alexander that made me think of Axel. Or maybe I'm tempted by ends-with-el names, even though your last name starts with L. Gabriel kept coming to mind – but at #24, it has the same challenges as some of the other names on this list. Axel ranked #167 in 2013. It's a cool, edgy, strong name for a boy, but also one with plenty of history. Audrey and Axel, Axel Magner Ryder-with-an-L.
Theodore – #170 and rising. One of my first thoughts was Leo, but since your last name starts with an L, I dropped it. Plus, Theodore is a strong formal name possibility. Theodore Magner Ryder-with-an-L, Theo Ryder-with-an-L, Audrey and Theo. My favorite sibset so far, I think!
Emmett – #173 and rising. Emmett has Rhett's -ett ending. So do Bennett and Beckett and Abbot and Garrett, but somehow I think Emmett sounds best with Audrey.
Everett – #189 and rising. Like Emmett, only longer! (See my note on Donovan, below.) Everett Magner Ryder-with-an-L, Audrey and Everett.
Donovan – #281, falling. A longer first name might work well with Magner Ryder-with-an-L. Donovan feels vaguely traditional – we all know men named Don, right? But it's definitely more popular today than ever before. And if you wanted a nickname, I wouldn't use Don – I'd go with Van. Audrey and Donovan, Audrey and Van. Two more in this category: Cameron and Julian.
From your lists, I love James and Truman. But I can see that there's some distance between the two styles. From my list, I really love Everett, Carson, and Jude for your family.
What names would you suggest for Audrey Kate's brother?