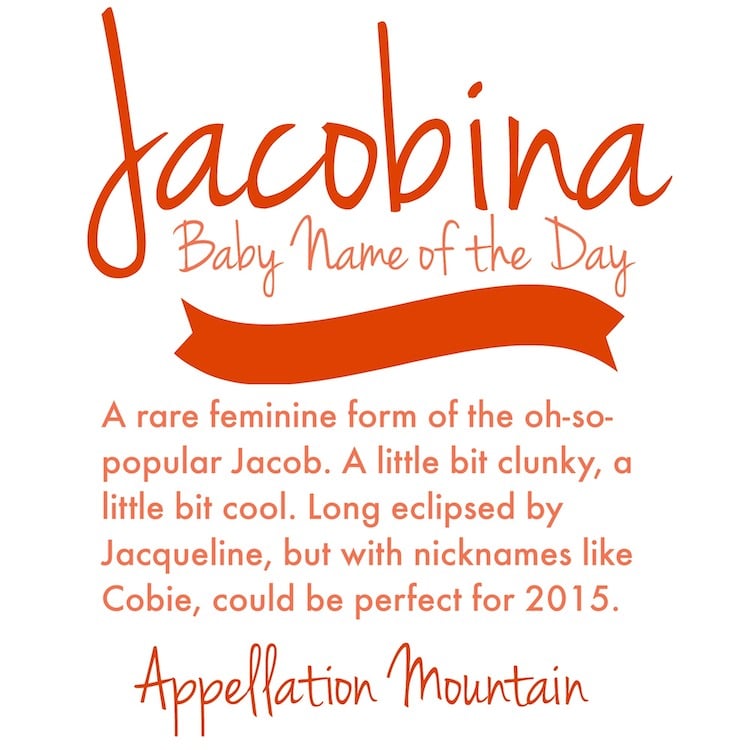 Michael has Michelle. John has Jane. But what's the feminine form of Jacob?
Thanks to Winter for suggesting Jacobina as our Baby Name of the Day.
Jacob: What's the Feminine Form?
Many popular masculine names have feminine equivalents – often more than one.
But despite Jacob's longtime reign as #1 name in the US, you might not immediately think of a feminine form.
James – brother to Jacob, sharing the Greek root Iakobos – is also one of the classic masculine names that's tougher to feminize. Etta James was born Jamesetta, and in more recent years, we've seen girls answering to Jamie.
Jacoba & Jacqueline
Here's one form that's seen some use: Jacoba. It's used in Dutch and Italian, and may have originated in Scotland.
The most famous bearer of the name is Canadian-born actress Cobie Smulders, born Jacoba Francisca Maria.
There's also a thirteenth century Italian noblewoman by the name. Born in Rome, Lady Jacoba married into the Frangipani family. She became good friends with Francis of Assisi, gave generously of her wealth, and was with Francis when he died.
And here's where we get to the feminine form of Jacob that is actually quite common. Lady Jacoba's given name was probably Giacoma in Italian, and was sometimes recorded as Jacqueline. Other historical figures also use the name as equivalents.
Confused? Jacques is often connected to Jack, but it's actually a French form of James and Jacob.
Jacobina: A True Rarity
Jacobina is probably the rarest feminine form of the name. It's never been given to five girls in a single year in the US. And while we sometimes hear Jacobine used in connection with a king James, Jacobine is equally rare as a given name.
But it's a logical feminine form, as easy to see as Jacqueline or Carolina or Antonina.
Here's one use: Jacobina Mentz Maurer, cult leader.
In the early 1800s, German settlers arrived in Brazil to farm an isolated territory, building their community as they went. Jacobina Mentz was born here, around 1842. Her uncle built the community's first church. She married João Maurer. Maurer left farming to become a healer, and Jacobina to found her own church.
It's not wildly outlandish – access to doctors was limited in the rural community. But what happened next would split the German settlers in two. Jacobina's followers came to believe that she was the second coming of Christ. They were called the Muckers – German for "false saint." At first, Jacobina's orders were merely to separate: attend Mucker-only religious services and schools. But the group eventually turned violent as Jacobina predicted the end of the world.
Jacobina and her followers were killed in a stand-off with the police.
Hmmm … let's see if we can't find a more inspiring use.
Here's one: the Italian-born Jacobina Félicie became a physician in Paris in the early 1300s. There were a handful of women doctors in the city at the time. She was known as Jacqueline in her new country. But by 1322, there was a backlash against women in medicine. Despite testimony to her skill and care, the courts banned Jacqueline and all women from practicing medicine in France.
Jacobina: Wearable?
Despite the lack of a great namesake, I'd call Jacobina a wearable rarity.
One hitch: in German and many other languages, it's not jay ko bee nah. It's yah ko bee nah.
But in American English, you'd probably hear this name pronounced with the Jay sound.
If you're after a wearable rarity with a long history, Jacobina is an intriguing name to consider. Rich with potential nicknames, and less expected that Jacqueline or Jamie, it's a possibility for a modern parent seeking something from the past.
What do you think of Jacobina? Is it wearable in 2015?