Looking for Incredibles production babies? I've got the original and the sequel together in this post!
The Incredibles came out way back in 2004. We met the Parr family, headed by superheroes-in-hiding Mr. Incredible and Elastigirl. Their kids, Violet, Dash, and baby Jack-Jack, all have superpowers, too, but they're under orders to keep it under wraps – until the future of the free world depends on their family getting back into the hero game.
Fourteen years later, a sequel arrived, picking up pretty much exactly where we left them. And we're off to save the day again!
But this isn't just a gripping tale. It's a Disney Pixar flick, and that means production babies. Production babies are children born to the cast and crew – anyone involved with the making of the movie – during its production. The children's names are listed at the very end of the credits. Given how long it takes to animate a movie, and the massive teams required to bring the stories to life, that's a lot of babies.
Let's begin with the most recent film, Incredibles 2.
Just 25 production babies appear in the credits.
Incredibles Production Babies 2: Classics and Favorites
Every list of production babies includes at least a few classics, and this list is no exception. There's Charlotte, Eva, Julia, and Sophia. Twins Leo and James fit this category, too.
Other parents choose mainstream favorites. This list gives us Chloe, Madison, Lilah, and Kennedy. On the boy's side there's Wyatt and Gavin.
Incredibles Production Babies 2: Vintage and International
Some vintage names on the list, like Emmett and Felicity, feel nicely on trend. Willard is more daring still, but seeing on this list? I'm kind of in love.
Aodhan and Bjorn could reflect parents' international roots, or just the globe-spanning perspective of the creative members of the team. And Vienna is a place name possibility that we don't hear much, but should wear nicely for a child born today.
Incredibles Production Babies 2: Trending, Solid, and Surprising
Names like Colin, Cody, and Jenna have been in use for years. They're not quite classic, but we're used to hearing them on children. (And adults, too!)
Alliana and Everleigh feel newer, but are very much trending names.
Blaise blends the big sound of modern favorites like Maverick with more traditional roots.
And then we have two that took me by surprise. First, Clarke. Production babies lists don't hint at gender, but could this be a girl named for one of the (female) main characters in The 100? The CW series has helped revive Octavia, and likely boosted Lincoln, too. There's been a sharp uptick in the number of girls named Clarke since then, with 76 born in 2016 and 95 more in 2017.
Lastly, we have Mzia. Is that Emzia? Or Mazia? It might be. But it also might belong in the international category. Behind the Name lists it as a Georgian name meaning "sun." I didn't know anything about Georgian until this very moment. It turns out that Georgian is a Kartvelian language, unrelated to other Indo-European languages. Obscure, fascinating – and exactly what I'd expect to find on a production babies list!
Incredibles Production Babies: Traditionals and Modern Staples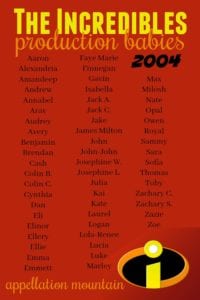 Plenty of these names felt traditional in 2004 … and still do today! Aaron, Andrew, Benjamin, Eli, Gavin, Luke, Max, Owen and Thomas all appear on the boys' side. For the girls, there's Annabel, Audrey, Avery, Ellie, Emma, Isabella, Julia, Kate, Sara, Sofia, and Zoe.
Incredibles Production Babies: The Repeats
With 56 babies on the first Incredibles production babies list, you'd expect a few repeats. In the traditionals and modern staples category, we find two Colins, two Zacharys, and two Josephines.
Incredibles Production Babies: Inspired by Jack-Jack?
The youngest member of the Parr family is baby Jack-Jack. I don't recall hearing it in either movie, but it seems his full name is John Jackson Parr, which makes his nickname logical.  How much do I love that?
While it's fairly unusual to see a movie character name in the production babies list, this time there's an exception. Not only are there two boys named Jack, but there's also a John, as well as a John-John.
Coincidence? Maybe.
Incredibles Production Babies: Big in 2004
A handful of the names have fallen in use significantly since the early 2000s. Brendan, once a go-to for boys, has recently left the US Top 500.
Cynthia peaked in the 1960s, was still holding on to the Top 250 in the early twenty-first century, and today has slipped out of the Top 600.
And Alexandria reached a high in the late 1990s, falling slightly by the year 2004 – and recently leaving the Top 250.
Incredibles Production Babies: Ahead of the Curve
Other names feel slightly ahead of the trends, which seems logical for a creative community. There's Cash, a name that skyrocketed in 2004. Emmett and Kai were gaining quickly in the early 2000s. So were Lucia and Marley.
And Finnegan didn't make the Top 1000 back then – which seems quite surprising today!
As for Elinor, while it feels traditional, it still doesn't crack the current Top 1000.
Incredibles Production Babies: Casual Cool
A handful of the Incredibles production babies are listed by nicknames, rather than formal names. Does this mean the babies were given the more casual form of the name? Possibly. Or the parents might have opted to list their kiddos by their everyday-use name.
Either way, Dan, Jake, Nate, and Sammy are all listed.
Incredibles Production Babies: Double Names
There's a Lola-Renee listed, with the hyphen. But there's also Faye Marie and James Milton, no hyphen. Double names are a curious thing in the US, not always easy to indicate on official forms. But we do hear them – and they can work beautifully for many families.
Incredibles Production Babies: International and Interesting
Amandeep, Arav, and Milosh point to the cast and crew members' international roots.
Other names mix vintage and edgy style for some unexpected names. There's Ellery and Opal, Royal and Toby.
Laurel was falling fast in 2004, but has recently made a comeback, thanks to the name's nature ties and heavy-L sound.
And then there's Zazie, recently boosted by popular young actor Zazie Beetz. It's often listed as a nickname for Isabelle, which could appeal to all those girls who share the name today. But it's definitely a surprise to find it on the 2004 list!
That's all for the Incredibles Production Babies! Do you have any favorites from either list?