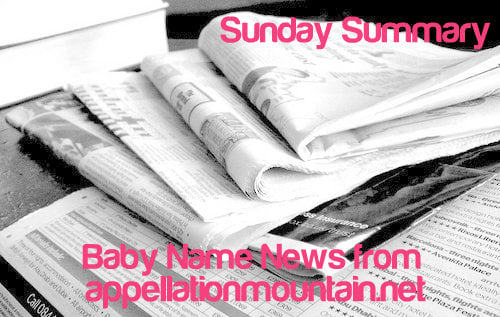 Do you dream of names?  I woke up thinking about Torrance, the perky cheerleader character played by Kirsten Dunst in 2000's Bring it On.  Torrance could be a great name, another way to get to Tori, though her name was rarely shortened in the movie.  It's a place name and a surname and far less expected than Brooklyn or Madison or Riley.
As I was pondering why Torrance isn't more often heard, I opened up this post, and there she was: Torrance Evelyn Marie.
There's also the surname Toran, which seems like a potential name for a boy, or maybe an update to Taryn.
Elsewhere in baby name news:
I feel like Sadie works as a nickname for Mercedes.  What do you think?
Names I love for boys: Everett and Abel.  Names I'm not sure about: Adamxander, Portlen.  All from this post.
Elea analyzes popular initials in the UK.  They may love Alfie instead of Aiden, but parents on both sides of the pond are wild about the letter A.
Angela gives some thought to middle names.  Vocabulary addition for the week: trochaic.
Alternatives to William, from Wallace to George.
There's respelling.  And then there's this.
Names for your little fish.
Oh, look – a baby named Rose.  Refreshing.
Have you voted in March Madness?  The boys' list is here, and the girls' here.
Cornish saints are a nicely-named bunch.  My latest discovery: Piran or Peran.  I know a guy my age named Perrin, and I quite like it.
Time to enter Baby Name Wizard's 2012 Baby Name Pool!  You have until April 15 to take your best shot.
Do I need to say it?  It isn't that these names get you into Yale.  It's that socio-economic factors impact the names we choose, and those same factors impact the educational paths our children pursue.  There are plenty of kids called Thomas and Caroline who turned out to be slackers, and lots of successful people named Cody and Ashley.  A name is not your future – it is a clue to your parents and your past.
Now, if you haven't already voted in the latest round of March Madness, may I ask you to take a sec and help your favorites advance?  The boys' quarter-finals are here, and the girls' quarter-finals are here.
As always, thank you for reading.  (And commenting.  And hanging out on Facebook.)  Have a great week!