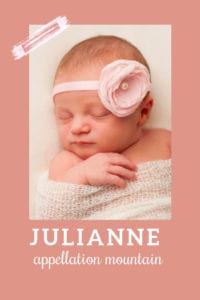 The baby name Julianne feels elaborate and tailored, an appealing mix of feminine frills and restraint.
Thanks to Julie for suggesting our Baby Name of the Day.
ANCIENT WORLD
There's nothing new about Julia. The feminine form of Julius, it's been in use since the earliest days of the Roman Empire. Earlier, even. After all, Julius Ceasar's sister and daughter both answered to the name, as was the custom for women from noble families. Their family dates to at least 489 BC.
The name might mean youthful. Others connect it to Jupiter. The family itself claimed descent from Julus, son of Trojan War hero Aeneas.
Forms of the name remained in use across Europe over the centuries. Shakespeare used it for a character in his 1594 comedy The Two Gentlemen of Verona. But it was relatively rare in the Middle Ages and wouldn't catch on in English until the eighteenth century.
In French, the masculine form of Julius became Julian. Again, it wasn't terribly common – but it was known.
It was also sometimes used as a feminine name in England, along with Juliana.
ADD AND -NE
Today Julianne is generally considered the French feminine form.
Like Josephine and Adrienne, Francine and Jacqueline, those -ne endings signal a daughter's name.
But Julianne has never been especially popular in France, unlike 1980s French sensation Julie.
JULIE and JULIA
Speaking of Julie, it entered the US Top 100 in 1951 and peaked at #10 in 1971. It would remain a Top 100 favorite through 1991.
By 1980, Julia also appeared in the US Top 100, a spot it still holds as of 2019.
So the rise of Julianne comes on the heels of Julie and Julia.
SOLID GOLD
In the US, the baby name Julianne enjoyed a brief burst of popularity following the 1984 Olympics.
Gymnast Julianne McNamara was part of 1984 Olympic team, winning a gold medal in the uneven bars, a silver for floor exercise, and a silver with the rest of the American team.
That might not seem like a recipe for international superstardom, but the team was wildly famous. Mary Lou Retton remains a household name, but at the time they were all famous. After all, several team members – including McNamara – had expected to compete in the 1980 Moscow games, but sat them out after the US boycotted. And the Americans' silver was their highest finish ever.
Julianne jumped from #695 to #454 in 1984, and to #364 by 1985.
PHILLIPS, MOORE, HOUGH
You might also think of Julianne Phillips. In the 1980s, she graduated from modeling and music videos to acting, briefly becoming Mrs. Bruce Springsteen along the way. Their rocky relationship inspired Springsteen's 1987 song Tunnel of Love.
But there's no question the most famous figure is Julianne Moore. The Academy Award-nominated actor was born Julie Anne, but smooshed her names together professionally. She joined the cast of As the World Turns in 1985 – possibly another reason the name enjoyed a brief burst of popularity in the middle of the decade.
Fans of Dancing With the Stars will also think of dancer-turned-choreographer and actor Julianne Hough.
BY THE NUMBERS
The baby name Julianne entered US Top 1000 in 1930.
1930 was a good year for Marianne and Suzanne, so perhaps it was the -anne ending.
It never really caught on in a big way, and it left the US Top 1000 entirely after 2016.
We do love Julie names, of course. Juliet and Juliette are riding high. In fact, the equally French Juliette seems to have eclipsed Julianne, one rising as the other falters.
But Julianne remains a strong choice for parents seeking something feminine and tailored, familiar but just a little bit different. It makes a great middle, too. And if unconventional nicknames appeal, then the contraction June from JUlianNE might be perfection.
What do you think of the baby name Julianne?