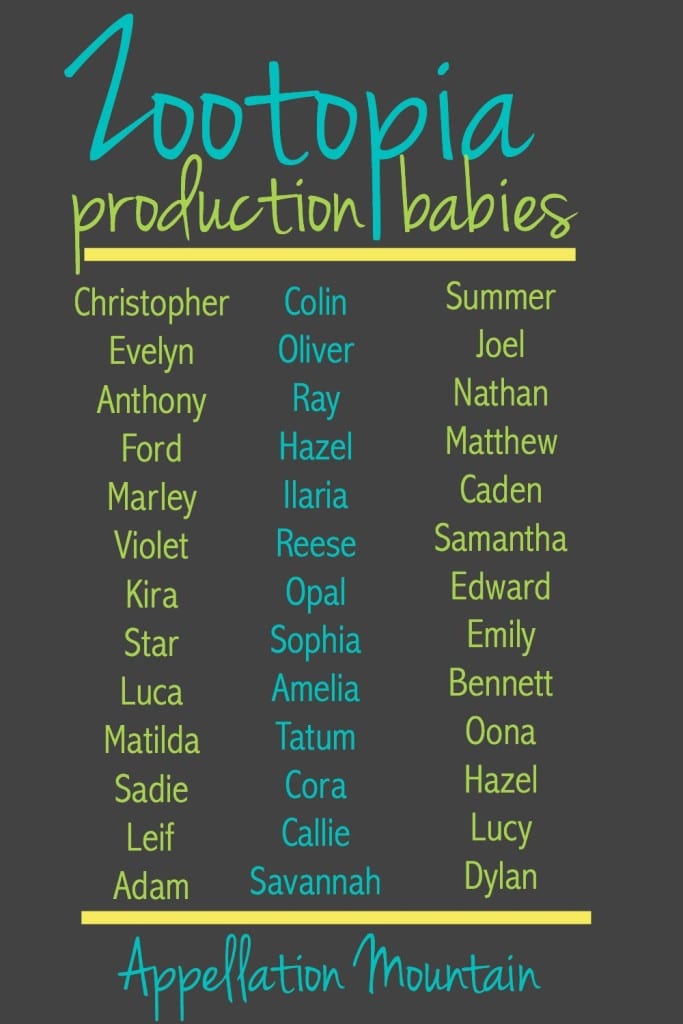 We finally saw Zootopia last week, and readers – yes, it is that good! As a bonus, if you stay through the credits, there's a complete list of 39 Zootopia production babies. They're a mix of the traditional, the mainstream, and the swoon-worthy.
Here's the complete list, along with my comments on the trends and styles they represent.
My favorites? It was so exciting to spot a boy named Leif, and I'd just been thinking about Opal when I spotted the list. A few of these are definitely on the rise – can there be any doubt that Cora and Bennett are up-and-comers?
Read on for more about all of the Zootopia production babies.
Production on box office smash Zootopia started in 2013. During the three years it took to create the animated flick, a total of 39 babies were born to those involved with the making of the movie.
Let's take a closer look at the names they chose.
Zootopia Production Babies: Classic Boys
Names like Christopher, Anthony, Adam, Joel, Matthew, Nathan, and Edward demonstrate parents' tendency to stick with more traditional names for boys. While there's far more freedom in naming our sons than ever before, nearly 20% of the Zootopia production babies were given buttoned-down, never out of style names.
Zootopia Production Babies: Vintage Girls
Another go-to style choice for Zootopia production babies was vintage girl names. Evelyn, Violet, Sadie, Hazel (x2), Amelia, Emily, Sophia, Cora, and Lucy are all examples of antique appellations very much in favor today. It's no surprise to see them well-represented on this list. They make up about 23% of the names. The percentage is even higher if you include rising vintage possibilities Matilda and Opal. There's also Samantha, which is a newer name than many of this list, but feels like it's been around longer.
Zootopia Production Babies: Modern Faves
Names like Marley, Kira, Reese, Savannah, Tatum, Summer, Caden, and Dylan are harder to classify. They've been around for a while, but their history of use as given names is limited to more recent decades.
Zootopia Production Babies: Oliver?
I almost listed Oliver with the classic boys and moved on. But then I started wondering – could Oliver the production baby be Oliver Finley Dallas, son of Once Upon a Time stars Ginnifer Goodwin and Josh Dallas? He was born in May 2014, smack in the middle of production. The official announcement that Ginnifer had been cast as Judy Hopps, the bunny at the heart of the story, didn't come until May 2015.
Oliver is among the hottest names of the moment, so it's not a surprise to find the name on a list of boys born between 2013 and today. But if it is Ginnifer's kiddo on the list, I love it even more – because it makes the list so very democratic to list them all together, don't you think?
Zootopia Production Babies: New Boy Names
Could some of these names be the next generation of modern faves?
Scandi Leif, Americana Ford, preppy surname Bennett, and jazzy mini name Ray all made it on to the list, and they feel like the kind of names you'd expect. Ray has a certain cool factor, though the numbers don't show it trending. But Bennett is gaining quickly, and Ford and Leif both debuted in the US Top 1000 in 2014.
Creative, trending, not too out there. If you'd asked me to imagine the kinds of names I'd expect to see on a list of production babies, I'd probably have picked all four.
Zootopia Production Babies: Nickname Girls
I mentioned Sadie on the list of vintage girl names, but it's also a nickname name. And then there's Callie.
Callie's not quite one of Sadie's sisters. It feels a little more cowgirl than Victoriana to me. Or maybe that's thanks to uses like Disney Junior's Sheriff Callie's Wild West. Because based on the numbers, Callie was trending around the same time Sadie was big.
Zootopia Production Babies: Imports
Don't you love a good import name? Luca is the Italian form of Luke, and it's pretty mainstream in the US now, too, ranking in the US Top 200. That's no surprise – all of the Luk- names are having a having a moment.
Oona is also spelled Oonagh and Una, and it's an Irish heritage choice. It has some serious Hollywood cred, too, thanks to Oona O'Neill Chaplin, wife of screen legend Charlie. Now here granddaughter, also named Oona Chaplin, is an actress, recently seen in Game of Thrones. It's a great mini name, part Mia, part Maeve, with the appealing 'oo' of Lucy and Ruby, too.
Zootopia Production Babies: The Unexpected
There are always a few truly unexpected choices mixed in with any production babies list, and Zootopia's is no exception. We love our celestial baby names, but Star is not among the name. Just 105 girls were given the name in 2014, and that number is falling not rising. Still, it's an interesting nature name possibility, isn't it?
And then there's Ilaria, an Italian feminine form of Hilary. It's fairly common in Italy, but is rare in the US. Still, Ilaria is a great choice in our Olivia/Isabella/Sophia age, and it's slowly catching on here, along with so many other ends in ia names for girls.
Which of the Zootopia production baby names are your favorites?