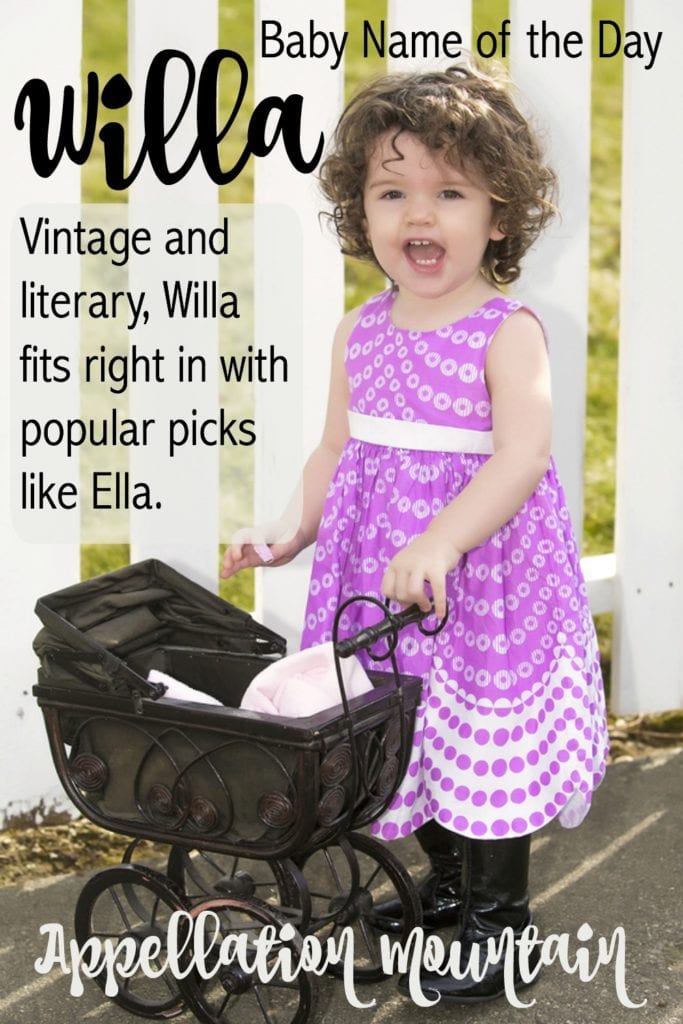 Willa is a vintage name that's long been out favor – but is back in a big way.
Thanks to Aliciamae for suggesting our Baby Name of the Day.
Willa: On the Rise
From 1880 through 1962, Willa was a Top 1000 mainstay.
The name peaked in the high 200s in the 1930s – not a chart-topper, but a steady name.
Then Willa started to plummet, and by the 1970s and 80s, only two or three dozen girls were given the name every year.
In 2010, the name re-entered the US Top 1000. As of 2015, it ranked #481 – and could soon climb higher than ever before.
Willa: William
Of course, it's simply a feminine form of the evergreen William.
So is Wilhelmina, which is closer to the original Germanic Willahelm.
Evergreen William has been worn by plenty of notables. Wilhelmina also has a regal pedigree, and Dutch model Wilhelmina Cooper founded a modeling agency which still bears her name.
But Wilhelmina is out of the spotlight today, along with boyish Billie.
Willa: Cather
Like Top Ten favorites Emma and Harper, this name is effortlessly – and obviously – literary.
Born Wilella, Willa Cather became a Pulitzer Prize winning author. Known for her tales of life on the American frontier, her novels, including 1913's O Pioneers! and 1918's My Antonia, remain widely read today.
Cather taught English and wrote for women's magazines before her novels became successful. They were best sellers, and a success with literary critics. They were also groundbreaking – at the time, no one wrote about the lives of immigrants, or life in places like Nebraska.
Willa: Comeback
The name's comeback started in the early twentieth century.
Some credit goes to brother William's popularity, as well as our affection for names like Ella and Stella.
Then pop culture gave us:
Born Amanda Williford, singer Willa Ford opened for the Backstreet Boys on their 2000 tour, and went on to guest host several MTV shows. She's also tried her hand at modeling and acting since.
The New York Times bestselling children's book series, The Kingdom Keepers, about a group of real life kids who defeat Disney villains. One of the heroes is named Willa. The first book was published in 2005.
Actress Willa Holland joined the cast of The O.C. in 2006, and then guested on Gossip Girl in 2008. Around the same time Holland appeared on Gossip Girl, a character by the name figured in a plot line.
In 2011, actress Keri Russell gave the name to a daughter.
The name's rise coincides neatly with these events – a modest bump from Ford's early success, and a big leap following the 2011 birth of Keri's high profile daughter.
Willa: Future Top 100?
The question now is how high will this name climb?
It fits right in with other popular choices for girls – two-syllable, ends-in-a names from traditional Emma to modern Luna. It's very close to favorites like Ella and Stella, as well as nature name Willow. And it fits in with Nora, Cora, Vera, and more vintage picks that seem likely to keep rising in the near future.
If you're after a vintage name with a gentle vibe that's nicely under-the-radar, Willa is one to consider – but also one to watch, because it might just be the next big thing.
What do you think of this name? Do you think Willa will be a Top 100 name any time soon?