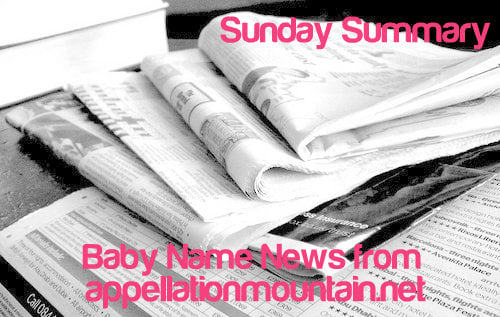 Quick tip: See a name in blue?  That's a link to the BNotD features about that name.
I love family names, and I love the idea of reinventing them so they'll wear well for future generations.  Honoring grandma Theresa with a Tess?  That's perfect in my book.  It's one of the reasons that we always knew my daughter would have a nickname.  I assumed that more than one of my siblings – I'm the oldest of four – might want to pass on our mother's name, Claire.
But last week, my sister mentioned that she considers the name taken.  Used up.  Unavailable for anyone else in our family.  Even though my Claire answers to Clio, and even though I'd be downright delighted if someone else used Claire, in the first or the middle spot.
Repeating names in families used to be the norm – my mother shared her name with many relatives, including cousins just a few years older.  But there's so much pressure to avoid repetition nowadays, that it is a completely different situation.
Elsewhere online:
That's all for now.  As always, thank you for reading.  Have a great week, and don't forget to stop by Nameberry tomorrow for chatter about notable baby names in the news!