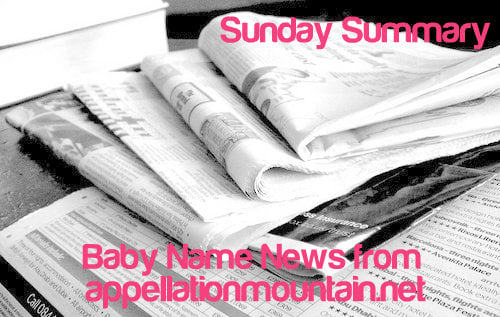 I had another introduction drafted for today's post, and then right before lunchtime my daughter asked: Mom, why do people give their kids names when they're babies?  Why don't they wait until they grow up so they know what they're like?
The wisdom of five year olds – but she has a good point.  While both of my children showed signs of their personalities early on, it took me years to recognize some of the cues.  My athletic son's first word was "ball" and I had an inexplicable urge to watch ESPN throughout my pregnancy.  We could have named him Dante or Gideon or one of the more daring names on my list.  He's the kind of kid who can carry a big name – though he's very happy to be Alex.
In utero, my daughter would stubbornly choose an incredibly uncomfortable position and stay there for hours – and she's still intent on reordering the world to reflect her wishes.  I'm glad she prefers Clio to Mathy for now, but I'm completely prepared to call her something else – maybe many something elses – as she grows up.
Anyway, it's a great question for a name nerd parent, but I didn't want to risk boring her.  So I asked what she thought we would name her now if we were re-naming her.  Mathy, because I love math!
I replied that what we like changes over time, so we'd have to rename her again and again.  And while that was an exciting idea, it might be confusing, too.  Do you want to change your name?
No, I like Clio.
And we returned to our regularly scheduled programming.
I've often wondered what it would be like if there were some window, like ages 18 to 22, when a young person could change her given name easily.  I know I'd have loved the opportunity.  But it takes a certain maturity to handle the complications – how your family will react, how disorienting it can be to suddenly be someone else.  And yet, I know many people who don't love their given names, and would probably happily take the opportunity to have a more ordinary name, or a wilder one, or just a plain different name.
Now, on to the name news:
 Let's open up with a happy birthday to the nicely named twins of Sarah Jessica Parker and Matthew Broderick: Tabitha and Loretta.  They're such quirky choices, and yet they've always struck me as very SJP – stylish, confident, just a little bit different.
When I can't sleep, I wake up and write.  And I watch reality television.  I was completely sucked in by Bravo's Ladies of London, which is pretty much another in the Real Housewives series.  Namespotting: an American newcomer to the UK with kids called Georgina and Truman, and an American with long history in London who just welcomed boys called Jax and Jett.
While we're jetsetting, let's talk World Cup.  I'm not watching – much – but the names are everywhere.  I agree with C in DC – Xabi is among the most fascinating of names from the tournament.
Isn't Angela's guest post at Nameberry on Baby Names that Bridge Generations brilliant?  She explains exactly why we have that experience – meeting someone with a name that feels like a mom name, or a grandma name, but is actually perfectly reasonable for their age.  Glance at the current Top 100, and you'll probably see a few surprises – Nicole, Melanie, Justin, and Brandon are falling, but they're still very common.
How much do I love Portuguese baby names?  Classics like John and Simon become João and Simão.  Though I went to school with a João, and I'm not convinced that his name sounded as good as when I said it.
I like Anna's advice to the parents of twin girls on the way.  Their two favorites are Winter and Martha, but they're not convinced about them separately, much less as a set.  I love her suggestion of Winter and Scarlett, for lots of reasons, but oh, I'd love to see someone use the neglected Martha, too!  Looking forward to the birth announcement.
Speaking of names I'd love to see on a birth announcement, this Swistle post is packed with them: Iris, Maribel, Kestral, Nicoletta, Nella, Fern.
A few finds from the Facebook page: Amanda mentioned the best nickname ever for Jonathan: Jona, pronounced like Jonah.  It's right there, ready for use, but I've never heard it before.  And check out these quintuplet names, courtesy of Elisabeth: Aurora, Brielle, Delilah, Elias, and Felicity.  If you're wondering what happened to C, that's big brother Connor – who took the lead in naming the new arrivals!
That's all for this week.  As always, thank you for reading.  Spotted any great names out in the wild recently?  Leave them in the comments!
Related articles