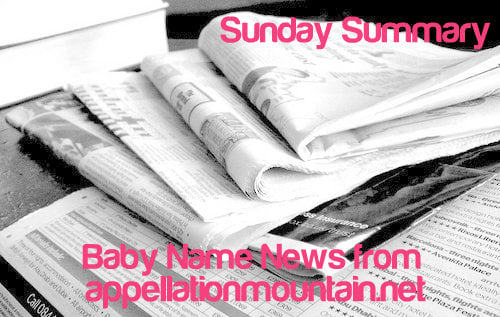 Happy Easter!  For those observing the holiday, I hope you have a thoroughly enjoyable day.
The other day I came across a name in a magazine: Lynya.  Lynya had written an article in a prominent women's magazine, so presumably her unusual name had not been a stumbling block to a successful life.  But I was struck by the name – was it pronounced like Linnea?  Or like Lydia with an n?  Maybe something like Mariah?  Distinctive, yes.  Easy to wear?  Maybe not.
Unusual names always spark that curiosity in me – was it a respelling, an invention, a smoosh?  And yet, even the most unusual name is still probably not truly unique.  That's why I got a kick out of this post.  Scroll down to #3!
The post is meant for a laugh, but it is kind of horrible to imagine a world where no one shares the same name, isn't it?  At first it seems great – no accusations of name theft, no pressure to stick with popular picks like Ava and Mason, no guilt over failing to pass down family names like Morton.  But it also means no honor names, no hero names, and a need to be far more creative than most of us can imagine.
Still, I was delighted when How Many of Me? informed me that I am the one and only Abby Sandel.  There are three of my husband, one of my daughter, and one of my son – except that's not right, because he shares his first and last name with his grandfather.
Elsewhere online:
Vi Delores and Sy Reed.  Those are some seriously short first names.
Daphne, Olga, Victoria, Stella – Moira Shearer wore some great names!
Some of these vintage nicknames are among my favorites.  I especially like Ike, Bess, Kit, and Lulu.
Captivated by this list of medieval names from Portugal.
Such an interesting story about Rafael becoming Rafferty because these Australian parents thought it was a better fit.  And Anna makes a good point about the sisters' names, too.
Baby Name Wizard talks about the generational switcheroo. While there are certainly women of all ages named Abigail, it is so VERY popular now that I suspect my name can potentially cause that kind of reaction.
A very long list of noun names, culled from the Social Security Administration data, by Roses and Cellar Doors.
Tabitha was one of my favorite names for years, thanks to re-runs of Bewitched.  Nice to see her getting some appreciation on Baby Names from the Bible.
Oh, that reminds me – today marks my two year anniversary of being at the new and improved site!  Still lots of work to do, but it's good to be settled in.
That's all for this week!  As always, thank you for reading – and have a great week.