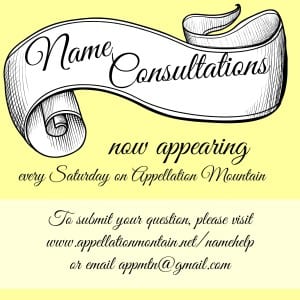 Name Help is a series at Appellation Mountain. Every Saturday, one reader's name questions will be discussed.
We're relying on thoughtful comments from the community to help expectant parents narrow down their name decisions. Thank you in advance for sharing your insight!
Elisa writes:
Rob and I are expecting our baby in the coming weeks. We are struggling to find a boy names.
Our little girl Renée was an easy choice. It fit our criteria:
simple and short
easily pronounceable in English and French
not overly popular
If this baby is a girl we'll be deciding between Alice and Nadia.
But a boy? We can't agree.
My husband likes Alex, Jacob, and Brandon but these are too common for me.
I'd prefer Felix, Dominic, or Cedric.
The only boys name that we seem to compromise on are Bradley and Zachary.
Can you help recommend other boys names that we may not have considered?
Read on for my answer, and please add your helpful suggestions in the comments!
Hi Elisa –
Congratulations on your baby-on-the-way!
I'm always interesting in the phrase "not too popular." It's something that many parents want, but it's difficult to define. It can mean many different things.
Typically, it means not in the Top Ten, and usually not in the Top 100. Let's look at your names:
Jacob – a long-time #1 name – is definitely out.
At #128, Alex seems like a better bet. Except that Alexander has been very popular in recent years, and currently ranks #8. Most of those Alexanders answer to Alex, so that's out, too.
Brandon has a long history in the US Top 100, but Dominic is currently #69.
Meanwhile, Cedric is an obscure #785, and Felix is #267.
Of your two compromise names, Bradley ranked #184 in 2014, while Zachary came in at #82.
Hmmm … I'm not sure there's a clear direction from the numbers, and "less obscure than Cedric, not as popular as Jacob" leaves a lot of room in the middle.
But the part about the name having to work in French can help narrow things down. I looked up the most popular French names on my go-to site for French baby names: Meilleurs Prenoms. The Francophone world is vast, though. If you're thinking of Quebec, the list is different.
One good strategy might be to choose a name that is popular in French-speaking countries, but less well known in the US.
At a minimum, all of the names on this list appear in the Meilleurs Prenoms database – a good indication that you'd hear them in France.
Axel – A medieval spin on the Old Testament Absalom, Axel is originally Scandinavian. But it's been in the French Top 100 in recent years, and also ranked #145 in the US. Axel is short, simple, and complete, and shares the letter 'x' with Felix and Alex.
Abel – I think the Old Testament Abel is probably considered dated in France – it peaked in the early twentieth century. But it would be familiar, and like Axel, it's short and simple. Abel ranked #164 in the US.
Alec – If not Alex, how about Alec? I'll admit, I got the idea from this Pixies single, inspired by Alexandre Eiffel. Alec ranked #469 in the US, with is pretty obscure. But it's definitely familiar in the US. Alec appears to be fairly obscure in France and Quebec, too, but definitely not unknown.
Luca – French parents are just as likely as Americans to choose names from other cultures. And so the Italian Luca has been popular in both countries in recent years, ranked #185 in the US and in the French Top 100 in recent years. Another possibility? Enzo, ranked #369 in the US, and recently in the French Top Ten. While both would work beautifully in France and the US, I suspect that choosing Italian names doesn't quite feel like the right approach.
Theo – Alex always makes me think of Theo. The name ranked #311 in the US in 2014, and is definitely catching on, along with longer form Theodore. Just Theo has been in the French Top 20 in recent years, and is also popular in Quebec. A few other ends-in-o names that come to mind? Milo, Hugo, and Leo.
Colin – Colin isn't really current in France today, but it does have a history of use. The same might be said for the US. At #140, Colin is falling of use. But that might make Colin a perfect name that is widely known, but not frequently shared with other children your son's age – the same way I'd describe Renée.
Nolan – Nolan is originally an Irish surname, and brings to mind baseball thanks to Nolan Ryan. But it's also big in France, Quebec, and in the US Top 100 at #81.
Tom/Thomas – Like many of the names that seem like strong possibilities, Tom and Thomas don't feel especially French. But they are popular in France, as well as Quebec. Thomas ranked #54 in the US in 2014 – closer to Zachary and Dominic than Cedric.
None of these feel especially French, not in the way that Renée does. But when I look for French names for boys that could work in English and still retain a certain essential French style, I come up empty. Jules, Clement, Gaspard, Antoine, Laurent, and Maxime/Maxence all feel a little too off center to appeal to you both.
Readers, what would you suggest to Elisa and her husband? Are there any great English-French crossover names that I've missed?