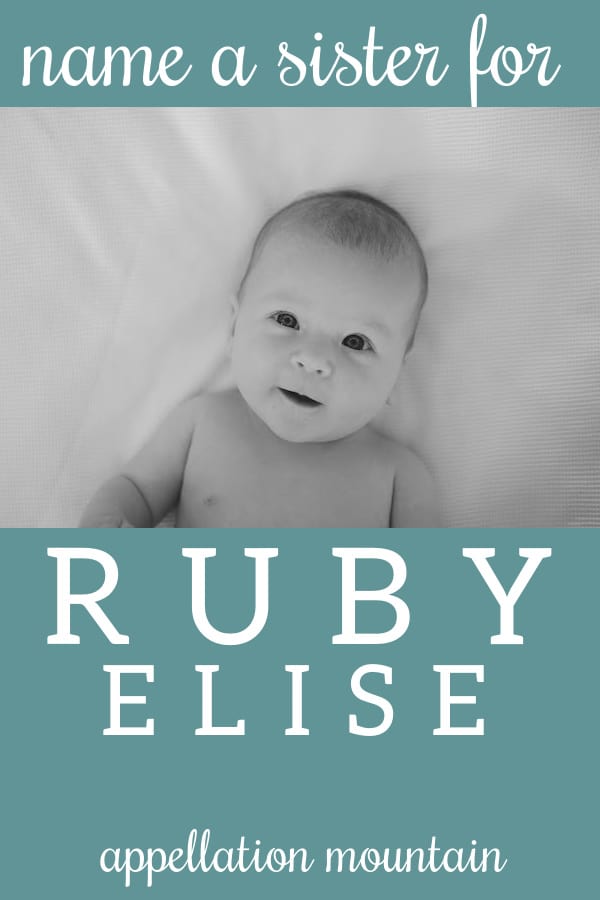 Name Help is a series at Appellation Mountain. Every week, one reader's name questions will be discussed.
We're relying on thoughtful comments from the community to help expectant parents narrow down their name decisions. Thank you in advance for sharing your insight!
Katherine writes:
My partner and I have a two year old named Ruby Elise. We think her name is perfect. (And she's pretty great, too!)
Our second is due in October. We're team green again, and just like with Ruby, our boy name is Miles Jacob.
But this time, we have no girl names.
NONE.
Maybe we're being too picky, but here's our list of requirements:
No nicknames. We took your advice about what to talk about first, and realized that I hate correcting people who want to call me Kate/Kathy.
One spelling. My partner is Andy. Not Andi or Andie. I'm a little worried that Miles would be Myles, but I feel like it's not a big problem. But names like Sara/Sarah are a no.
Nothing too new. We're not brave enough to name our baby Pixel or Prius or even Henley or Kaia.
Nothing too 80s soap opera villain. Andy likes to suggest names like Bianca and Miranda and Dominique. I'm sure those names are right for someone, but I just picture Bianca wearing diamonds and fur and pushing someone down the grand staircase of a mansion.
Nothing too long. We use a hyphenated last name. It sounds sort of like Hillman-Smith, which is just long enough that I'm not naming our kid Bartholomew.
Nothing obviously religious. Doesn't matter if it's Naomi or Bodhi, we don't want our child's name to suggest beliefs that we don't share.
We also know a lot of children in our circle of close friends, including Ella, Esther, Stella, Hazel, Zara, Lucy, Clara, Chloe, Maia, Meadow, Monroe, and Mara.
One name that we both like is Opal, but we really don't like that idea. To me, it would feel like Opal's name was just an extension of her sister, and that feels wrong. That also makes me think that maybe we should rule out any word name, like Hazel, which I would like if it wasn't already a friend's child.
Can you help us think of some names that go with Ruby Elise?
Please read on for my response and leave your thoughtful suggestions in the comments.
Abby replies:
Congratulations on your second!
It's so good to know what you want – and yet, it can sometimes feel like a long list of requirements reduces your possibilities to zero.
That said, I think your list is actually pretty workable. Lots of names are both nickname-proof (or at least nickname-resistant) and have a single dominant spelling. And we can sidestep the Pixels and the Dominiques, too.
Let's get started!
A SISTER FOR RUBY ELISE
ALICE
There's a sweet simplicity to this name. It's been worn by world-changing women, from Alice Paul to Alice Walker. But it's still very Wonderland, a name as appropriate for a child as it is for an adult. Could it shorten to Ali/Allie? Sure. But it's not very likely.
CORA
Like Ruby, Cora is a vintage name that's popular again now. It's easy to spell and pronounce. Sure, you'll meet the occasional Kora/Corra, just like there's sometimes a Rubi. But Cora would enjoy the same ease of wear.
DAPHNE
Could Daphne represent a midway point between all those soap opera names like Dominique and the ones that you prefer? It offers just a hint of drama and frill, but it's still very much a single-spelling kind of name.
ELOISE
Since you liked Elise enough to make it Ruby's middle, would you consider the similar Eloise as a first?
PIPER
Okay, Piper takes us in a slightly different direction. It's more modern; a surname choice and possibly a word name, too. (Or at least word-adjacent.) But actor Piper Laurie's career began in the 1960s, so it's not a true novelty.
SOPHIE
Sophia and Sofia are wildly popular, while the French Sophie is just a little different.
VERA
Depending on the origin, this can mean truth or faith. It's a strong name, with a distinctive sound.
VIVIAN
Timeless Vivian is at-home in any era.
My favorite from this list is Daphne, particularly with a brief middle. Daphne Jean, Daphne Grey, Daphne Vale. But I feel like maybe Cora and Vera fit your requirements list a little better? And that makes me wonder if something like Cora Piper or Vera Scarlett would appeal?
Readers, over to you … what would you name a sister for Ruby Elise?