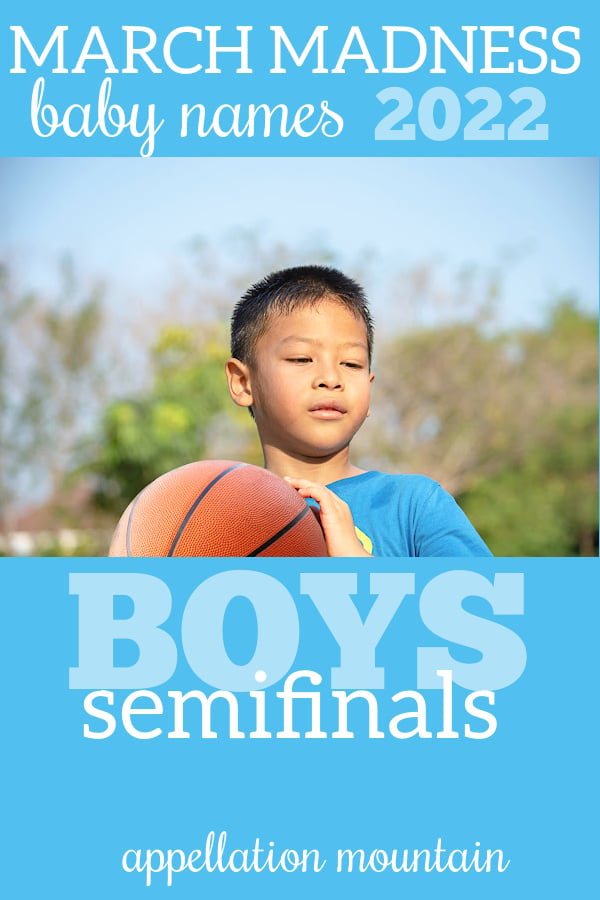 How can it already be time for the March Madness baby names 2022 boys semifinals?
Our contest started out at the beginning of the month with sixteen names: August, Cove, Emrys, Hayes, Huxley, Jones, Kai, Koa, Otto, Percy, Phoenix, River, St. John, Torin, Wells, and Wilder. These represented the most-viewed names at Appellation Mountain during 2021.
We voted our way through two rounds, until that list was reduced to Otto, River, Hayes, Wells, Wilder, Kai, Torin, and August, and those names competed in our QuarterFinals.
Let's see how those contests went:
Otto bested River with around 56% of the total.
By a similar margin, Hayes won over Wells.
Wilder defeated Kai, racking up over 60% of the vote.
In the only landslide-style victory of this round, August trounced Torin with over 73%.
That means Otto, Hayes, Wilder, and August advance.
AND NOW IT'S TIME TO VOTE IN THE SEMIFINALS!
OTTO versus AUGUST
HAYES versus WILDER
Polls stay open until Thursday, March 24th. Please check back on Saturday, March 26th to see which names advance. And, of course, to vote in the final round!
Curious about past March Madness baby names winners? Check out the 2021 post here.