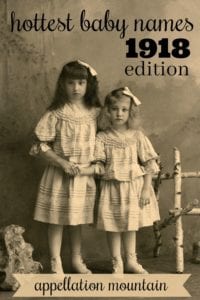 We know the newest stylish baby names, but how 'bout the hottest baby names 1918 edition?
Sure, 1918 was the age of John and Mary. Frank and Mildred made the Top Ten, too. But plenty of names rose in use that year – some of them dramatically. And many of those names? Would be right at home in 2018.
A few disclaimers apply: name data is less accurate (and more volatile) prior to 1937. That's because not everyone applied for a social security number before that date. It's also true that many applicants applied as adults, so that can skew reporting, too.
This list was compiled by scanning the names that rose in use from 1917 to 1918. I skipped the names that were favorites then, and are back in the US Top 100 now. So no Evelyn, Alice, or Clara for girls; and you won't find Leo, Samuel, or Jack on the boys' list.
Instead, these are the names I would been blogging about in 1918, the rising choices that feel nicely on-trend, and just slightly unexpected. If they had jumped like this in recent years, we'd definitely be talking about them today.
So why should a century's worth of history stop us? Let's dive into the hottest baby names 1918 edition!
Hottest Baby Names 1918 Edition: Boy Names
Davis – A smooth, jazzy surname name, Davis updates David nicely. The name jumped from #549 in 1917 to #521 in 1918. It's even more popular today, at #492 – but that's still nicely under-the-radar.
Hezekiah – With Old Testament boys' names continuing to appeal, Hezekiah has climbed to #613 in the US. That's just like way back when. The name rose more than twenty-five places to #923 in 2018. Today, cool nickname options like Kai and Zeke are another bonus.
Jennings – A surname name related to John, Jennings seems to have entered general use thanks to politician William Jennings Bryan, famed for his 1896 "Cross of Gold" speech. But it jumped again, to reach #769 in 1918. Today the political connection has faded, but it's an intriguing possibility that might honor a Jennifer.
Jones – Smith and Jones make for everyman surname names – but they're seldom heard as firsts. But why not Jones? Like Jennings, it's a form of John. It gained in use back in 1918, but fails to crack the Top 1000 today.
Jules – Jules might be short for Julia. Or Julian, or any other Jul- name. But it's actually the French form of Julius. French author Jules Verne makes it literary and imaginative. It was a solid choice back in the first half of the twentieth century, but today it doesn't appear in the Top 1000.
Loyal – In our age of bold word names and virtue-inspired choices, Loyal fits. It sounds at home in the Puritan era (though I can't find any specific uses), but it's also perfectly modern. Despite this, Loyal falls outside the current Top 1000.
Sumner – Back it the day, a Sumner was one who summoned others to court. Today it sounds quite close to girls' name Summer, and also brings to mind a handful of figures, like media mogul Sumner Redstone. It made the Top 1000 a century ago, but today? It doesn't make the list.
Thaddeus – A New Testament name with a great meaning – heart – call Thaddeus a quirky classic, as traditional as Matthew or John, but not nearly as common. It reached #307 back in 1918; today it stands at #666.
Turner – Love a good -r ending surname name? Turner fits. And back in 1918, it had climbed modestly to #699. Today it's left the Top 1000 entirely. Figures like Will Turner of the Pirates of the Caribbean franchise are a bonus.
Warner – Speaking of -r ending surnames, preppy and polished Warner was rising a hundred years ago. Today? It hasn't made the Top 1000 since the 1960s. It has a strong meaning – guard – and fits right in with so many W-ending surnames.
Hottest Baby Names 1918 Edition: Girl Names
Beryl – Two gemstone names recently returned to the US Top 1000, but Beryl isn't among them. Tailored and modern, it could wear well today – just as it did in 1918, when it gained in use.
Liberty – The children of 1918 were born as the first World War drew to a close; no surprise patriotic names like Liberty were getting a boost. In fact, Liberty debuted in the Top 1000 in 1918. Today it feels every bit as bold and confident, and stands at #568 – about as popular as it was then, but still well below Serenity, Journey, and Grace.
Lida – Lydia and Layla are in the Top 100. But the globe-spanning Lida doesn't even crack today's Top 1000. Back in 1918? It had jumped forty places into the mid-600s.
Nella – Ella, Bella, and Stella are big. We love Eleanor and Penelope, formal names that might shorten to Nell. But back in 1918? Nella was climbing, too. But it's been seldom heard since the 1940s – even though it would fit right in today.
Sabina – An ancient name worn by early saints, Sabina reached #706 in 1918. But it faded, and hasn't been heard since the 1920s. It would fit in nicely with Sienna and Selena today, but it's seldom heard
Theodora – We love short and sassy Thea for girls, and both Theo and Theodore for boys. Back in 1918, regal and saintly Theodora reached #546. Today? It's outside of the current Top 1000.
Trudie – No one is naming their girls Gertrude, but why have we overlooked Trudie? It fits with Lucy and Sadie, an easy and accessible nickname name. Back in 1918, it had re-entered the Top 1000. But today? It hasn't made the list since the 1940s.
Verona – An Italian place name with a romantic sound – hey, it's the setting for Romeo and Juliet! – Verona is perfectly on-trend today. In 1918, it was gaining in use, but by the 1930s, it was all but gone.
Vesta – A Roman goddess name, Vesta reached #408 back in 1918, but today? You probably can't name one. But it works, thanks to that vibrant letter V and our love of goddess names.
Victory – Like Liberty, another name inspired by world events. But Victory also brings to mind the classic Victoria, and fits with three-letter, ends-in-y names so popular for girls over the ages.
Those are my picks for the hottest baby names 1918 edition. Would you consider any of these for a child today?