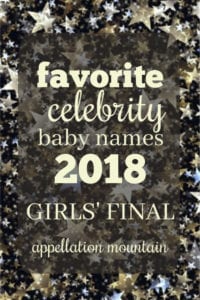 I can't wait to see how this one turns out! Time for the girls' final in the Celebrity Baby Names 2018 contest.
Right after Thanksgiving, we started voting on your favorite celebrity baby names 2018. They were drawn from the most mainstream of high profile birth announcements over the past year. Sorry, Chicago and Kulture. This post is for your Top 1000 cousins.
We made it to the SemiFinals last week, and here are the results:
In the battle of the long and lovely G names, Genevieve triumphed over Gwendolyn 58% to 42%.
Short and snappy Margot carried the day, 57% to 43%, against Felicity.
Here's a fun fact: Genevieve is a past winner of our annual March Madness contest. Could that lend the name an edge? I feel like Margot has plenty of potential, too.
But it's up to you now.
Will the Favorite Celebrity Girl Name of 2018 be Genevieve or Margot?
Check back soon to see which name wins it all!