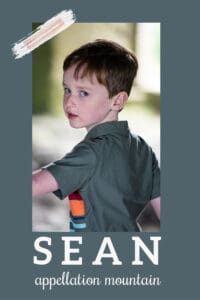 The baby name Sean has gone from Irish import to chart-topper to mellow classic.
Thanks to Kyla for suggesting our Baby Name of the Day.
JOHN BY ANY OTHER NAME
Long the most popular boy's name in the US, John has fallen from the #1 spot.
But looking at how many names are simply another form of John suggests that it's still on top – just in a different way.
The baby name Sean, along with variations Shawn and Shaun,  is among the most popular of  Irish exports.
John, of course, comes from a Hebrew name meaning "God is gracious."
How did the name go from John to Sean? Via the medieval French Jehan, which became Jean. Say it with a French accent and the leap to Sean is straightforward.
Shane is another form of the name, equally Irish, though never quite as chart-topping as Sean.
There's also Evan, Ian, Eoin, Jean, Juan, Johan, Ivan, Hans, Giovanni, Gianni, Zane, and many more.
IRISH NAMES
Sean is the Irish form of John, arguably the most common given name for men across many languages and centuries.
But it's not the first Irish name to catch on.
Even today, over 9% of the American population claims Irish descent. No surprise, then, that Irish names have had a good run in the US Top 1000 baby names. Consider:
The saintly Patrick ranked in the US Top 100 from 1937 to 2003.
Brian peaked in the 1970s, but ranked in the Top 100 from the 1940s into the 2000s.
Ryan entered the US Top 100 in 1971 and remains there today.
Aidan and Aiden dominated the twenty-first century, and the -en spelling remains a Top 100 favorite.
Nolan and Connor are current Top 100 picks, with names like Declan and Rowan not far behind.
With so many families claiming roots in Ireland, it feels like any accessible Irish name will always appeal to some American families.
But what explains the rise of Sean specifically?
BY the NUMBERS
The boy's name Sean debuted in the US Top 1000 way back in 1943. It had quietly risen in use in the years prior. As the post-World War II baby boom took off, beginning in 1946, a great many name increased in use. After all, plenty of new babies needed names!
But it really took off about fifteen years later, as the 1950s gave way to the 1960s. One possible explanation? An actor who wasn't from Ireland, but Scotland.
SEAN CONNERY
Born Thomas Sean Connery in Edinburgh, the actor had some Irish heritage as well. By his teens, he preferred to use Sean rather than Tommy, Tam, or Thomas.
And so when he started acting in the 1950s, that's the name he used.
His first breakout role was 1959, in Darby O'Gill and the Little People, a Disney hit.
In 1962, the actor took on the role that would make him a living legend: James Bond.
Connery went on to play the super spy in seven successful films, beginning with 1962's Dr. No and ending with 1983's Never Say Never Again. The author of the Bond books, Ian Fleming, was impressed by Connery's portrayal. In fact, he made Bond part-Scottish, a detail revealed in a Bond novel Fleming wrote in 1964.
The baby name Sean was already popular and rising. It ranked #177 in 1961.
But after the release of Dr. No, the name skyrocketed, reaching #79 by 1965 and #50 by 1966, at which point Connery had headlined four Bond films.
The Scottish actor has remained a household name ever since.
MORE FAMOUS SEANS
If only Connery had kept the name in the spotlight, Sean might've faded in use quickly. In fact, the name did fall, heading through the 1970s.
Except other famous Seans followed, and helped lift the name back into wider use.
In 1975, mega-celebrity musician John Lennon and his wife, artist Yoko Ono, welcomed son Sean Lennon. He's often appeared in the spotlight since.
Music also gave us Shaun Cassidy during the 1970s, a teenage heartthrob who sent this spelling of the name soaring.
American actor Sean Penn became a star in the early 1980s, with his breakout roles in Taps and Fast Times at Ridgemont High. By the  mid-90s, he was collecting Oscar nominations as a leading man.
Sean Combs became a hit-making musician in the 1990s as Puff Daddy. He's changed his name several times, and created a fashion label called Sean John.
You might also recognize:
Sean Bean, born Shaun Bean. The English actor has played many roles, including turns in the Lord of the Rings trilogy and TNT thriller Snowpiercer.
Long-time Will & Grace ensemble member Sean Hayes played Jack McFarland.
Speaking of Lord of the Rings, Sean Astin played Sam. Most recently, he's appeared as Bob in Stranger Things on Netflix.
Singer Sean Kingston, born Kisean Anderson, is known for his collaboration with Justin Bieber.
Grammy-winning dancehall artist Sean PaulRyan Francis Henriques is professionally known as Sean Paul. (Thanks to lots of collaborations, you've probably heard his music, whether you recognize his name or not.)
The list could go on for pages. This is before considering athletes, politicians, or notables from other walks of life. Fictional characters would add even more pages, from minor characters in Scrubs and Pretty Little Liars to Simon Pegg's cult classic Shaun of the Dead and claymation favorite Shaun the Sheep. Shawn Spencer is the main character in long-running detective comedy-drama Psych. Shaun Evans plays the young not-yet-Inspector Morse in prequel Endevaour.
Compound names, like Deshawn and Tyshawn, Keyshawn and Rashawn, all had their moments, too.
It demonstrates that while Sean may have started out as Irish, it's long since been embraced as a go-to name for a son, open to reinvention and embraced by many.
CLASSIC IRISH(ISH) CHOICE
The 20th century was good to Sean, producing many famous bearers of this name, real and otherwise.
While the baby name Sean has faded since then, taking Shawn and Shaun with it, it remains a familiar choice. Sean left the US Top 100 after 2009, and currently stands at #363. But that's still far ahead of Hugo, Asa, or Wells, to name just a few stylish – but less popular – possibilities.
If you're after an evergreen traditional with a hint of Irish heritage, the baby name Sean might be the ideal choice for a son.
What do you think of the baby name Sean?