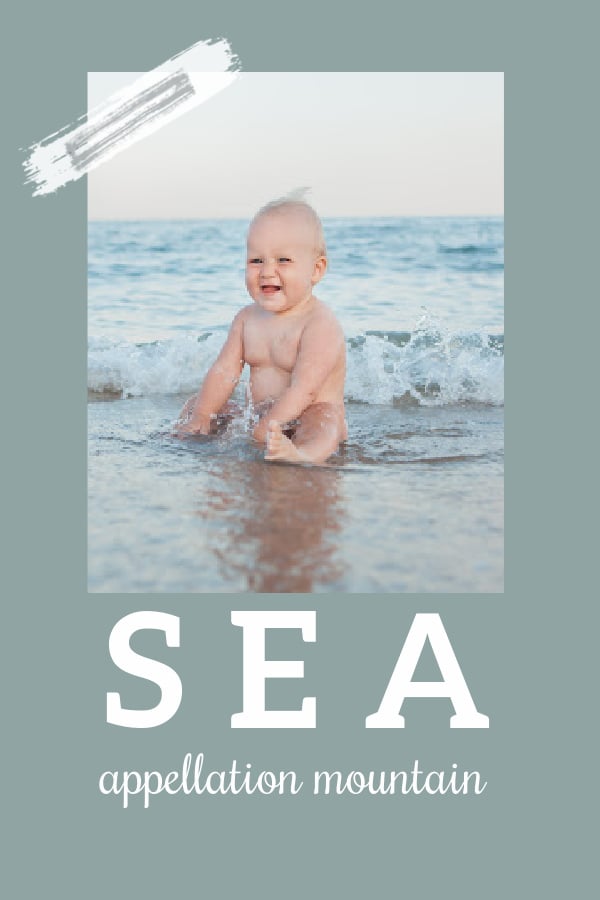 The baby name Sea belongs with the stylish rarities, an on-trend choice that (almost) no one is using.
Thanks to Willow for suggesting our Baby Name of the Day.
SHEET of WATER
Before we talk about the baby name Sea, let's think about the word for a minute.
We recognize sea as a near-synonym for ocean, though there's a difference.
In Old English, the word referred to a sheet of water. That might've meant something much smaller, like a lake. The ambiguity persists in some other languages, though in English, there's a (fairly) clear distinction between the different bodies of water.
Like many a nature word, it brings to mind lots of uses beyond the physical one.
We can drown in a sea of despair or drift in a sea of love. (We can slow dance to that second one, too.) Sometimes we experience a sea change – a transformation. We can be at sea – confused – or earn our sea legs – gain confidence and ability, originally referring to rookie sailors who stumbled aboard ship until they got used to the motion.
But mostly the baby name Sea brings to mind the romance of places like the Mediterranean and the Caribbean.
RIVER and OCEAN
In fact, the baby name Sea fits right in with fast-rising favorite River, as well the more recent style star Ocean.
Neither are completely new. Ocean, in particular, brings to mind Oceanus Hopkins, a child born aboard the Mayflower during its 1620 voyage to the America. And Océane – the French feminine, pronounced oh say ahn – has had a good run across the French-speaking world since the 1980s.
But both are trending in the twenty-first century.
As of 2020, 287 boys and 207 girls were named Ocean, along with 2771 boys and 1540 girls named River.
Water-inspired names have depth.
KAY and JAY
Of course, the baby name Sea also brings to mind an earlier era.
Back in the 1950s, Jay routinely appeared in the US Top 100 for boy names. Kay reached the same milestone for girls in the 1930s and 40s.
Other initial-only names include:
Bea, though since it's typically short for Beatrice or Beatrix, pinning down the number of Beas is difficult.
Dee, which charted in the Top 1000 for boys as late as the 1960s, and into the 1970s for girls.
Elle, a current favorite for our daughters, entered the Top 1000 in 2002 and now sits in the 300s.
Plenty of others, like Tee and Vee are heard, too, though not enough to make a mark in the popularity data.
Of course, Sea starts with an S, not a C. So while it feels like Jay or Elle or Bea, it's a little different, too.
BY the NUMBERS
But is anyone actually using the baby name Sea?
It turns out that the name appears in only a very tiny handful of births.
The name debuted in the popularity data for girls in 1982 with five births.
For boys, the name first appeared in 1985, with six births.
And it was last seen in the US popularity data way back in 1998.
So it's among the rarest of given names in terms of actual use.
RHONY DAUGHTER
One place you might've spotted the baby name Sea?
Model turned Real Housewives of New York alum Kelly Killoren Bensimon made a splash in the show's early seasons.
With ex Gilles Bensimon, Kelly was the mother of two daughters: Sea Louise and Thadeus "Teddy" Ann.
By any standard, those names are downright daring and bound to draw some attention.
That said, neither of her daughters became public figures, so they're unlikely to draw much attention to their names – including the baby name Sea – today. It's been nearly a decade since Kelly left RHONY, so chances are that won't boost the name's use, even though plenty of reality show-inspired choices have caught on over the years.
LEA
Looking at the baby name Sea might spark another thought: is it one syllable or two?
We all know that the body of water rhymes with key.
But there's also Sia, as in the Australian-born singer, who rhymes her name with Mia.
So while it would be confusing, it's certainly possible that a Sea would choose to pronounce the 'a' at the end.
Given our love of two-syllable mini names, from Ava to Gia to Zoe, Se-ah fits.
SEA GREEN
One more way to think about the baby name Sea?
We love a good color name.
From Hunter to Jade, baby names inspired by the color green are having a moment. It's easy to make the case that Sea is every bit as accessible and on-trend as Beryl or Clover.
STYLISH RARITY
Overall, the baby name Sea emerges as a stylish rarity. It fits with current trends, from nature names to minimalist choices. And it presents like a name, too, somewhere between Kay and River and Jade.
If you're searching for a unisex possibility that feels brief, but richly meaningful, this one might belong on your list.
What do you think of the baby name Sea?