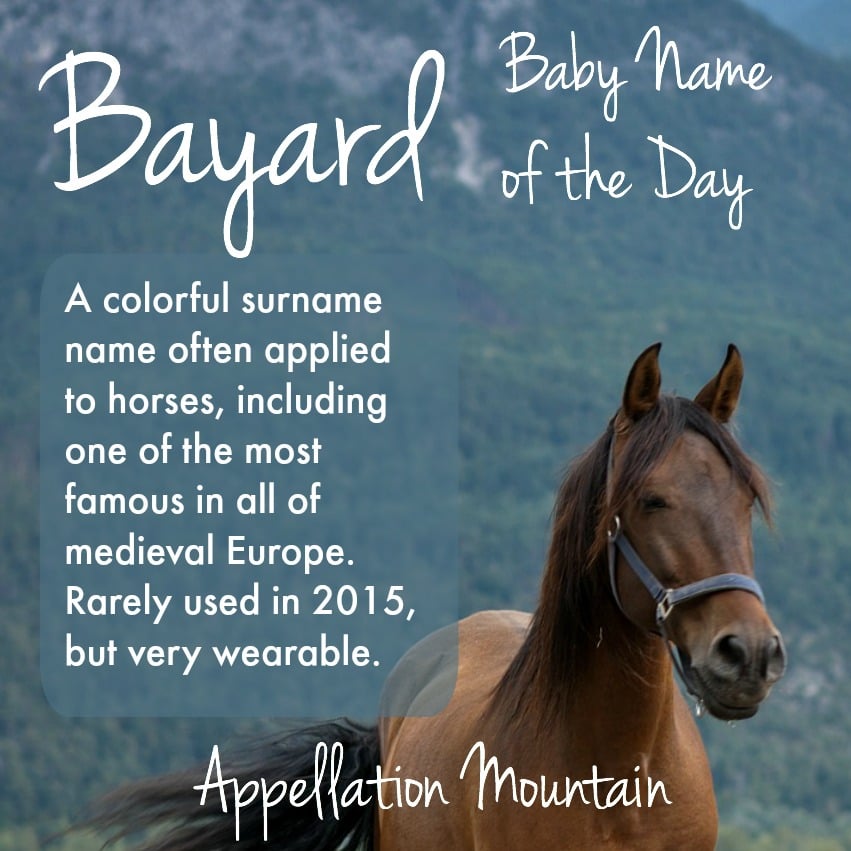 This post was originally published on November 4, 2010. It was substantially revised and re-posted on March 16, 2015.
It's a colorful surname name with an equestrian vibe.
Thanks to Taylor for suggesting her daughter's name as our Baby Name of the Day: Bayard.
Bayard: Chestnut Brown
Back in the day, badius was the Latin word for a shade of chestnut brown.  In Old French, it became bai, as in bay – the color that we so often associate with horses.
Think of Stephen Foster's "Camptown Races," where the lyrics tell us "somebody bet on the bay."
We might not immediately think of Bay as a color name, but it is, just as much as Gray or Ruby or Violet or Blue. Name your child Bay, and some might say it brings to mind bodies of water or howling wolves or bay windows.
But Bay and Bayard should also bring to mind the most famous horse in all of medieval Europe.
Bayard: Medieval Legend
The story goes like this: Charlemagne made a gift of a magnificent horse to the knight Renaud.  The story first appears in the twelfth century epic Les Quatre Fils de Aymon, penned by Renaud de Montauban.
Renaud's horse was called Bayard, and he was gifted with incredible talents.  He could carry Renaud and his three brothers, possessed incredible strength, and could understand human speech.
Then Renaud quarrels with Charlemagne's nephew, and kills him in a fight.  The brothers must flee court, and they do so with the help of their trusty steed.  Eventually, Renaud and Charlemagne are reconciled, and Renaud is forced to return Bayard to the ruler.  Charlemagne plans to drown the horse, but instead Bayard escapes and lives in the woods.
He's big in Belgium, where there's a rock formation named after the horse, said to be formed when Bayard split the horse split the rocks with his hooves.  There's also a statue of the brothers' famous escape.
Here's a curious shift: Bayard was heroic at first, but over time, the reckless aspects of his character were emphasized. By the time Geoffrey Chaucer wrote, two centuries after Renaud de Montauban, Bayard was a daredevil who took unnecessary risks. Chaucer gave the name to several horses, but they were far less admirable.
Bayard: Surname and Given Name
As a surname, Bayard may relate to horses, to hair color, or to reckless behavior.  Or it may be an occupational surname derived from baiart, the Middle English word for a cart.
There's a Delaware family by the name – they produced six US Senators between 1780 and the early twentieth century. Photography pioneer Hippolyte Bayard wore the surname in the nineteenth century, and there was also an American Civil War general who answered to the surname.
As a first name, there's nineteenth century poet and essayist Bayard Taylor, as well as civil rights activist Bayard Taylor.
Bayard: 2015 Possibility
Five boys were given the name in 2013, and I've heard of a few other children with the name – boys and girls.
Overall, it's a true rarity, seldom heard. And yet I think Bayard is a very wearable possibility. Easy short form Bay is cool and breezy, sharing the playground with River and Mae.
But the full name has a preppy, buttoned-up feeling, making Bayard a buddy for Parker and Sullivan.
It's a striking, distinctive name with one of the quirkier backstories I've found.  If you're hoping for a modern feel with a medieval plot line, Bayard might be the choice for you.