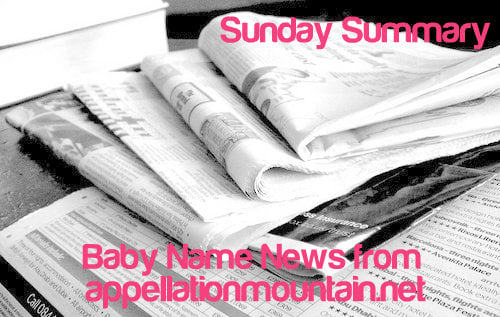 Woosh!  Where did the month of May go?  There were oodles of birth announcements this past week – check out my Nameberry post tomorrow to read all about the nine newest celeb(ish) arrivals.  And with a Kardashian, a Braxton, Jessica Simpson, and Duchess Kate all due this summer, it's promising to be a name-packed few months!
Now, for baby name news and chatter from the blogosphere:
Dulcie, a sister for Sadie and Hattie?  Elea points out that the name has quite a bit of history.  Looking for a formal version?  Dulcibella did well in the nineteenth century, and there's also the literary Dulcinea.
Kelli's Mix and Match post is pure fun!  Before there was Nameberry, one of Pam and Linda's books had a similar chart.  But Kelli's is updated with new bits and pieces, like Ever and Oak.
A baby named Kansas – in Kansas!  Usually I expect to see things like babies named Brooklyn in Utah, so that was a change.
Loved reading everybody's Cabbage Patch Kid name stories.  Could all of those doll birth certificates have been a gateway to name nerdery?  And Annabella Cleopatra has to be the best CPK name I've heard, hands down.
Happy to hear this couple is sticking with Lijsbeth.
Kind of digging Mather.  And Alta and Case, too.
Have you met a baby Atreyu?  Nancy is right – this is one of those names that has become established beyond his roots in fantasy literature and film.
On a similar note, Khaleesi has an interesting story.  As Laura writes, I would have guessed it was Arabic.  I would have been wrong.  It's Dothraki.  Seriously, I need to watch Game of Thrones.
Are you playing the name game at You Can't Call It "It"?
From the wayback machine: in 2008, I ran a list of Summer Names.  The featured name was Jude.  A year later, the spotlight turned to Viola.  In 2010, Kateri was Baby Name of the Day, followed by Linda in 2011.  Last year, May 26 was a Saturday, but the Friday before I ran The New Classics: Boys' Edition.
So Alex O'Loughlin has sons named Saxon, Spike, and Lion?  That's quite a trio!
I share Eponymia's affection for Fleurie, even though it is too close to flurry to work in English.
Ivelisse is gorgeous!
That's all for now.  As always, thank you for reading – and have a great week!