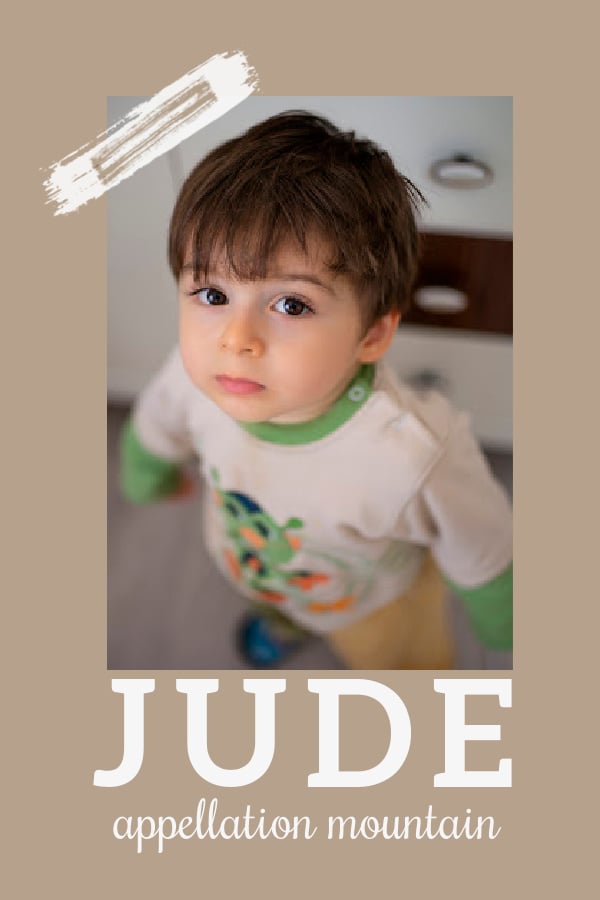 The baby name Jude begins with the Bible, but long remained obscure. Until, that is, the Beatles and a Hollywood A-lister transformed it into a contemporary favorite.
Thanks to Natalie for suggesting our Baby Name of the Day.
OLD TESTAMENT, NEW TESTAMENT
In the Old Testament, Judah is one of Jacob's twelve sons. The name means praised.
He appears on the family trees of both King David and Jesus, so there's no shortage of religious significance for Judah.
Judas, the Greek form of the name, has a big role in the New Testament, since Judas Iscariot is the apostle who betrays Jesus.
While Judah and Jude have long histories of use, Judas is far less common. Despite the stylish 's' ending, there's still enough of a sting that Judas has never charted in the US Top 1000.
SAINT JUDE
A second apostle appears in the New Testament. He's called Jude, or sometimes Thaddeus, or Jude Thaddeus.
Even if you're completely non-religious, you've heard his name. Saint Jude serves as patron saint of lost causes, or, more hopefully, desperate situations.
Why? It's said that few Christians prayed to St. Jude, because they feared inadvertently attracting the attention of Judas Iscariot. So when someone did turn to Jude Thaddeus, he went out of his way to help.
Danny Thomas became a wildly successful entertainer in the 1940s, and his career flourished well into the 1980s. But early days, he struggled. During one rough patch, Thomas found himself in church, praying to – who else? – Saint Jude.
Not long after, his career took off. In thanksgiving, Thomas founded the St. Jude Children's Research Hospital in 1962. It's become an international leader in treating catastrophic children's diseases.
Despite the name, St. Jude's is not – and has never been – affiliated with any religious entity.
JUDE the OBSCURE
If not through the good work of the hospital, it's possible to find the baby name Jude on the bookshelf.
In 1894 Thomas Hardy published Jude the Obscure as a magazine serial. Hardy's leading man encountered nothing but desperate situations and dashed hopes. It's beyond dark, with no happy ending.
Reading it seems unlikely to inspire parents to choose the name for a child.
JUDY and JUDITH
And yet, the baby name Jude did gain in use during the 1950s.
One possible reason? Just like Emmett followed Emma, the runaway success of Old Testament name Judith and nickname Judy might've sparked some interest in Jude for boys.
Judith briefly reached the US Top Ten in the late 1930s and 40s. Both Judith and Judy were Top 20 choices were Top 25 picks into the early 1950s.
While Judith and Jude come from separate roots, it's easy to imagine parents interested in Judy for their daughters considering Jude for their sons – at least some of the time.
THE FAB FOUR
But the baby name Jude actually became wildly famous thanks to a Julian.
Besides the success of Judy and Judith, Jude's uptick in use might also owe a little something to short surfer boy names like Todd and Dean that caught on in the 1960s.
By the end of that decade, though, everything changed.
In 1968, Paul McCartney penned "Hey Jules" for John Lennon's son, Julian. Lennon and his first wife, Cynthia, were divorcing. The song marked an attempt by McCartney to console his friend's son.
The song became a smash hit in its time. But more than that, it's became an enduring staple, regularly appearing on all-time best song lists and referenced by in literature, too, from Stephen King to Toni Morrison.
And yet, in the 1960s and 70s, the song had little lasting impact on the baby name Jude. As of 1968, Jude ranked #816. It leapt to #669 in 1969 and #681 a year later.
But mostly, the baby name Jude faded, leaving the Top 1000 entirely in the 1980s, though it remained just outside the rankings, even peeking back in briefly in 1996 at #938.
JUDE LAW
But it took Hollywood to take everybody's favorite song into a mainstream baby name favorite.
English actor Jude Law's career launched in the 1990s. It was 1999's The Talented Mr. Ripley that made him a household name in the US. It earned Law an Oscar nomination.
The baby name Jude returned to the US Top 1000 in 1999 at #950. By 2000, the name rose to #679.
Jude Law was the spark the name had been waiting for.
BY the NUMBERS
As Law's career has flourished, the name has also soared. He's played the heroic Albus Dumbledore in the Fantastic Beasts prequels, and a villain in the Marvel universe. Along the way, he's racked up some serious theater accolades, too.
In fact, he's become enough of a household name that few parents cite Law when choosing his name for their child. The song, though? That tends to come up.
As of 2010, the baby name Jude ranked #168. It stands at #154 as of 2020, bouncing around the mid-100s. As for Judah, it reached a new high of #186 in 2020.
SERIOUS and SOULFUL
With a Biblical backstory and a literary tie, the baby name Jude has quite a bit of appeal – traditional, but not traditionally common. It's a substitute for Jack, a spiritual choice more streamlined than Isaiah or Hezekiah.
And while the baby name Jude has become a mainstream favorite, it remains distinctive – just beyond the most popular of choices. That makes this serious and soulful name a strong choice for a son.
What do you think of the baby name Jude?
This post was originally published on May 26, 2008.  It was substantially revised and re-posted on July 7, 2014, and again on August 17, 2021.