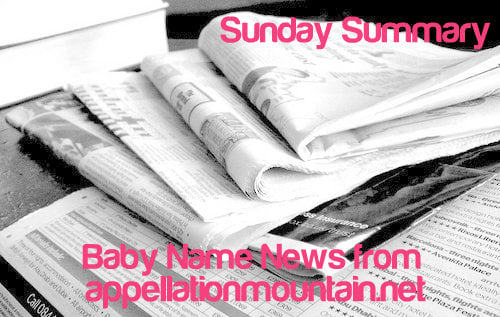 Happy Sunday!  Thanks for all of your kind thoughts on yesterday's post.  This is such a great community!
Now, a dilemma: in 2011, March Madness launched at this site.  It's a contest amongst all of the most-read posts for the past year, where we vote until we have our favorites.  The 2012 champions were Arthur and Genevieve.  In 2011, Nathaniel and Louisa took home the prize.
Names get into the contest by page views and searches.  I tally up all the page views a post earns, then add in all of the searches for a particular name.  The searches typically don't sway things much – though last year, they did send Boheme into the Top 16.  Obviously, the longer a post has been around, the better a shot it has at making the playoffs.
In 2012, I automatically disqualified any name that made the Top 16 in 2011.  After all, it seemed possible that we'd have the same contest year after year, possibly with the same outcome.  Acceptable in basketball, but maybe a little dull for our purposes.  So in 2013, do I:
Just go with the Top 16, regardless of past performance, and let Nathaniel and Genvieve try to defend their titles?
Exclude all of the Top 16 from 2011 and 2012, and start fresh with those who have never competed?
Retire only the winners: Arthur and Nathaniel from the boys' side, Louisa and Genevieve from the girls' side?
Attempt to weight the rankings to favor those that have not previously appeared, or posts that are younger?
To determine the Top 16 names, I'm only looking at the statistics from 2012.  Still, a post written in Fall 2012 has a much harder time racking enough page views to compete with a post written in January or February … or even a few years back.
I'm undecided.  Opinions welcome.
Now, on to the name news:
That's all for this week.  As always, thank you for reading & have a great week!