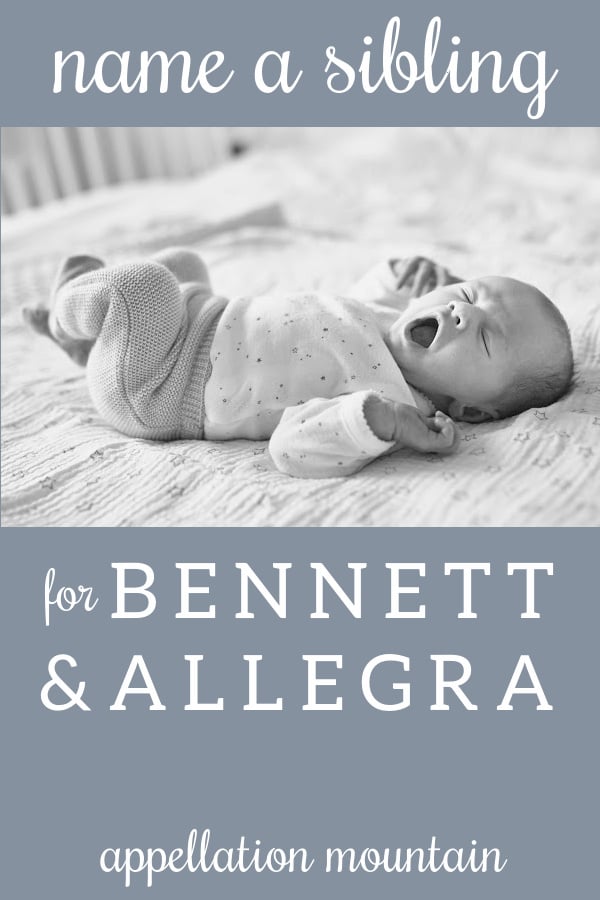 Name Help is a series at Appellation Mountain. Every week, one reader's name questions will be discussed.
We're relying on thoughtful comments from the community to help expectant parents narrow down their name decisions. Thank you in advance for sharing your insight!
Lara writes:
I am pregnant with a surprise miracle baby, child #3. Loving brother Bennett is 12 and excited sister Allegra is almost 4.
My bump has been named Boss by my kiddos, which stands for Bundle of Super Surprise. We decided to embrace the surprise and not find out gender.
As a definite name nerd, I've had a baby name list since I was 7 years old! Growing up, everyone mispronounced my name as "Laira" or called me Laura. I prefer "Lahrah" or "Laahraah." As an adult I love that my name is rare.
I am looking for a name that capitalizes on what I love about my name, while erasing the downsides. Here are my criteria:
Unique, but still obviously a name
Ideally not top 500, more like low top 1000s or even off the Top 1000 chart
Easy to pronounce and spell correctly
A longer name with built-in nickname options. Popular nicknames are okay, and 3 syllables seems to hit the sweet spot
A substantial meaning
Cannot end in S or Z as it will run into last name
Bonus 1: Pronounceable in Spanish and French; I am trilingual with Peruvian roots (I can let these go if needed)
Bonus 2: Unique first letter and name ending sound so each kiddo has their own initial and sound (Keep dreaming, I know!)
We will likely use two middle names to first honor beloved family, and second let our kiddos help select a one syllable 2nd middle from a shortlist. My husband prefers classic names (think British royalty), but will likely come around to something more unique "as long as it isn't strange or weird, and is clearly a person's name" before our baby arrives.
Our last name is a two-syllable S name that was originally German, and is similar to Summers.
Here are some names I love but won't use:
For boys: Myles, Henry, August, Logan, Jasper, Archer, Maverick
For girls: Charlotte, Amelia, Juliana, Aurora, Jasmine, Addison, Adelynn, Eliza, Tessa
Here are some contender names I really like:
For boys: Wellsley/Wellington, Torin/Torben, Mateo (too popular?), Coltrane, Santiago, Diesel, Cormac, Campbell, Declan, Otto, Cannon, Orion, Orson, Montgomery (not Monty), many of the preppy hellraisers
For girls: Jeanelle, Jeanette, Juliette, Margarita, Maelle, Marigold, Margaret, Harley, Hadley, Orly, Eliana, Colette, Calliope
Some nicknames I adore but haven't settled on the right formal name yet:
For boys: Cam, Cole, Chet, Cash, Cruz, Dash, Dex, Teo/Taio, Tor, Tru, Max, Nash, Rex
For girls: Coco, Ellie, Millie, Maggie, Mae, Ettie/Etta, Charlie
It is odd to choose the nickname first? Should I be finding the right formal name and then looking at possible nicknames instead? I am hoping to go to the hospital with a top three list for each gender. I much appreciate your help, time and suggestions!
Please read on for my response and leave your thoughtful suggestions in the comments. 
Abby replies:
Congratulations on baby three – and how fun to make it a surprise for everyone!
I think it's completely reasonable to start with a nickname and work backwards. And it can be prudent to drop a formal name if the obvious and expected nickname is one you'd prefer to avoid. (Not that it can't work. But depending on the name you're considering, it's sometimes too big of a challenge.)
A BROTHER FOR BENNETT AND ALLEGRA
Let's start with your list, because Campbell "Cam" leaps right out at me:
It's a formal name/nickname combination you like. And it's nicely parallel to Bennett.
In terms of popularity, I'd call Campbell very unusual. It has briefly appeared in the US Top 1000 – for boys and girls alike – but only briefly. In 2019, 189 girls and 141 boys were named Campbell. So that's definitely under the radar. (In 2019, a boy's name needed 208 births and a girl's name 256 births to register in the US Top 1000.)
Campbell is immediately recognizable and easily spelled and pronounced.
Plus, it's a different first initial AND a different ending sound.
Check, check, and check!
I think it strikes a good middle note between other names on your list. I think Coltrane is maybe a little out there. (Less so, I think, if you're a big jazz fan.) Santiago actually ranks in the US Top 100, as do Declan and Mateo. Cormac, Otto, Cannon, Wellsley/Wellington, Torin/Torben, Diesel, and Orson fit a little better. I'd skip Montgomery because Monty feels likely to be used as a nickname – and you do want a nickname. Orion could be almost perfect, but … it's in the US Top 350. Is that too common?
More suggestions:
CALLAHAN – Three syllables, plus cool nickname Cal.
DASHIELL – Maybe fractionally tougher to pronounce and spell, but it's the obvious formal name for Dash and it's great with Bennett and Allegra.
MACEO – An alternative to Mateo, one that's far more rare. I mentioned jazz with Coltrane; if you are fans, you'll probably think of Maceo Parker. The name's roots link it to Matthew and company.
MALCOLM – Okay, it's in the 300s. And I shot down Orion for just that fact. But it might be an unexpected way to get to Cole as a nickname – or Colm or Mac.
MAXFIELD – Since you like familiar nicknames with rare formal names, how about Maxfield called Max? It brings to mind American artist Maxfield Parrish, but it's also just a great rare Max name.
TRUMAN – I started to suggest Truett, but maybe that's too much with Bennett? Truman has a virtuous vibe, built-in nickname Tru, and a different ending sound than your older kiddos.
A SISTER FOR BENNETT AND ALLEGRA
Your list is packed with possibilities! Coco for Colette would work … except Colette and Bennett share the same -t ending. Marigold would be great, too – either with Maggie or maybe Goldie?
Now let's talk about Maelle. It's gorgeous. And it meets many of your criteria. The downside: I suspect it would be mispronounced at least some of the time. And how are you planning to pronounce it? It's lovely in French, but to an American eye, it looks more like Mae-Elle – which works and potentially shortens to Mae. Still I'm wondering if there's some frustration built in to this choice?
I think Juliette, Hadley, Harley, and Eliana might be more common than you'd prefer. And I'm inclined to drop Margaret, Jeanette, and Margarita because of the repeated endings. Jeanelle might be an option – maybe called Ellie? I adore Orly, but it seems a little short.
Calliope seems perfect, but it does appear in the current US Top 1000.
More suggestions:
CALLISTO – It means beautiful, comes with a different ending, and is undeniably rare.
DELPHINE – Nicely French and unexpected, though I'm not sure about nickname options.
HONORA – A great meaning, though the repeated -a ending isn't ideal.
JESSAMINE or JESSAMY – A medieval form of Jasmine, with a romantic, unexpected sound.
MARIBEL or MIRABEL – Maribel is a Maria-Isabel mash-up, and I think it might shorten to Mae. Mirabel comes from the Latin word for wonderful. It might shorten to Mirabel, but I think Mimi works better. Spellings Maribelle and Mirabelle are options, too.
MILLICENT – The obvious formal name for Millie, but also a rarity with a distinctive sound.
YVAINE – There are lots of possibilities starting with Ev- and Yv-. Yvaine's tailored ending makes for something just a little bit different, but there's also Yvelisse and Evolet and Evanthe, too.
Overall, my favorites are Campbell, nickname Cam, from your list for a boy. For a girl, I'm so drawn to the idea of Mirabel called Mimi – or maybe Millie or Ellie, especially if you use the Mirabelle spelling.
Readers, what would you suggest to go with Bennett and Allegra?