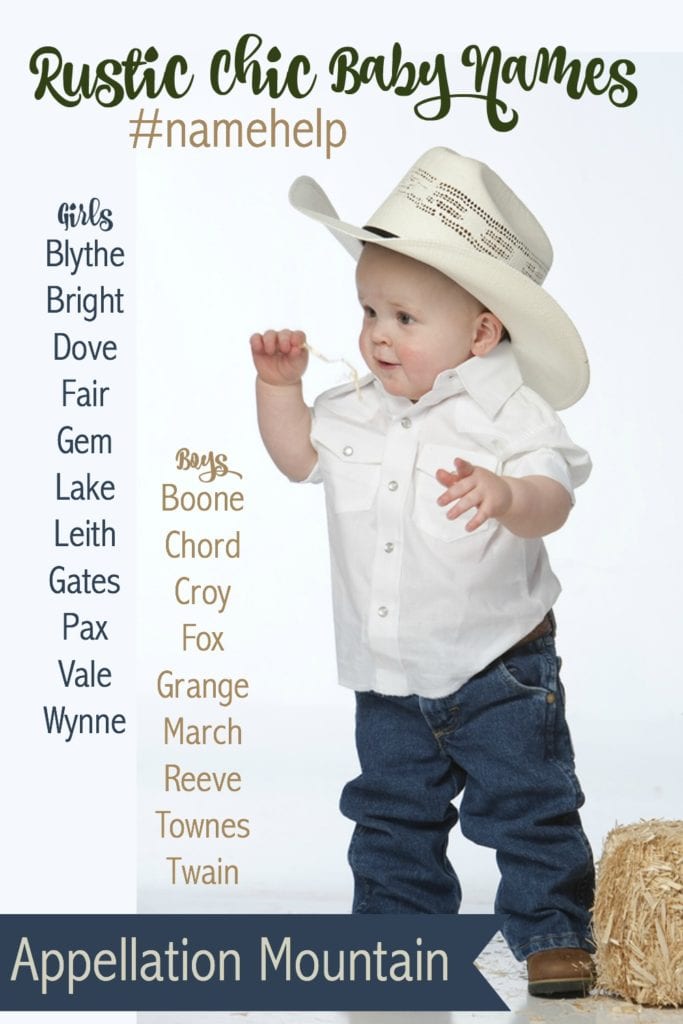 We have an update! Scroll to the bottom of the post to learn what they chose for their daughter. It's not a name from my suggestions, but OH, I do love it!
Rusticmommy writes:
My husband and I are expecting our second child.
We live on a farm with horses, cows, and hogs, in a very rural, tight-knit community where everyone knows everyone. We are raising our family in the same small town where we both were raised. I am seeking a name that IS unique (yes, I read your blog about "what is really unique"), has a country, cowboy, rustic flare.
I have this fetish for one syllable names and am not willing to budge on that.
Here's the story behind our son's name:
We had an outdoor wedding and were searching everywhere for a hutch to put our deserts in, with glass doors, so that people could see the dessert options, without the flies getting to them. I finally found one on craigslist and was texting back and forth with this guy selling it. I ended up saving his name in my phone as Hutch.
When we were pregnant with our son, my husband threw the name out there. I spent my entire pregnancy trying to persuade him about other boy names, but he wouldn't budge. And when our baby boy was born, we had a Hutch Gerard.
Gerard is the middle name of my husband, his father, my father, and my step-father.
I thought we were going to get a lot of negative feedback on it, but everyone accepted it really well, and even though it is unique, everyone remembers his name.
My husband and I both have unique names for our age group, and it was nice growing up that I wasn't Ashley A. or Ashley C. I want the same experience for my kids.
We are at a loss for our second born's name. We are not finding out what we're having. My husband really likes old western names: Clyde, Wayne, Clete. But I am not really a fan of any of them. I really like the name Field for a boy. He isn't completely opposed, but isn't in love.
As for girl names, my husband has completely talked himself into thinking we are having another boy and won't even entertain girl names. So I am on my own! I really liked the name Lux, but a girl a few towns over just had a little girl named Lux, and now I just cant do it. I don't want people to think I copied. I really like the name Rome for a girl. My grandpa's name is Jerome. And I also like Cross, but my husband doesn't.
Any help you can provide on unique names would be greatly appreciated.
Read on for my response, and please leave your thoughtful suggestions in the comments!
Hi Rusticmommy –
Oh, I love the name Hutch! And the story? Quirky, cool, unforgettable.
I think you've also keyed in to something important about distinctive names. Some are more memorable than others. The ones that are forgettable tend to be the Cayson, Axton, Zayden names – the mix and match ones that might be unique in terms of absolute numbers of children with the actual, identical name – but sound just like so many other names!
So I'm going to limit our search to names not in the current Top 1000, probably never in the US Top 1000, but also with a distinctive sound. And I won't try to talk you into anything longer than a single syllable!
I do think Rome and Field are great choices, too. Combined with Hutch, it makes me think that even though you're looking for a shorter name, you might be looking for a name with a lot of sound. Hutch is one syllable, but you really have to say the -tch part – it's not like Will or Kai, which are great names, but with pretty simple sounds. So I'm going to err on the side of names with a similar boldness to Hutch.
Rustic Chic Names for Boys
Boone – I've been thinking about Boone a lot lately, as a sort of Americana name with ties to the West, thanks to frontiersman Daniel Boone. It would be a great brother name for Hutch. Except. The name just entered the US Top 1000, which might make it more popular than you'd like. It was given to 220 boys last year. So it breaks my rules, but I still think it's worth a mention.
Chord – You didn't mention being musical, but I'm not sure that's a requirement to choose a name in our age of Aria and Cadence. Chord ultimately comes from the same roots as accord – to be in agreement.
Croy – In French, Cross is spelled Croix and pronounced Croy. More or less. (Think St. Croix.) It's a surname for an aristocratic European family, but I've come across Coy as a rare boy's name a few times, with a Southern vibe, and Crew has seem some use, too. This makes me think that Croy is one of those out-there baby names that might just work.
Fox – Fox isn't as rare as Croy, but the letter 'x' gives it a lot of sound, enough to stand up to the cool factor of big brother Hutch's name.
Grange – Field reminds me of Grange, but it's maybe the tiniest bit more subtle. (Or not. Is The Grange organization active in your community?) It comes from a word meaning farmstead or small farm. Range has recently entered the US Top 1000, and I think Grange might feel delightfully different, but completely wearable.
March – March is a month and a verb, and I've always thought it would work well as a given name. One hesitation: March and Hutch end with the same sound, which might be too much. Also, I wonder if March works better for a girl? It makes me think of Little Women, though the name of the month comes from Mars, the Roman god of war, which feels more masculine.
Reeve – Reeve originally comes from an Old English word meaning sheriff, making it an occupational surname, along the lines of Carter or Clark. But Reeve has a cool, edgy sound, and is far more rare than either of those two names. Reeve is sometimes used for girls – probably because Charles and Anne Morrow Lindbergh gave the name to their youngest daughter. (It was a family name from Anne's side.) There's a young actor on Showtime's Penny Dreadful named Reeve Carney. He's brought the name more attention, but it remains uncommon.
Rook – A rook is a member of the crow family, but it's also a surname with uncertain roots. It's also a chess piece, and brings to mind the word rookie – another word with debated origins. The problem with Rook is that it can also mean to deceive or to cheat – though I think that's a fairly obscure use. (I think chess board and black bird first.) Rook is about as rare as Reeve – both were given to a few dozen boys last year.
Townes – Townes and Towne probably started out as surnames for those folk who lived in the village, rather than farther out – but we're talking New York City. Townes Van Zandt was a Texas-born country music singer in the 1960s and 70s.
Twain – Twain is another name with a big sound, and I absolutely love Hutch and Twain together. It's the pen name of Mark Twain, of course, which makes it literary. It's not perfectly Southern – the author started out in Missouri, as did his most famous characters. Plus it means two – "mark twain" was a term used in depth sounding on steamboats. If we can name kids Octavia and Una and such, why not Twain? It's among the rarer names on the list.
Rustic Chic Names for Girls
Blythe – Blythe is another name that stands up beautifully to Hutch. Except I'm not certain it's a style match. Blythe is a sort of Victorian, vintage choice. I think it could very easily feel just right on a Southern girl. While it's not in the US Top 1000, it's not the rarest name on the list.
Bright – If you like Lux, but it's taken, then how about Bright? It means "to gleam," but it also means smart.
Dove – I have Rook on the boys' list, so why not Dove here? Paloma – the Spanish for dove – has a history of use. And there have been a handful of girls named Dove over the years, too. Young actress Dove Cameron, of Disney Channel fame, might make the name slightly more popular, but it remains rare.
Fair – Is Fair too much of a word name? I'm not sure. But it's an interesting thought – a little bit virtue name, but also a name that means pleasing and lovely. Of course, it also conjures up images of a country fair – which is either a bonus or not. I kind of like the idea.
Gem – Gemma is on the rise, and Jewel is in the US Top 1000. Okay, Jem is a Hologram. But how about Gem? It's another word name, with a sort of glittering quality and an interesting sound.
Lake – One more obvious word name before we move on … Lake strikes me as the perfect combination of familiar word and unfamiliar name. It's used for boys and girls in small numbers.
Leith – Now, back to the rarities that feel a little more like what you had in mind. Leith is an incredibly interesting name that hits the not-really-used mark, as well as the feels-like-a-name mark. Except. I'm not sure it feels Southern. It has ties to Greek myth and Scotland.
Gates – If you've ever read Curtis Sittenfeld's novel Prep, you might recognize this name. Sittenfeld used it for a minor character. It's the kind of surname name you might except to hear on a prep school campus – but then, surname names are quite Southern, too. Close to Kate, I think Gates works – though Gate would be a word name that seems too much like Coatrack or Bookcase to consider.
Pax – Here's my stand-in for Lux: Pax. From the Roman goddess of peace, Pax has a meaning and a sound that's every bit as appealing. The Jolie-Pitts used it for a boy, and it's been slightly more popular for boys ever since. But overall, it's mostly just rare – and, of course, started out as a goddess name.
Vale – The Today Show's Savannah Guthrie named her daughter Vale in 2014. It's a poetic name meaning valley. Short, with a cool, crisp sound. But does this one feel Southern? I think so, but I'd love to hear others' takes on this.
Wynne – Why does Wynne sound so Southern to me? I might be wrong, but I think the vibe is right. It's relatively rare – there were 25 girls given the name in 2015. It's a Welsh name meaning blessed or fair.
Overall, my favorites for a boy are Twain (he is the second-born, after all!), and Grange. (Though as I'm not Southern, so I might be completely wrong on how this name is perceived.)
For a girl, I find this infinitely more difficult. Rome is gorgeous, and I really like Wynne and Vale, too.
Rusticmommy writes:
Thank you everyone for the wonderful suggestions. Our baby girl was born 1/16/17 and we named her Scout. We have had mixed reviews but mostly positive feedback. Thanks again!