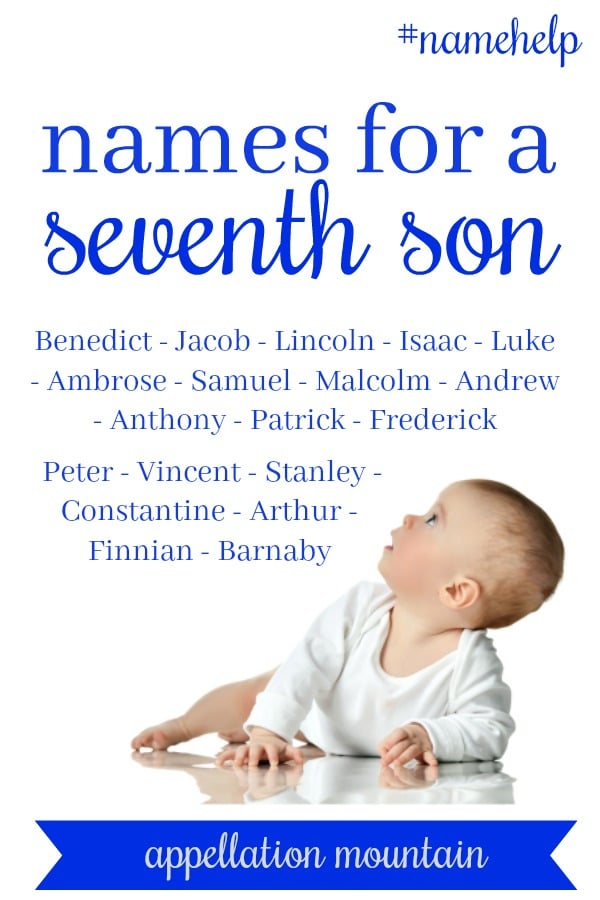 Name Help is a series at Appellation Mountain. Every week, one reader's name questions will be discussed. This is a special bonus #namehelp for a colleague and friend.

We're relying on thoughtful comments from the community to help expectant parents narrow down their name decisions. Thank you in advance for sharing your insight!
Today's #namehelp post is a such an honor to write, because it's for the amazing Kate of Sancta Nomina! She and her husband are expecting baby #7 later this year.
If it's a girl, they're all set with a name deep with personal significance. But if it's a boy? After naming six sons, as you might imagine, they've used up many of their favorites.
Kate doesn't share her sons' names on her blog, but this post will give you a very good idea of her style and thinking about each one. The names they've chosen are very similar to these: Robert, Raphael, Dominic, Joseph, Maximilian, and Charles.
So our mission is to help them find a name for a seventh son. It's quite a puzzle! In their own words:
He says "his style is Bob." He prefers classic, solid names, the kind that you can find in a history book, on a responsible adult today, or on a child. They're enduring choices, and many of their sons' names fall squarely into this category.
Kate leans more towards Joachim. Though she noted that she does pause and wonder how others will react to a less common name. In her words: I was just filling out the paperwork for Little League and imagining writing "Joachim" and having the city baseball officials/coaches be like huh?
She also notes that a British + literary feel is a plus.
So finding a name that falls somewhere between Bob and Joachim is the first challenge!
But wait, there's more:
All of the boys' names have some connection to family, but there's no one specific left to honor. That's okay, though – they're happy to find a middle name that has family ties once the first is decided.
The name should either be a saint's name, or have a connection to a saint – but Kate is a genius about finding a connection between a name and a saint, so no worries if the tie isn't obvious.
They do tend to favor pan-European names, the kind that travel well – but then, that comes with the territory for most traditional/Biblical/saints' names.
Friendly nicknames are a plus! Ben, Jake, Max, and Nick are all in that category. Her husband likes the idea of Stan. (How awesome is that?!) It's okay if the nickname isn't obvious – Kate notes: "an unexpected nickname can make a more familiar first name feel fresh to me" – but it's a tougher sell for her husband if the nickname feels like a stretch.
Kate finds that she likes boys' names with vowel clusters: Joachim, Simeon, Caspian, Tobias, Campion, Jeremiah, Elliott, Damien, and Matthias.
But, even though she likes softer sounds in boys' names, she prefers ones that are clearly masculine in use.
Her husband is a huge Philadelphia Eagles fan, so names like Nick (Foles) and Carson (Wentz) have come up.
Two-syllable, ends-with-n boy names don't work well with their two-syllable, ends-with-n surname.
Names they're considering:
Benedict – Kate's favorite! As she writes, 'It's unusual per the SSA data, but not unheard of or weird; it's super-saintly and also has the Brit connection with Benedict Cumberbatch!" The problem? They can't use Ben, so she's considered Nick (the sound is almost there, and there's the Nick Foles/Philadelphia Eagles connection), Boone (similar sounds, plus the meaning is nearly identical), and Bear. Benedict Gerard, nicknamed Bear, is her current favorite.
Jacob – Kate has suggested Joachim, nickname Jake, but if that's off the table, Jacob called Jake also appeals. Yes, it's very popular – but the name is on Kate's family tree. Jacob Stanislaus, a nod to her husband's Polish heritage, is one possibility.
Lincoln – Her husband's most recent suggestion is Lincoln. Kate thinks Abraham fits better with their sons' names, but Abe would conflict with one of their older boys' names.
Isaac
Luke
Ambrose – Possibly with the nickname Sam or Bram
Samuel – Though it's a little close to an older son's name
They've considered Nicholas, Cole, Colman, and Kolbe in the past (Kolbe comes from Saint Maximilian Kolbe), but they aren't feeling quite right this time.
Names they can't use:
Ruled out because her husband isn't a fan: Simeon/Simon, Nicodemus, Bram (though maybe as a nickname), Caspian, Campion, Jeremiah, Miles, Edmund, Alexander, Jude, Sebastian, Cajetan.
Tobit/Tobias, Gregory – They want to avoid T and G names.
Colman – They're avoiding two-syllable, ends-with-n boys' names because they conflict with their surname.
William – There's a famous figure whose name is very close to William TheirLastName, so this one is off the list.
Nathaniel – They're probably going to avoid another -el ending name.
Nicholas – Ever since the Eagles won the Super Bowl, her husband has been joking that they need to consider naming their son Nick, after quarterback Nick Foles! As Kate writes, "Nicholas is more popular than I'd like, but I don't hate it. I'm off of Cole though, and don't love Nick … I like Nico and Nikolai but I don't think we can pull them off."
Matthias, Matthew
Please read on for my reply, and leave your thoughtful suggestion in the comments.
Dear Kate –
How exciting to be welcoming another member of your family! In the post you wrote about naming your sons, you mentioned that after five boys, it was tough to come up with a name for a sixth son. It doesn't get easier, does it?
Here's what leaps out at me: when you have a larger family, you get to define your style over time, by choosing multiple children's names. So when your sons' names are said together, they cover all of your interests and preferences. Some reflect your husband's "Bob" tastes more strongly, while others feel more like Joachim. But you've met in the middle very nicely.
Now I'm wondering if it would make sense to look for the middle immediately. Because there's a big, open space between the two extremes, and it's chock full of great names. I'm going to (mostly) avoid suggesting more names along the lines of Campion and Nicodemus (though oh, how I adore Nicodemus!) and focus on the more traditional names that still feel a little unexpected.
Trouble is that I'm sure you've thought of all of these – maybe more than once! But I'm hoping I can encourage you to take a fresh look at some classic favorites. And I've thrown in a few that edge a little closer to the Joachim end of the spectrum, too.
Let's jump into the names, going from the safest choices to the most daring, but trying (hard!) to stay in the middle:
Andrew, Anthony – Both Andrew and Anthony are impeccable, buttoned-down classics. And both could lead to the friendly nickname Andy. (I know, I know – it's not traditional in any way at all for Anthony. But it works!) They open the door to more daring middles. In the US, we tend to perceive Anthony as rather Italian. But it's also nicely British – it's perennially popular in the UK, too. Think Anthony Hopkins, for one.
Patrick – The problem with Patrick: Pat isn't the most current of nicknames. But Patch and Pax – both suggestions I found on Sancta Nomina – pull Patrick in a very different direction.
Frederick, called Freddie or Fox – Because you have Benedict called Bear on your list, but it's not quite right, how about Frederick called Fox? It's German, rather than British. And yet I think there's something rather British about it at the same time. In A Room With a View, Lucy Honeychurch's brother is Freddy; there's young actor Freddie Highmore; and Lord Frederick Windsor is a member of the British royal family. But it's also Polish – or, at least, the composer Frederic Chopin was born in the Duchy of Warsaw as Fryderyk Chopin. Style-wise, it reminds me of Robert or Joseph, a solid and traditional choice. But it's much less expected in 2018, which edges it closer to Raphael and company.
Peter – I'd put Peter in the same category as Frederick. It's unexpected only in the sense that we're not using it very often these days. Again, I can find notable Englishmen by the name. (The queen's grandson Peter Phillips, for one; The Who's Pete Townshend, and who can forget Peter Pan? We often give him an American accent, but his story is set smack in the middle of London!) Obviously, it's a heavy hitter among saints' names, but here's why it makes my list: not one, but two members of the Philadelphia Eagles Hall of Fame answer to Pete.
Vincent – While we're diving into Eagles history, have you ever considered Vincent? It feels a little outside of your usual style. Like Peter and Frederick, it's both slightly uncommon and not quite stylish. But here's the thing: Vince Papale's story is the stuff of Eagles legend. Mark Wahlberg played Papale in a 2006 biopic titled Invincible; if you're into sports movies, it's very watchable. One sentence summary: Papale made the 1976 team as a dark horse, thirty years old when he started his rookie season, with no college football experience. Like Anthony, Vincent tends to read Italian, but that's not so. It's Latin in origin, with saints galore bearing the name. Saint Vincent de Paul was French and Vincent van Goh was Dutch. Vinnie is friendly, Vince is handsome, and Vin? Well, Vin is downright cool.
Stanley – So I'm intrigued by Stan. There's Stanislaus, of course. But have you considered Stanley? There's an Eagles link again (Hall of Famer Stan Walters), but also the Blessed Stanley Francis Rother. He's the first US-born priest to be beatified, and his story is powerful – he strikes me as tremendously brave. And I think Stanley is a next-wave revival name, one that will be fully revived in another twenty years.
Constantine – Or maybe Constantine, called Stan? I've run out of Eagles connections. But there's certainly a historical and saintly connection. While Constantine is pretty rare for a child's name – it hasn't made the US Top 1000 in years – it's still nicely familiar.
Malcolm – When I think of boys' names that are traditional, without being wildly common, Malcolm always comes to mind. It feels vaguely British (though I suppose it's really Scottish!) and has a great nickname option: Mac. (Though Cole is hiding there, too, if you ever change your mind.)
Arthur – I noticed you talked about Arthur with the possible nickname Bear in this post last year. Arthur feels rather English to me – I mean, there's King Arthur. And Sir Arthur Conan Doyle, author of the Sherlock Holmes stories! (By the way, the author's full name? Arthur Ignatius Conan Doyle.) Plus, it pops up in the royal family, and is heavily rumored as a name for a future Cambridge prince. If Stanley might make a comeback soon-ish, I think Arthur is well on its way. Another point: while Artie isn't for everyone, I think a little Artie would quickly change my mind. (Full disclosure: this is a huge name on my mom's side of the family, and I married an Arthur – so I may be biased!)
Finnian – Caspian made me think of Lucian/Luke, but I think Finnian/Finn works even better. It has those vowel clusters you like, but reads as exclusively masculine. (Adrian crossed my mind, but it's very close to Adrienne, so I ruled it out.) It doesn't repeat sounds from your older boys' names, and it shortens to the upbeat Finn. There's an Irish Saint Finnian, and I think the ties to Mark Twain's enduring Huck Finn make the name feel literary and adventurous.
Barnaby, called Bear – Okay, I'm kind of stuck on Bear! But it's a great nickname. Barnaby feels nicely British to me, and of course there's Saint Barnabus.
So we're stuck somewhere between Jacob and Barnaby!
Let's go back and look at the names that represent your older boys' names: Robert, Raphael, Dominic, Joseph, Maximilian, and Charles.
This makes me want to revisit two names from your original list: Jacob and Isaac. They lean towards the more familiar. But they do fit in nicely. Another factor: The share the hard-c sound of Lincoln that appeals to your husband. Between the two, I'd favor Isaac. While it's very common, it comes with a super-cool nickname possibility: Ike. Ike is a little bit like Linc, and matches with the whole Ben-Max-Nick category.
If not Isaac-called-Ike, there's another name from your earlier lists that jumps out at me: Hugo. You mentioned that your husband liked it quite a bit when you were naming your sixth son. I like the idea of Hugh Owen called Hugo, too.
Back to my suggestions: I love the idea of Finnian, because it really doesn't sound like your older boys' names. But is it too out-there? I'm guessing yes. That takes me back to Arthur, nicknamed Bear. It strikes me as closer to Bob than Joachim, but not at all predictable or unexciting.
Okay, let's open this up to the readers! What would you suggest to Kate for her seventh, if it's a boy?