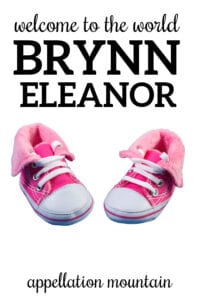 She's here! Brianna writes: I didn't really see Brynn on the list the first time I read it, but my husband saw it and it was immediately his favorite. Thanks to everyone for your thoughts and for helping me figure out to honor my dad's memory with our sweet girl's name!

Brianna writes:
I'm Brianna, named after my dad, Brian. He recently passed away, right before we found out we were expecting. I'm an only child, and feel like my little family is slipping away.
Growing up, I did not like being named for my dad. But now I understand more about how long it took for my parents to have a child, and I can understand their decision.
Having lost my dad, I feel like honoring his memory matters. But any name that's for him will be very close to my name, too, and I have mixed feelings about that.
For a boy, we've settled on Bryce. My husband likes it, and I think it's close enough to Brian that it carries on his memory without sounding too much like my name.
For a girl, I'm really not sure. I've seen Briony/Bryony suggested, but it seems like maybe it's too Briany-y, if that makes sense.
Are there other names for a girl that can honor a Brian that aren't too similar to my name?
Please read on for my response and leave your thoughtful suggestions in the comments.
Abby replies:
Congratulations on your new baby, and I'm so sorry for loss of your dad.
A few things leap out at me:
Would you name your daughter Bryce? Bryce Dallas Howard says it's okay. 62 girls were named Bryce in 2021 (the last year for which data is available), so it's rare – but not unknown. Of course, 1414 boys were named Bryce, so it's definitely the kind of name that could cause confusion.
I think Briony/Bryony works, and would've suggested it I'm sure. But since you're not convinced, let's put it aside.
Is there another way to honor your dad's memory besides his first name? Middle name, nickname, something from this list? It sounds like you're most focused on another form of Brian, and that makes sense, but it's not the only option.
But I do think there are some potential names to consider that are connected to Brian.
NAMES TO HONOR GRANDPA BRIAN
ANA, ANNA, ANNIE
The second syllable of Brian is, well, Ann. So any of the Anna names have potential, though maybe they're too close to your name?
AUBREY
The sounds might be a little bit of a stretch, but I think Aubrey feels connected to Brian, if only through that strong BR sound.
BREE
As with Anna, we're taking just part of Brian … but maybe duplicating too much of Brianna?
BRIAR
A very current nature name, Briar is visually close to Brian, but still feels different.
BRIELLE
Generally considered a short form of Gabrielle that now stands on its own, Brielle also could easily serve as a feminine form of Brian.
BRYNN
One theory for Brian's origins connects it to the old Irish word for hill; Brynn, likewise, means hill in Welsh. Plus, smoosh together Brian, and it's easy enough to arrive at Brynn.
RHIANNON
There's no connection between Brian and Rhiannon, but the shared sounds and rhythm feel like a link.
SABRINA
Brina is an anagram of Brian, but it's not quite a given name. Sabrina, though, is a great fits-in/stands-out kind of choice.
Overall, my favorite is Briar. It's not too similar to Brianna, but it's still close to Brian. But it's also the kind of name we'd expect to hear on a girl born in 2023, making it an honor name and also a current choice. That's the best of both worlds.
Readers, over to you – what honor names for Brian have I missed? Do you have a favorite from this list?