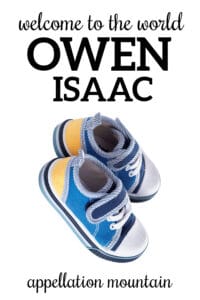 UPDATE: Nicole shares, "Thanks for so many suggestions and sharing your ideas. We almost decided to go for it and name him Henry anyway. But then one of my closest friends from childhood confided that they were naming their son – due a couple of weeks after me – Henry. And I just couldn't do it! (Not that she would mind, but it felt like proof that Henry was everywhere.) We went back and forth between Owen, Nolan, and Julian for a while. In the end, Margot said that she liked Owen best. I went into labor that night, and he LOOKS like an Owen. We chose the middle name Isaac for the meaning. It took a while to get there, but we LOVE his name."

Nicole writes:
We have a three year old daughter named Margot Irene. I love her name – the meaning, the sound, the way it's traditional, but still feels fun.
Because we found out gender early, we never really talked about boy names with Margot. I've always liked Henry, but now it seems like the most popular name ever.
Other names we've talked about:
Archie – maybe too cute? my husband isn't really on board
Callum – the M runs into our last name
Hank – saw this suggested instead of Jack, but can't decide if it works
Jack – just too popular
Jasper – doesn't sound good with our last name
Luca – love it, but we're not even a little Italian
Milo – too close to Margot
Wells – the 'S' in Wells isn't good with our last name
Our last name sounds like Mizz-ner. While I love the way Margot Mizz-ner sounds, I don't think we want another M name. Besides, our friends have a Max, so I'm not sure there's another M name I like for a boy anyway.
Please read on for my response and leave your thoughtful suggestions in the comments.
Abby replies:
Congratulations on your new son!
It's always tempting to look at a list of maybes and see if anything leaps out. Sometimes we like a name – but when other people love it, that changes the way we see it, too.
I do think Archie works completely fine as a stand-alone name.
My first instinct was to suggest Archer instead. Except that's not great with your surname. Would you consider Arch? There's a supporting character on The Marvelous Mrs. Maisel named Archie, often shortened to Arch, which makes me think it works really well. (And, of course, Arch Manning is the latest quarterback in the famous football family, named for his grandfather.)
But Archie seems like the best choice on your list so far … except that your husband isn't wild about it.
Hank has potential, too – precisely because it's so similar to Jack.
And I'm not sure if you have to be Italian – or even like pasta – to name your son Luca. The Pixar movie was all about friendship and bravery, so it has plenty of positive associations. That said, if you'd be annoyed every time someone asked if you were Italian? Then yes, give it a miss.
So let's start fresh.
A BROTHER FOR MARGOT
ASA
Because vowel-ending names appeal to you, would you consider Asa? It's familiar, but not nearly as common as Luca. I do think the 's' in the middle of Asa works well with your surname. A little bit of repetition makes a name memorable.
CHARLIE
Because you like Henry and Hank and Jack, would you like Charlie? Not Charles … that's another (likely) conflict with your surname. But just Charlie is casual, cool, and still complete.
EVERETT
Like Margot, Everett counts as a vintage favorite. But it's very much a twenty-first century name, too.
HOLDEN
Callum's final M sound does run into your M last name. But I think N-enders have potential. Holden has that same sophisticated, prep school energy as Margot.
JONAH
Reverse the vowel sounds in Margot, and you'll arrive at Jonah. It's perfectly balanced as a brother name.
JULIAN
Julian comes in at three syllables, but it doesn't really feel like a long or overwhelming name.
OWEN
I wonder if another name with the long O sound would appeal? I'll suggest Owen, a name that straddles the current/classic line – just like Margot!
ROWAN
Rowan is a modern unisex choice and surname name, too. Like Margot, it's rising steadily in use, but still not at Liam/Noah/Oliver levels.
Overall my favorite is Jonah. Like Margot, it combines traditional status with a modern sound.  But Everett fits that same category, and sounds great with your surname, too.
Margot and Everett versus Margot and Jonah? I think the latter is more your style, but both are amazing.
I'm not sure how you're choosing middle names, but is something related to your name an option? Everett Nico, maybe or Jonah Nichol? And, of course, Henry could be a perfect middle name, too. Jonah Henry might be my top pick.
Readers, over to you! What would you name a brother for Margot Irene?