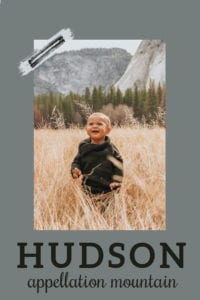 The baby name Hudson combines place name and surname styles to be a chart-topping favorite for our time.
Thanks to Katie for suggesting our Baby Name of the Day.
SURNAME NAME
Names ending in -son often feel straightforward. They mean "son of" the first part, right?
Except … who answered to Hud?
It turns out that Hud (and Hudd and Hudde) were medieval nicknames for Hugh, as well as Richard. Both were quite popular back in the day.
There's also the older, pre-Norman English name Huda. The meaning and origins are unclear, but it's possible it was absorbed by Hugh and Hudde, too.
As a result, when surnames evolved, Hudson became very common.
HENRY HUDSON
Early seventeenth century explorer Henry Hudson might be the most famous bearer of the name.
He sailed from England across the Atlantic, hoping to find a sea route to China. Instead, he found a a navigable river and and what would eventually become New York and New Jersey. The Hudson River defines much of the city.
The explorer also found a massive bay, twice the size of the Baltic Sea. Hudson's Bay Company started out as a fur trading operation centered around the bay. King Charles II of England granted the company's first charter way back in 1670. It evolved into a trading post, and eventually Canada's go-to department store, better known as The Bay.
On his second trip, Henry wanted to press on – but his crew mutinied. Henry and loyal members of his crew were cast adrift.
But it's the explorer's name that endures. The river and the bay are both named for him.
Hudson also lent his name to a strait, a bridge, a parkway, and plenty of other places.
Other notables include influential from the nineteenth and early twentieth centuries include missionary Hudson Taylor, as well as mountain climber (and Episcopal priest) Hudson Stuck, and World War I aviator turned Qantas airlines co-founder Hudson Fysh.
ROCK and HAWK
Any surname is likely to show up as a given name at least a few times. But in the 1990s, Hudson started to catch on.
In 1990, 54 boys were given the name.
By 1991, there were 68.
In 1994, there were 105.
In 1995, Hudson entered the US Top 1000 for the first time.
Hollywood leading man Rock Hudson died tragically of an AIDS-related illness in 1985. He was much in the headlines through the 1990s, but I don't think Rock gets credit for this one.
Instead of Rock, it's Hawk.
1991's Hudson Hawk starred Bruce Willis as a master burglar just out of jail, intent on going straight. Instead he has to finish one last job.
It was a flop.
But Hudson was in the air. In 1995, Tony Danza starred in a short-lived ABC sitcom called Hudson Street.
Names like Austin, Jordan, and Hunter were wildly popular for our sons. Hudson fit.
Incidentally, Willis' character was actually named Eddie Hawkins. A "hudson hawk" is wind coming off the river. But the movie title – and the posters, of course implied that Willis played a character first name Hudson, surname Hawk.
VALLEY
If Willis' character gave the name a gritty, city association, other factors made the baby name Hudson polished, even preppy.
The Hudson Valley was a favorite subject for landscape artists in the nineteenth century, with historic stately homes built by Vanderbilts and Roosevelts clustered in parts. FDR's uncle established the Hudson River Ice Yacht Club in 1869.
This gave the name a little bit of a Ralph Lauren vibe.
FINN HUDSON
Glee debuted in 2009, and it became a sensation. The late Cory Monteith played Finn Hudson, star quarterback turned glee club member. It was a pitch perfect name for the singer – handsome and on-trend, if a little unlikely for a boy born in the early 1990s. (Finn didn't enter the US Top 1000 until the year 2000.)
Hudson ranked #150 in 2009. It's continued to climb every year since then, cracking the Top 100 in 2012 and standing at #80 as of 2014. As of 2018, the baby name Hudson had reached a new all-time high of #54.
With an intriguing mix of preppy association and gritty street cred, the baby name Hudson has soared to the top of the US popularity charts. It feels nicely modern, but not all invented, and with deep roots. It's easy to imagine parents choosing Hudson because they want something ever so slightly traditional, and still less popular than, say, Jackson or Mason.
What do you think of the baby name Hudson? Is this name destined to climb even higher?
First published on July 7, 2015, this post was revised and re-published on August 27, 2020.