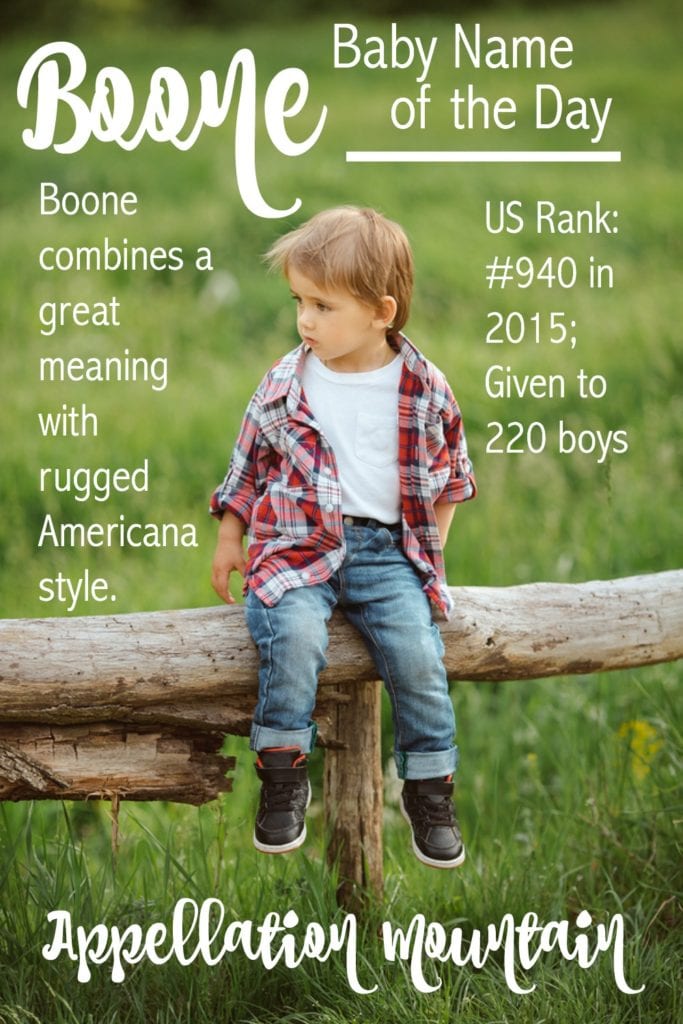 Rugged, outdoorsy, and Americana, Boone makes for an unexpected name for a son.
Inspiration for our Baby Name of the Day comes from this post.
Boone: All Good
Do you know the French phrase c'est si bon? A popular song, first recorded 1947, shares the name. It translates to "It is so good."
Boone and bon both come from the Latin bonus – which simply meant good, way back in the beginning.
Or possibly the name traces its roots to Bohon, a French place name; or maybe it comes from the Dutch word for bean, and the original bearers of the name farmed beans, or looked like a string bean.
But let's stick with good, because it's a terribly appealing meaning. Even today, we use "boon" to refer to a blessing or a gift. Think of phrases like "a boon companion," meaning a good friend.
Boone: Daniel
One figure immediately comes to mind: American frontiersman Daniel Boone.
Born in rural Virginia in 1734, Daniel starting hunting, trapping, and selling pelts while still a young man. His occupation led him west, becoming one of the first Americans to settle across the Appalachians. Thousands of his countrymen followed the trail blazed by Boone.
He fought in the Revolutionary War, and afterwards, kept heading west. Missouri became Boone's final home.
The frontiersman was still very much alive when writer John Filson profiled him for a 1784 publication. Filson's account made Daniel a legend. Over the years, truth fact morphed into tall tale. Daniel Boone is an American folk hero, but even during his life, he cautioned that many stories were greatly exaggerated or even invented.
A national forest, seven counties, a North Carolina town, as well as schools and other places bear his name. Lord Byron immortalized him in his 1822 poem Don Juan, calling him "The General Boon, back-woodsman of Kentucky." Another writer called him "the Columbus of the woods."
In 1964, NBC introduced a successful TV series based on the frontiersman's life. Fess Parker, best known for playing Davy Crockett on an earlier series, played Boone. The show ran until 1970.
Boone: Beyond the Frontier
A few other notables answer to the name:
Businessman T. Boone Pickens manages a hedge fund. Born Thomas Jr., he's known professionally by his middle name.
Ian Somerhalder played a character by the name in early seasons of LOST.
On short-lived NBC drama Trauma, it's the surname of one of the paramedics, by which he's known exclusively.
Boone: By the Numbers
For years, this name follows a familiar path. It's sometimes bestowed as a given name, probably passing down a family surname.
During the twentieth century, six or a dozen boys received the name most years. Nothing pushed the name higher – not the television series about the frontiersman, or our affection for short names like Todd, Scott, and Craig in the 1960s.
Then in 1983, NBC aired a television series called Boone. It followed an aspiring young singer by the name. The show was cancelled after just two seasons, but the number of boys given name tripled while it aired.
LOST gave the name another boost in 2004. Since then, this name has succeeded on style. We love short, brisk names for boys. In 2015, parents welcomed 220 babies by the name, enough to tip Boone into the US Top 1000 for the first time ever.
This handsome name could easily join other short, modern names like Jace, Blake, and Cole in the mainstream.
What do you think of this name? Would you consider it for a son?