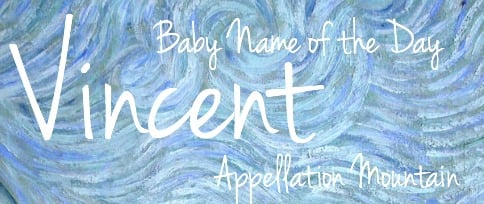 This post was originally published on October 16, 2008. It was substantially revised and re-posted on November 2, 2015.
Looking for a classic name less common than William or James?
Thanks to Another for suggesting one that fits – and to Brittany for suggesting the update! Our Baby Name of the Day is Vincent.
Vincent: Travolta
Back in the 1970s, Vinnie Barbarino was the character played by a young John Travolta, whose career was launched on ABC sitcom Welcome Back, Kotter. Vinnie was one of the "Sweathogs," the remedial students at a Brooklyn high school, taught by veteran teacher Gabe Kotter.
Barbarino fit the stereotype of a Vinnie: Italian, and maybe a little too smooth. The image persisted through 1992, when My Cousin Vinny gave us another Brooklyn-accented Italian with the name.
But then came a very different Vincent, also played by Travolta: Pulp Fiction's Vincent Vega. The 1994 movie marked a return to stardom for Travolta, a major box office hit, and a pop culture phenomenon.
Since then, actor Vince Vaughn has also helped to change the image of this name from Brooklyn-bound to something very different.
Vincent: Classic Roots
You've probably heard Julius Ceasar's vini, vidi, vici – I came, I saw, I conquered. Vincentius was an early name from the Latin vincere – to conquer.
Several early saints bore the name, with at least four on the record between the fourth and seventh centuries.
The most famous saint by the name comes later: Saint Vincent de Paul, born in the 1500s, who dedicated his life to serving the poor, mainly in his native France. He also founded several religious orders.
Vincent: van Gogh
de Paul makes this name saintly, but another famous Vincent makes it powerfully creative. Vincent van Gogh, the nineteenth century artist responsible for works like Irises and Sunflowers and dozens more, makes this name an artistic possibility.
Born in the Netherlands, but living most of his adult life in France, van Gogh is considered one of the forerunners of Expressionism and, indeed, all of modern art. His many paintings are among the most instantly recognized and most valued by collectors.
Vincent: Beyond the Church and the Museum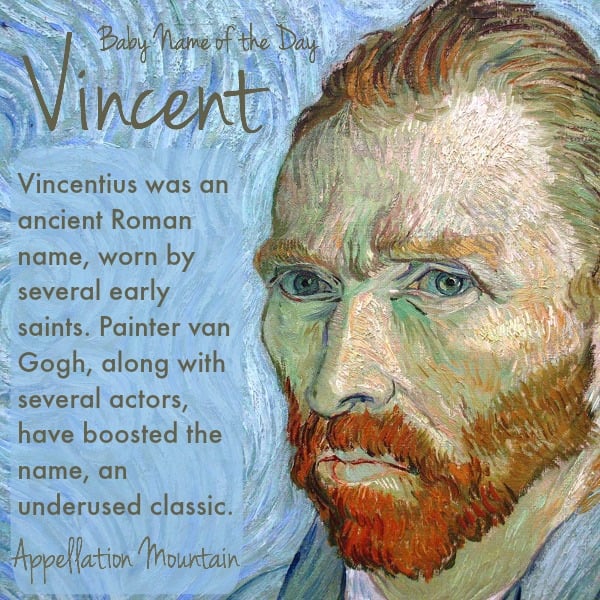 Noble Vincents can be found in several European families, including a Duke of Mantua in the early seventeenth century.
But the modern Vincents are plentiful, too, including:
Actors D'Onofrio and Kartheiser, as well as Vin Diesel – born Mark Sinclair Vincent. Adrian Grenier wore the name as a fictional movie star on HBO's original series Entourage. It's said that the character was named for a legendary acting teacher with the same name. And what would horror movies be without the legendary Vincent Price?
I'm a sucker for the underdog tale of former Philadelphia Eagle Vince Papale, whose story made into the 2006 movie Invincible starring Mark Wahlberg.
Vince Guaraldi is the composer behind the Peanuts music, and other musical Vinces range from Motley Crue frontman Vince Neil to Country Music Hall of Famer Vince Gill.
The name has appeared in the US Top 100 more years than not, ranking from 1910 to 1933, for most of the 1950s, 60s, and 70s, and again from 1983 to 1992.
That puts Vincent just outside of the most classic and enduring names for boys, and as of 2014, the name stood at #104.
All of this makes Vincent an appealing possibility for parents who want a strong name for a son that isn't trendy, isn't too common, and will travel well.
If you're after an underused classic for a boy, Vincent is one to consider.
What do you think of Vincent? Does the nickname Vinny concern you?