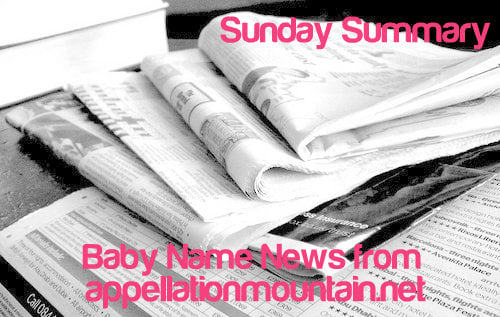 There's always talk about names that set our kids up for success.
I get it.  Heck, I've said it.
While they were still in utero, I imagined my children introducing themselves by their names as adults.
Successful adults, of course.  Not adults in a parole hearing.
And yet, I'm always surprised at the actual variety of names in use, and how many successful people have names that don't necessarily scream "future district attorney" – at least, not to the parents' and grandparents' generations.
I had the good fortune to graduate from a small, selective private school.  Every one goes to college, and most of the graduates go to Very Good Colleges.
It's fair to assume that parents who go to the trouble of enrolling their children in such a school would be thinking about the same kinds of things when their children were born – how will this name sound on a judge, a heart surgeon, a chief of staff, a CEO?
My alumni magazine arrived last weekend, complete with a list of the Class of 2014.  75 kids total.
The most common name?  Katharine, if you count Catherine and Kathryn – four members total.  As in the saint.  And queens, and lots of other distinguished figures.
I was reminded of John Green's title: An Abundance of Katherines.
Solid names for boys repeat, too: two each of John, Alexander, Michael, and James, as do girl standards Emily and Elizabeth.
There were also trendier names: Madison, Jasmine, Kyle.  A Kira and a Keira. A handful of non-Western, but familiar, choices: Priya, Madhav. And some stand-outs – including Arden and Prometheus.
Mix it all together, and I think you can say this: it's tough to go wrong with a conservative classic.  But it's wrong to assume that those are the only names destined for success.  And when we talk about success, how, precisely are we defining it?
Because I'm absolutely sure that there are lots of ways to be happy, productive, successful, good people that don't require a buttoned-down name.
Elsewhere online:
One last very important notice – I've found a fabulous techie designer, and she's hard at work unravelling the comments conundrum.  No definite ETA on the comments restoration, but it's underway.
That's all for this week!  As always, thank you for reading – and have a great week!
More names to explore: