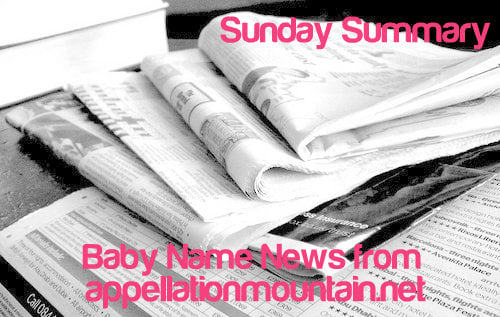 I have a new name crush, though I think it might be unwearable.  Laura Andersen's The Boleyn King is an alternate history – a what if? approach to Tudor England told through the experiences of a fictional character called Minuette.  She explains her name this way:
My full name is Genevieve Antoinette Wyatt.  It was Elizabeth who first called me Minuette.  I was born more than a month before I was expected, and the first time she saw me, Elizabeth thought me too little for the name my French mother had given me.  She attempted to call me Mignonette – meaning dainty and darling – but her three-year-old tongue did not pronounce it properly.  i have been Minuette to my friends ever since.
It's a great re-imagining of Tudor England, and I'm completely charmed by Minuette.
Elsewhere online:
Fiora – another great find from Blue Juniper.  I've heard Fiorella and Fiorello before, but Fiora is a little less elaborate, more forceful.
Not sure I'd call all of these names hipster, but I do like all eight of them.
I had planned to avoid all Kimye references, but Elea's irresistible list of phrase names over the years is fascinating.  I know a family with the last name Hunter – the grandmother recently quipped that she hoped her kids would consider the first name Bounty.
Can you get teased for your middle name?  I know a couple considering a very unusual middle for their baby on the way, and another friend was warning them off the name.  It has rich family significance, so you know which side I was on …
I've been following Greg at Daddy Types since 2004, and he's uncovered many a great baby name story.  This one – about Aaralyn on America's Got Talent – has me thinking.  If Aaralyn and big brother Izzy succeed in the competition, can't you just imagine Aaralyn, Aralyn, Aaralynne and so on joining Adalyn and Aria in the rankings?
Isn't Duarte handsome?  Nomes me mais nomes reported on a celeb who chose this name.  It's the Portuguese form of Edward.  Dashing!
That's all for this week!  As always, thank you for reading, and have a great week.