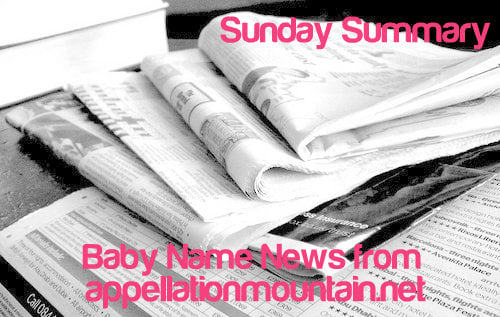 That's it.  Pottery Barn Kids has clearly been invaded by baby name enthusiasts.  Gone are the days when they used the more conservative of the Top Ten plus a few staples.  There's a personalized item on the cover of a recent edition of the look book.  For a girl – and the name is Cambria Elliot.
Other finds as I flipped through the pages included:
Reuben Marshall
Tobin Thompson
Alice, Kylie, Camila, Chelsie, Dahlia
Peter, Clayton, Tristan
I can't say I've been cataloging PBK names for decades – I'd love to go back and look at an edition from, say, 2002.  But it does seem like the retailer reflects the national trend for less common names.
Elsewhere online:
This book review makes me love the idea of naming a child Flora.  (And possibly issuing her a pet flamingo.  But that's a different conversation.)  I met someone my age with this name back in the early 1990s and thought it was awful – too fusty and old-fashioned.  Amazing what a difference twenty years makes.
Swistle's Crib Sheet of baby naming tips is worth a read.
Now this is fascinating: the popularity of baby names from the Bible is at an all-time low.  Laura's point that Biblical is a marker of style rather than origin is a good one.
I love the name Mireille.  Any one else remember French in Action with Pierre Capretz?  Those videos are still my first thought when I hear this name.
There are some really fabulous names in Enid Blyton books: Carlotta, Millicent, Barney, Podge.
From the wayback machine: in 2008, the featured name was Sterling.  Florence headlined in 2009.  2010 was the year for Cian, and Darwin was spotlighted in 2011.  Last year was all about Django.
Good advice from The Name Lady.
I so appreciate Clare's tactful re-naming of this baby name site in her Scoop.it site.  No one should set out to "berate" baby names …
Ace: is there a good formal name that leads to this zippy nickname?  I'd be tempted to use the initials A.C. before I'd consider Eustace, but Ace from Jason is interesting.
Super clunky names at Babynamelovers.  Theodora is on my shortlist, and I love the idea of Gilberte called Gigi – just like in the 1958 film from the 1944 story by Colette.  And how about Freda or Freida?  Ready for a comeback, or still stuck in style limbo?
I agree with Angela – Clover is a name to watch.
Anna shares her recent name discoveries – I'd love to hear yours, too!
That's all for this week.  As always, thank you for reading, and have a great week!