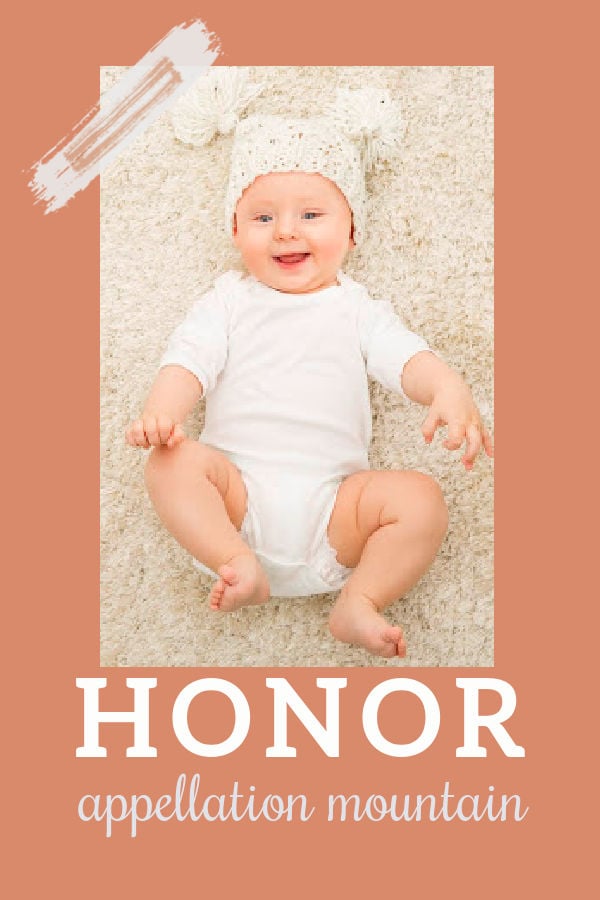 The baby name Honor combines vintage charm with our twenty-first century affection for word names.
Thanks to Ellen for suggesting our Baby Name of the Day.
IT'S AN HONOR …
Honor student, honor code, defending my honor, honorarium, it's a honor to be here today, all is lost save honor, the Honorable Judge presiding.
The word is well-used. It means honesty, fairness and integrity or sometimes esteem, respect, or distinction.
The Latin honorem evolved to the Old French honor; in Anglo-French, it acquired an extra vowel and became honour, only to shed it in the US.
It's remarkably unchanged in both meaning and spelling for nearly a thousand years.
HONORA and HONORIA
While we tend to think of virtue names as Puritan innovations, the baby name Honor's roots go far deeper.
Late in the Roman Empire, Flavius Honorius served as emperor. It's also the name of four popes, and a handful of saints from the early Middle Ages. The feminine forms Honoria and Honorina were heard, too.
Medieval Europe also gave us Honora, Honorata, Honoris, and spelling variations like Onora and Annora.
The Puritans likely embraced the name; it certainly fits with Constance, Faith, and Praise-God. But there's no notable woman (or man) by the name, so while we know that the name Honor was in use during the right era, it's not directly tied to the religious movement.
BALZAC and BLACKMAN
Nineteenth century novelist Honoré de Balzac might be among the best-known Honors. Feminine form Honorine remains in use in small numbers, too. Saint Honorina is traditionally considered a third century martyr from Normandy, which likely explains the popularity of this particular Honor name.
Fans of PG Wodehouse's Jeeves and Wooster series might think of Bertie Wooster's entanglements and occasional engagements to Honoria Glossop. That makes the name rather posh and very early 1900s.
There's also English actor Honor Blackman. In the 1960s, she rose to fame as Cathy Gale in The Avengers and then starred as Pussy Galore in James Bond movie Goldfinger. Galore flew airplanes, practiced judo and ultimately betrayed her evil henchman boss to help 007 save the day. Her career continued into the 1990s.
BY THE NUMBERS
In the US, Honor has never ranked in the Top 1000 for boys or girls.
For most of the twentieth century, a half-dozen or so girls received the name many years, along with the occasional boy. But unlike Grace and Felicity and Hope, this virtue name never quite caught on.
That started to changed in the early twenty-first century.
40 girls and 5 boys received the name in the year 2000.
And then in 2008, actor-turned-entrepreneur Jessica Alba welcomed daughter Honor Marie with husband Cash Warren.
By 2009, 103 girls and 36 boys received the baby name Honor. It peaked for girls a few years later, with 134 births in 2012 and 2013 each.
But it's never quite caught on, even as the younger Alba-Warren children's names – Haven and Hayes – have become quite stylish.
MODERN VIRTUE NAMES
Despite the baby name Honor's under-the-radar status, it could fit in well for a child born today. It feels vintage, but not quite as antique as Constance or Loyal. And while it's clearly a word name, it lacks the bravado of Maverick or Reign. It feels a little more traditional than something like Journey, too.
It's also trending unisex in recent years. As of 2019, 105 girls and 103 boys received the name. That marks a decrease for our daughters, and a new record for our sons.
In 2020, actor Kel Mitchell welcomed son Honor. The new baby joined big sister Wisdom.
For now, though the baby name Honor remains a choice somewhere between delicate heirlooms from another time and dramatic, meaning-rich picks fresh for the still-young century. It's easy to spell and pronounce, and there's no question it suggest admirable character traits, too.
Would you consider the baby name Honor? Do you like it better for a daughter or a son?
First published on July 6, 2008, this post was revised substantially and re-published on January 12, 2021.