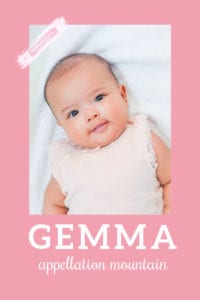 The baby name Gemma combines all the sparkle of Ruby or Emerald with history and substance to spare.
Thanks to Nessa for suggesting our Baby Name of the Day.
GEMSTONE
In Latin, gemma refers to a precious stone. The word is unchanged in Italian. In English, it's shortened to just plain gem.
It may have started out as an endearment before it became an independent name.
But it's recorded as a given name for centuries. Medieval Italian poet Dante Alighieri dedicated his poems to Beatrice, but he married the well-born Gemma Donati. That makes it a girl's name of Italian origin, and a shorter one than elaborate favorites like Francesca and Alessandra.
NIGHT SKY
There's more than one way to sparkle.
Stargazers can claim the baby name Gemma, too.
That's thanks to the constellation Corona Borealis, listed way back in the second century by Ptolemy. It's the northern crown – said to be gifted from the god Dionysus to the princess Ariadne.
Today we call the brightest star in the constellation Alphecca – or Alpha Coronea Borealis. But it was long known as Gemma – jewel or precious gem.
What else belongs in a crown?
SAINT GEMMA
Maria Gemma Umberta Galgani was born in a small town in Italy in 1878. Her family moved to a larger town for more opportunities, but illness and tragedy followed. By the age of eighteen, Gemma was orphaned and raising her younger siblings while working as a housekeeper.
Just a few years later, the always devout Gemma started to experience the stigmata – bleeding from her hands and feet, in imitation of the crucifixion. She died at the age of 25.
By 1933, Gemma was beatified. Her canonization followed in 1940.
JAMES and JEREMY
One more possible origin for the baby name Gemma comes via the classic James.
Once upon a time, Jem served as a short form for James. That means that Jemma – or Gemma – could be a perfectly reasonable feminine form. Of course, Jem also connects to Jeremy – as in, famously, Jeremy "Jem" Finch in To Kill a Mockingbird. So Jemma might be a feminine form of Jeremy, too.
BY THE NUMBERS
The baby name Gemma caught on in England in the 1980s.
Some of the most famous Gemmas are British. Actresses Gemma Jones (she played Madame Pomfrey in the Harry Potter movies), model Gemma Ward, ballerina Gemma Bond, and actor Gemma Arterton from Clash of the Titans, Quantum of Solace, and Prince of Persia.
But in the United States, Gemma remained rare during the twentieth century.
Only in the 1990s – while Jenna faded and Emma rose – did American parents begin to discover Gemma.
The original version of this post ran in 2008, when the name was new to the US Top 1000 at #889. It predicted that the baby name Gemma seemed "likely to do well in the next few years." An understatement, indeed. By 2011, the name had reached #356.
And as of 2021, the baby name Gemma stood at #191, making this a fast-rising favorite.
When this post originally ran in 2008, Gemma had just nudged into the Top 1000 at #889. I guessed that Gemma was "likely to do well in the next few years." That might have been an understatement. By 2011, she was at #356. That's a quick rise, fueled in part by her jewel box meaning, and in part by her similarity to recent chart-topper Emma.
As for Jemma, at #598, it lags well behind the G spelling. Though it's been used over the ages, too – there's Jemma Redgrave, for one, of the famous British acting family. (Though in her case, Jemma is short for Jemima, a problematic choice in the US.)
GEMMA DOYLE
Fans of American author Libba Bray might think of her trilogy, all set in the late nineteenth century and focused on Gemma Doyle. She's a young woman, sent  from British India to board at the mysterious Spence Academy following the death of her mother.
It turns out that all is not as it seems at Spence, and Gemma is connected to a supernatural legacy – and a tragedy that happened in the past.
The story unfolds over the course of three books, published in 2003, 2006, and 2007.
Name fans loved the series, with other characters called Pippa and Felicity. It's likely that some of the baby name Gemma's early use was inspired by Libba Bray's novels.
DAUGHTER OF ANARCHY
One of the reasons for the baby name Gemma's rapid rise?
Katey Sagal played tough-as-nails matriarch Gemma Teller Morrow on Sons of Anarchy. Maybe a motorcycle gang matriarch seems like strange inspiration for a baby name, but the numbers bear it out.
Sons of Anarchy debuted in 2008, the same year the baby name Gemma debuted in the US Top 1000. The original series ran through 2014. Spin-off series Mayans M.C. debuted in 2018, and Gemma has made a guest appearance.
A handful of other uses have kept the name in the public eye, too. In the UK, Gemma Atkinson appeared on long-running British soap opera Hollyoaks, along with other spin-offs and television series.
GEMMA CHAN
Gemma Chan is the latest to put the name in the spotlight.
The London-born actress graduated from supporting roles to stardom with Crazy Rich Asians in 2018, followed by Raya and the Last Dragon and The Eternals.
Chances are that Chan's success has boosted the name's popularity even more.
SPARKLING and SUBSTANTIAL
Of course, the baby name Gemma might've caught on even without the many pop cultures references.
We love Emma and Ruby, plus so many G/J names for girls. The baby name Gemma picks up on all of these trends and more.
For parents wild about Stella and Luna, but after something just a little less popular – but still perfectly wearable – the baby name Gemma could be exactly the right choice.
What do you think of the baby name Gemma?
First published in 2008, this post was revised substantially on December 10, 2012, and again on February 10, 2021 and January 11, 2023.