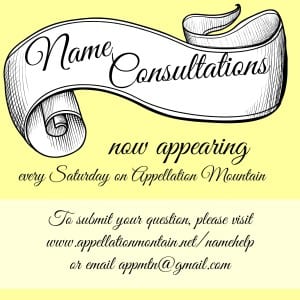 Name Help is a series at Appellation Mountain. Every Saturday, one reader's name questions will be discussed.
We're relying on thoughtful comments from the community to help expectant parents narrow down their name decisions. Thank you in advance for sharing your insight!
Dayna writes:
I am pregnant with my third and my husband and I are really struggling to pick a name for our little guy.
Our other two children are Jack Edward and Julia Reese. We are not
necessarily trying to keep with the Js, but the names we have been
thinking are Jude, Judah, Hudson, and Isaiah.
The middle name we have picked is Palmer and our last name is like Williams.
We really like the Biblical meanings of Jude , Judah and Isaiah. Hudson is probably our least favorite because of the meaning.
We have had Jude picked out since our first was born but we felt it was a boy name. I do not
really like that it has become so gender neutral.
My husband really wants to use Isaiah because of what that book of the Bible has meant
to him. I feel that Isaiah may not fit with our older kids' names. Judah just does not have the same kind of appeal to me that Jude, Hudson, and Isaiah have.
Please read on for my answer, and share your helpful thoughts and suggestions in the comments!
Hi Dayna –
Congratulations on your baby-on-the-way! I know what you mean about loving J names. J is the most popular letter for boy names, and second most popular for all names overall. There's just no shortage of great possibilities starting with J.
It sounds like your ideal name will have all (or at least most!) of these qualities:
A straightforward name, instantly recognized.
Classic(ish) but also current.
A boy's name should be clearly masculine, with no room for ambiguity.
Meaning matters! You would love a Biblical name, as long as the meaning appeals.
I'm tempted to encourage you to use Jude. While there were 113 girls named Jude in 2014, the usage for this name is overwhelmingly masculine – 2,564 boys were given the name. Jude is straightforward, classic-but-current, and there's the New Testament Jude the Apostle.
Except that Jack, Julia, and Jude feels like a theme, and if you should ever welcome a fourth child, well … I find it hard to imagine not using a J name after three in a row. Plus, Jack and Jude are close, and Julia and Jude share their first sound. So maybe Jude is a little bit too close to consider.
It sounds like Isaiah is a name that speaks to your husband, but just doesn't feel right to you. Normally, I'd suggest you use Isaiah as a middle. Is that still an option, or is it important to keep Palmer?
Let's look at some other options:
Judson – Yes, it's another J name. And like Hudson, it could be related to given names Hugh or Richard. Or it could come from an older, Anglo-Saxon name. It strikes me as a middle ground between Hudson and Jude, but then, Hudson's lack of a great meaning is a concern for you. So this might not be the right name, either.
Isaac – I can easily imagine siblings called Jack, Julia, and Isaac. Isaac shortens naturally to Ike, which might appeal. My only hesitation? Isaac Palmer like-Williams sounds great. But the initials I.P. might be a little awkward. (That's another strike against Isaiah, come to think of it …)
Luke – Luke is another impeccable Biblical choice, and one that feels very current, too. Can you imagine a kid who wouldn't want to share his name with Star Wars' original hero? Jack and Luke, Jack, Julia, and Luke. Lucas is another option.

Joshua – Chances are that you know some 20-somethings called Josh. The name peaked back in the 1980s, meaning that Josh is likely to be the dad – not the newborn! – these days. But that can be a good thing, and Joshua ranked #25 in the US in 2014, so it's still very current. Joshua has shares sounds with Isaiah, but feels more solidly masculine. Jack, Julia, and Joshua; Jack, Julia, and Josh. Of course, that's three J names again …
Asher – If meaning matters, it's tough to do better than the Old Testament name Asher. It means happy. I'm not sure it's quite your style, if only because it's not widely familiar – yet. Asher ranked #93 in the US in 2014, so while you might not know anyone with this name, a boy named Asher won't be alone.
Levi – Another Old Testament name with an appealing meaning – attached. But I've added Levi to the list because of his rugged, blue jean qualities, too. It makes Levi feel masculine, familiar, and very wearable. Jack, Julia, and Levi.
Thomas – Another approach might be to choose a rock solid classic. Thomas is another Apostle's name, and interesting, it's less popular than Levi, Joshua, or Jack at the moment. Bonus for train-loving boys: Thomas the Tank Engine. Jack, Julia, and Thomas; Jack, Julia, and Tom. I know two little Thomas. One is sometimes Tommy, but often Thomas. The other is always, always Thomas.
Finn – This might be a wild, not-your-style addition to the list, but what would think of a name like Finn? It's short and complete, and very boyish. There's something so cheerful about the image of Huck Finn! It's also the name of a hero from Irish legend. Finn follows the same general trend as Asher. You wouldn't expect to meet a 30-something Finn, but kids with the name? Everywhere.
Caleb – Caleb has been steadily popular in the US for well over a decade. The dominant theory is that it means dog; an alternate possibility is that it means whole-hearted. I've seen plenty of sites take qualities like faithfulness and loyalty, associated with man's best friend, and attach them to Caleb. If you're not troubled by possible canine ties, Caleb is yet another appealing Old Testament possibility. Jack, Julia, and Caleb. I think it works well.
From your list, I love Jude, but worry that it's too close to your older kids' names. I think Luke is my next favorite for you – both Luke Palmer and Luke Isaiah sound great. Levi and Caleb feel like good fits, too, especially Levi with his meaning. Levi Palmer, Levi Isaiah.
Readers, now it's your turn. What names would you suggest for a brother for Jack and Julia?