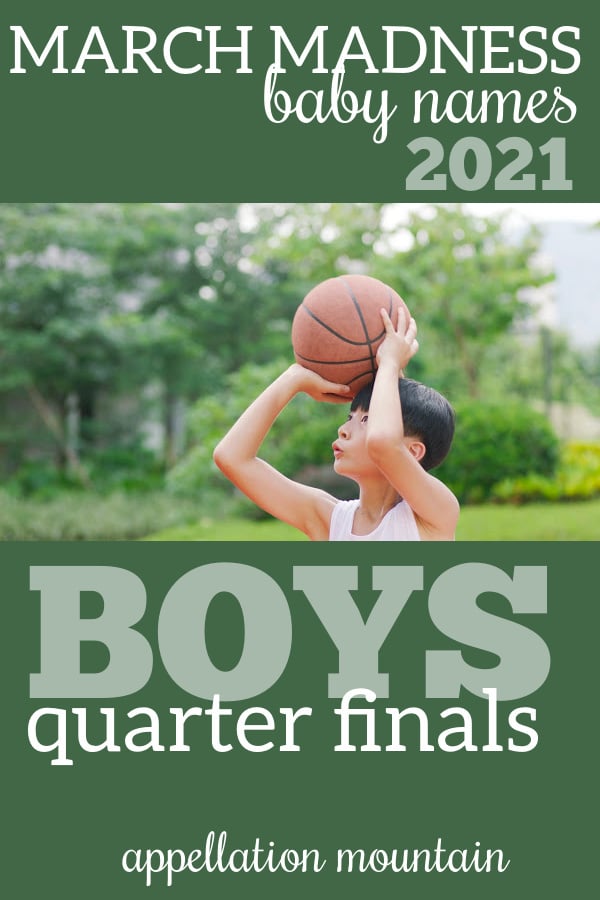 The first round is over, and we have eight names set to advance to the boys' semifinals in March Madness baby names 2021.
Before we get to the voting, let's look back at the results from last week's action.
We started out with sixteen names – all drawn from the most-viewed Baby Name of the Day posts during calendar year 2020 at Appellation Mountain.
That makes for some quirky names – as in, never ranked in the US Top 1000-level quirk. But some ready favorites make the list, too – and voting our way through them is endlessly challenging.
Ready? Let's see which names you put through to the quarter finals during last week's opening match-ups!
Reid defeated Phoenix.
With just a smidge over 70% of the vote, buttoned-up Reid defeated new age place-name Phoenix.
In the closest contest of this round, just a few votes put Palmer over Huxley.
Both surname names are up-and-comers, but it was Palmer that just barely squeaked past.
Raphael handily took out Torin.
A 61% victory isn't a rout, but it decidedly gives the edge to this classic name.
Otto trounced Arrow.
The two o-enders faced off, and it was vintage Otto that scooped up over 74% of the tally.
Wilder sailed past Koa.
The two trending newcomers both feel like we'll be hearing them more and more. But with 74.5% of the vote, it's Wilder that continues in the tournament.
Cove carries the day over St. John.
These two names are both kind of quirky + rare IRL. But Cove does generate lots of searches, and with nearly 66% of the vote, it's our pick over St. John, too.
Emrys decked Deckard.
With over 65% of the total, Emrys advances while Deckard goes dark.
In the biggest blow-out of the round, Hayes took down Endeavour. 
This really doesn't seem like a fair fight, does it? Hayes racked up well over 82% of the total.
THE QUARTER FINALISTS
That means Reid, Palmer, Raphael, Otto, Wilder, Cove, Emrys, and Hayes advance to the quarter finals.
It's your vote that decides what happens next!
REID v HAYES
PALMER v EMRYS
RAPHAEL v COVE
OTTO v WILDER
Polls will remain open until Wednesday, March 17th. Check back on Thursday, March 18th to see which of your favorites advance. And, of course, to vote in the next round!