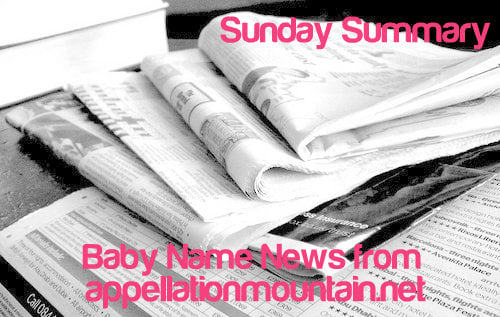 I finally settled down long enough to read the third installment in the Bridget Jones trilogy.  I hesitated – spoiler alert – because I really didn't want a Bridget without a Mark.  But it turned out to be my favorite installment, a quick read that answered lots of questions about what happens when Bridget + company grow up.
I mention it here, naturally, because of the names.  They're a delicious assortment.  Bridget's kiddos are William, called Billy, and Mabel.  And the kids' friends!  A galaxy of wacky and wild choices: Thelonius, Cosmata, Bikram.
It was almost worth reading for the names alone.
Elsewhere in the baby-name-o-verse:
If you haven't voted in March Madness yet, please do so!  The boys' quarter finals are posted here, and the girls' quarter finals are here.  Lots of close matches, and I can attest from the opening round that some of the matches that seemed like a lock in the beginning changed dramatically over the week.
Thank you for reading – and have a great week!