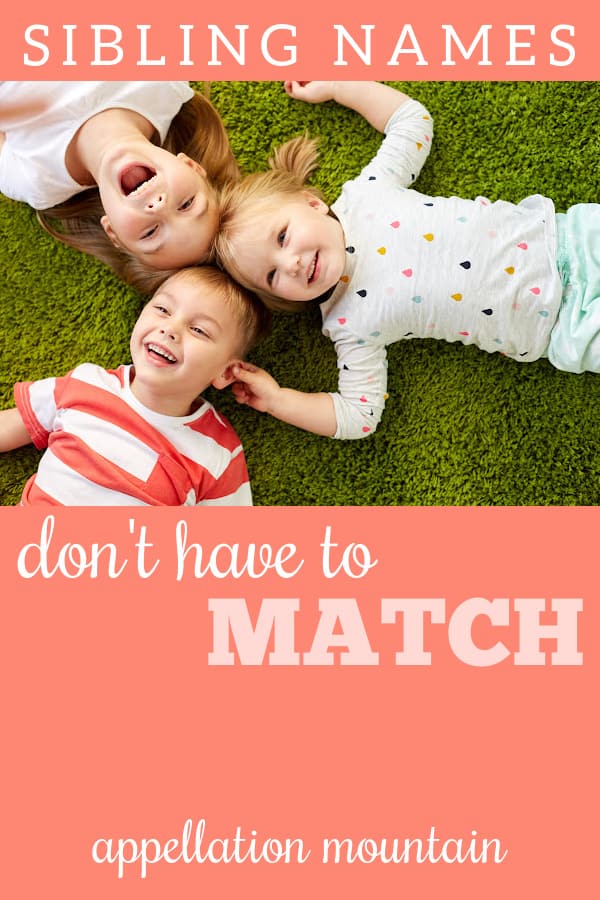 Sibling names don't have to match.
Yes, in the naming world we all talk about sibsests. And I do think there are advantages to thinking about matching: it makes it easier to pinpoint our favorites and name subsequent children. For the kids themselves, there's much to be said about fairness and feeling equally valued.
But, but, but …
It's easy to worry about matching in a way that makes it harder to choose names.
So here are six reasons to let go of perfectly coordinated sibsets … and choose names that you love instead.
CHANGES IN NAME STYLE REFLECT CHANGES IN OUR LIVES … WHY STAY STUCK?
Let's say you meet your partner in your mid-20s, welcome your first child a few years later, and then have your third (or fourth) in your late 30s.
You have lived SO MUCH in those dozen years. Of course you've changed! And the world has evolved, too. It's only natural that the names you love will reflect all of that … the external and internal differences between you at 28 and you at 38.
For many of us, these changes might include a new partner in parenting. While making sure that siblings in blended families feel connected matters, it's even more inevitable that our styles and priorities will shift – and that's absolutely fine.
THERE ARE LOTS OF WAYS TO MATCH.
When I first started writing about names, a sibset like Harper and Amelia would bother me. Amelia fits with antique revivals, while Harper is a modern, unisex-style surname name. Of course, that's only one way of looking at it. They're also both very popular choices. If your style is mainstream favorites, it's easy to imagine Harper and Amelia both appealing.
It's also true that, if you think of Harper as a nod to the author Harper Lee, that does make the name feel more vintage.
THE STORIES BEHIND NAMES CAN MAKE UP FOR SURPRISING SIBLING NAMES.
Along these lines, sometimes the most mismatched pairings are actually beautifully coordinated. Maybe your daughter is named for her grandmother, Gloria. And your son is named for his grandfather, Bennett. It just so happens that one name is a little off-trend and the other is quite current. But tell the stories, and it's obvious that both names are perfectly paired.
Likewise, names are sometimes chosen because they work across two languages or cultures. Unless you're familiar with the context, sometimes those names can seem mismatched to an outsider. But within their community, they're exactly right.
NICKNAMES OFTEN EVEN OUT MISMATCHED LENGTHS.
One daughter is Anastasia, and her sister is Grace. That sounds like one sister was shortchanged a few syllables … but maybe in everyday life, they're called Ani and Gracie, and they're actually quite coordinated.
Families are creative, language is flexible, and we often unconsciously shift our names to fit a pattern that emerges over time.
SAY ANY SET OF NAMES TOGETHER OFTEN ENOUGH, AND THEY'LL START TO SOUND LIKE A SET.
Often partners' names don't quite match at first. Mary marries Taylor, maybe. But we get used to the names as a duo, and over time, we forget that one is traditional and old-fashioned; the other modern and androgynous. They're just Mary and Taylor.
This is equally true for siblings. There's probably some family in your life with kids called James, Andrew, and Maverick. At first, Maverick raises an eyebrow. But a few years pass, and it's just a list of your cousins' kids. The similarities – maybe they all share the same wild, curly hair or play the same sport – outweigh the different style of that youngest sibling's name.
RULING OUT THE NAME YOU LOVE IS ALMOST NEVER THE RIGHT CHOICE.
Parents sometimes say, "Our favorite name is Magnolia, but our older girls are named Sloane and Maren, so wouldn't Magnolia feel like an outsider?" Maybe. Possibly.
But is it really better to name your daughter Hutton or Everly just because everyone else thinks it matches better?
Our lives are, so often, collection of things that don't necessarily make sense. The music major who ends up working in finance. A world traveler who ends up settling in small town Idaho. We're not required to adhere to a rigid, internal consistency.
Use the idea of matching if it helps you. And when it becomes a road block? Blithely ignore the rules and know that it will all work itself out.
Because names given in love will always match.
Have you struggled with matching your children's names? How did you resolve the issue?