We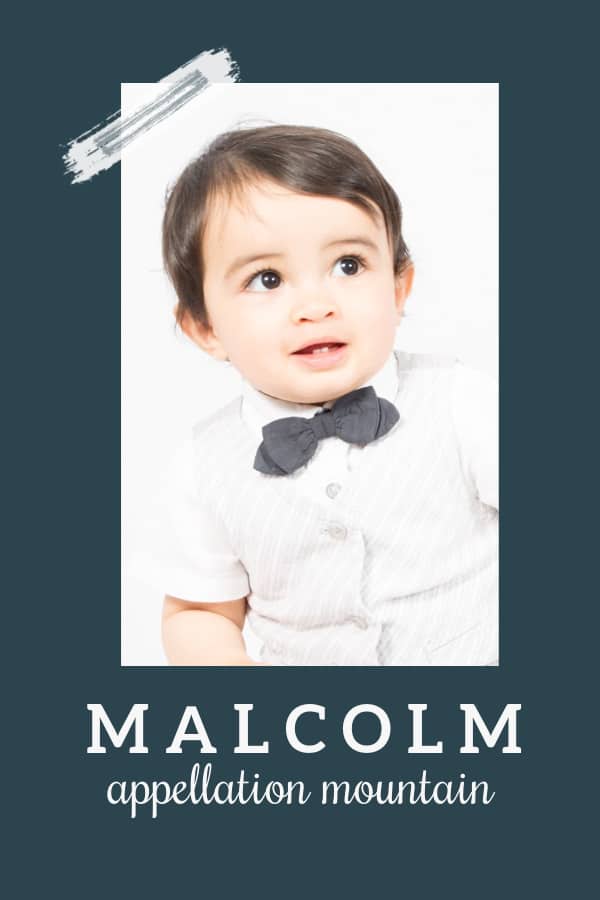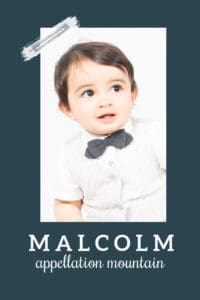 The baby name Malcolm qualifies as a quiet classic for a son.
Thanks to Lola for suggesting our Baby Name of the Day.
SCOTTISH KINGS
The baby name Malcolm qualifies as a Scottish heritage choice.
It comes from Mael Colium, follower or disciple of Saint Columba.
Columba is credited with converting Scotland to Christianity. It's also the source of Colm, Calum, and Callum, too.
The saint crossed into Scotland around the year 563, establishing an influential abbey to support his efforts.
Columba means dove. It's a symbol of peace, as well as the Holy Spirit in Christianity.
So the meaning of the name Malcolm connects with these ideas: peace, as well as all that Columba stood for, and his status as a significant figure in Scottish history.
Between 943 and 1165, four kings of Scotland answered to Malcolm, too.
SHAKESPEARE
The real life Malcolm III inspired events in Shakespeare's Macbeth.
If you remember the tragic tale, Duncan is the king of Scotland, and Malcolm is his older son. Macbeth is a loyal general in the king's army.
If we didn't think of this name as specifically Scottish to begin with, Malcolm's status as a son of Duncan in the famous play would almost certainly make it so.
WORLD-CHANGING MALCOLMS
But something happens as we move into the twentieth century. The given name Malcolm remains in steady use, for an ever wider range of world-changing men.
Some of them are pop culture sensations. There's the manager – and mastermind – of punk legends The Sex Pistols, Malcolm McLaren.
AC/DC co-founder Malcolm Young is another musical reference.
Actor Malcolm McDowell starred in everything from from Stanely Kubrick's 1971 A Clockwork Orange to 1994's Star Trek Generations.
We remember entrepreneur Malcolm Forbes as the publisher of his family's magazine, Forbes.
But there are a few who are even better known.
MALCOLM X
Born Malcolm Little, the African-American Muslim preacher and civil rights activist became internationally known during the 1960s. Malcolm X served as a spokesman for the Nation of Islam, believing that adherence to the Muslim faith was consistent with Black empowerment.
During his conversion to Islam, he dropped the surname "Little," instead adopting X. The X symbolized his unknowable African ancestors, their history lost to slavery.
Over time he became disillusioned with the Nation of Islam, studying Muslim teachings independently. After completing a pilgrimage to Mecca, Malcolm X adopted the name Malik al-Shabazz – but in the popular imagination, he's always been Malcolm X.
The schism between the Nation of Islam and its former member led to death threats and his 1965 assassination. All these years later, there's still debate about exactly who was responsible for his murder.
The Autobiography of Malcolm X was published posthumously, less than a year after his death.
In 1992, Denzel Washington played the activist in a biopic, earning an Academy Award nomination for Best Actor.
There's a boldness and strength to the baby name Malcolm, thanks to the activist.
MALCOLM GLADWELL
In recent years, journalist, best-selling author, and podcaster Malcolm Gladwell has become difficult to avoid. His work often shows that our conventional thinking is wrong, and reveals hidden truths about how the world really works.
Gladwell investigates everything – including his own name, leading to this comment:
"Malcolm seems substantial. It's not a fly-by-night, suspicious name. It's sturdy, forthright."
Agreed.
POP CULTURE
Plenty more Malcolms come to mind, including:
Malcolm Jamal-Warner, the only brother in The Cosby Show. His character's name, Theo, has become one of the hottest of this moment. Is that down to a generation of kids who grew up watching the sitcom in re-runs during the 1990s?
Popular Fox show Malcolm in the Middle ran during the early 2000s. The super-smart title character, played by Frankie Muniz, made the name almost cuddly.
It's a go-to name in the Harry Potter series, worn by six separate characters, ranging from a Hufflepuff Quidditch player to a friend of Dudley's in the non-magical world.
While we're visiting alternate universes, how about Firefly and Serenity? The space Western includes Captain Malcolm Reynolds, played by the dashing Nathan Fillion.
BY the NUMBERS
We don't necessarily think of the baby name Malcolm as a classic. And yet, it's appeared in the US Top 1000 every year since the rankings were established in 1880. Then again, it's never cracked the US Top 100 – which makes it easier to overlook.
As of 2021, the name stands at #282. It's a great choice for a traditional name that everyone recognizes, but relatively few boys will share.
FORTHRIGHT and CAPABLE
What Gladwell said about his name rings true. It's a solid choice for a son. Traditional and reliable. We expect our Malcolms to be capable, too, whether that means piloting a starship or reporting on the 10,000 hours required to become an expert.
If you're crushed that classics like Theodore and Henry are so very popular, the baby name Malcolm could be the substitute you seek.
What do you think of the baby name Malcolm?
Originally published on September 19, 2008, this post was revised and re-posted on September 8, 2014, and again on July 19, 2022.