Name Help is a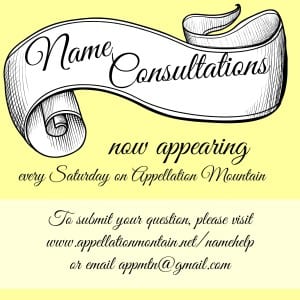 series at Appellation Mountain. Every Saturday, one reader's name questions will be discussed.
We're relying on thoughtful comments from the community to help expectant parents narrow down their name decisions. Thank you in advance for sharing your insight!
Amy K. and her husband are adopting!  Older siblings are:
Vivian Ruth
Wesley William
Their new son is joining their family from China, and they're leaning towards keeping his birth name as a middle name, especially if it appears to be especially meaningful.
What they're looking for in a first name:
A name that goes well with Vivian and Wesley
Probably not in the Top 100
Amy K. described their taste as "literary and classic."
Read on for my advice … and please share your suggestions in the comments!
Hi Amy K. –
Congratulations on your new addition!
Maybe the challenge in finding the right name is this: a classic name that's not currently in the US Top 100 is on plenty of parents' wish lists.  Which tends to push the names that qualify into the Top 100.  My first thought was Oliver – as in Twist and Wilde.  But Oliver ranked #52 last year. Henry?  #37, and I won't bother counting the many Henrys that we know.
Except you nailed it with your son's name, Wesley.  Because not so far beyond the US Top 100, there are lots of names that feel familiar without being common.  Happily, there are tons of names that hit the sweet spot between Oh, we know three other kids called that and Is that even a name?
Let's start with some possibilities that I've definitely heard in use, but not so frequently to think that they're too popular:
Sawyer – How do you feel about surnames as given names?  It's hard to hear Sawyer, and not think Tom, as in the enduring Mark Twain character.  Definitely points for literary appeal, but maybe this one doesn't rank high enough as a classic.  Plus, at #120 and rising in 2013, I think Sawyer might feel slightly more popular than you'd like.  But Vivian, Wesley, and Sawyer has a certain appeal, so I'll leave this one on the list.
Jude – Thomas Hardy makes this name impeccably literary, though Jude Fawley's life is an unhappy one.  Then again, most people will think of the Beatles song or Jude Law.  And the name's meaning is lovely: praised.  Ranked #162 in 2013 and holding steady.
Theodore – This name is ancient, presidential, and yes, literary, thanks to American novelist Theodore Dreiser.  Do you shorten Wesley to Wes?  Vivian, Wesley, and Theodore, or Viv, Wes, and Theo if you're into nicknames.  Theodore ranked #170 in 2013, and has been getting lots of attention – but he's still a great alternative to more popular names like Oliver and Benjamin.
Miles – I can't think of a great literary Miles, and yet I think Miles still strikes the right note.  Miles sounds smart, doesn't he?  At #115 in 2013, Miles also seems to have reached a comfortable plateau.
Ezra – Ezra, on the other hand, is instantly tied to poet Ezra Pound and children's book author/illustrator Ezra Jack Keats.  Ezra ranked #140 in 2013, and I think it's got a great sound with Vivian and Wesley.  Vivian, Wesley, and Ezra.
Simon – Simon leans a little more classic than Ezra or Sawyer, doesn't he?  The name is huge in Europe, qualifies as an under-used classic in the US, ranking just #229 in 2013.
Elliot, Elliott – Oh, Elliot, with your one 't' or two spelling challenges!  The one 't' spelling is currently slightly more popular, but the 'tt' gained considerably in 2013.  Both spellings rank in the mid-200s.  If you can settle on a favorite, this name sounds like a potential match with your kids' names: Vivian, Wesley, and Elliot.  Or Elliott!  Or Eliot – the spelling of poet T.S. Eliot's surname.
Peter – How can it be that Peter, champion of the children's section of the library, is so little used?  From Peter Rabbit to Peter Pan to Peter Pevensie, there are lots of likable Peters.  (And let's not forget Spider-man, Peter Parker, or Guardians of the Galaxy's Star Lord, Peter Quill.)  Peter ranked a mere #208 in 2013, hitting that classic-but-not-common sweet spot.
There are a few less common names that also seemed worthy of consideration:
Atticus – To Kill a Mockingbird has sent Harper to the top of the popularity charts for girls.  Meanwhile, Atticus has gone from obscurity to the US Top 500.  It's instantly recognizable as a literary name, and despite limited use, I think it feels classic, too.
Hugo – I thoroughly expected The Invention of Hugo Cabret and the award-winning movie adaptation to make Hugo the next Leo.  It hasn't happened.  Hugo ranks in the US Top 500, but the name has hovered around the 300s or 400s for over two decades.  Vivian, Wesley, and Hugo.  If you're open to boys' names ending in 'o', I think Hugo is a great choice – familiar, but seldom heard.  And with a long history, it would be impossible to argue that Hugo was anything other than a classic.
My sense is that you're not using nicknames for your older two children, and I think that's probably why my favorites are Ezra, Elliot, and Hugo.
But I know others will have lots of great suggestions and comments, too!
Readers, what would you name a brother for Vivian and Wesley?