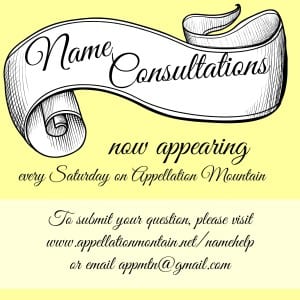 Name Help is a series at Appellation Mountain. Every Saturday, one reader's name questions will be discussed. (What's that? It's Sunday, you say! Well yes. Yes, it is. During March Madness the consults are bumped a day.)
We're relying on thoughtful comments from the community to help expectant parents narrow down their name decisions. Thank you in advance for sharing your insight!
Jamie is a self-described rocker chick with "lots of tattoos."
She's trying to name her first child – we're looking for boy and girl names – and isn't sure where to start, except that she'd like some real rock'n'roll style to her child's name.
The last name is two syllables and sounds like Jody with a K.
Read on for my response – and please share your thoughtful comments and suggestions below!
Hi Jamie –
Congratulations! I think I know a little bit of what you're going through. Your first trip into a baby superstore can be sort of shocking – lots of pink, blue, fuzzy yellow ducks. If your life has been more rock'n'roll than rock-a-bye baby, it can leave you wondering where you fit in, and whether you've got to trade black leather for pastel pink.
The good news? It's easier than ever to be true to your personal style while pregnant and parenting. One of my favorite new mom memoirs is Rockabye: From Wild to Child by Rebecca Woolf, the blogger behind Girl's Gone Child.
It's especially possible to be true to your style when it comes to baby names.
Rocker style isn't a lot to go on, but here's how I'm reading it:
Probably outside of the mainstream – nothing Top Ten, and probably not a Top 100, even if the name has a cool, edgy style.
A short, no-nonsense sound. No reason Benvolio can't be a rocker, but I'm not feeling it.
Something slightly daring and edgy. Cordelia isn't in the US Top 1000 at the moment, but that's a lacy, literary choice – not quite the style I imagine you'd like.
Rocker Names: Boys
There are lots of surname names associated with legends from rock'n'roll. But they might be more mainstream than you'd like – Lennon, Marley – or possibly not your flavor of rock – Crosby, Dylan.
Assuming that you're looking for something slightly more on the edge:
Sid – As in Vicious. No, he didn't have a happy ending. Atallwhatsoever. But his name is retro, edgy, unusual. At the same time, it's not so out there that it couldn't be worn in everyday life. Boys are named Max and Gus, so why not Sid? Actor Jason Biggs gave the name to his son last year.
Strummer – As in Joe, of The Clash. Two positives for Strummer – first, it's a much less ambiguous musical legacy – no dark endings. Second, Strummer is obviously after Joe, but unlike Lennon, it might not be instantly recognizable as a hero name. If you're a fan, it's a name that works.
Bix – Okay, Bix Beiderbecke was a jazz musician, so we're in the wrong genre. But Bix is an interesting possibility, isn't it? Jax (and Jaxon and Jaxson) are all the rage, and Max (and Maxwell) have been huge. Bix is much less expected, but picks up on the same trend. Three others in this camp: Rex, Fox, and Dex.
Hurley – Hurley is best known for their surf gear, but there's something about the name that feels carefree and cool. Bob Hurley was the founder of the company, though it's been owned by Nike for the past few years. Another with a similar feel: Huxley.
Ivo – Think saints' names can't be cool? Nothing could be further from the truth! I'm a big fan of Ivo. The saint was a lawyer who advocated for the poor. He's also called Yves. Ivo has lots of current sounds – the 'o' ending, the middle 'v' – but is unexpected. Others in this category: Arlo, Maceo.
Now, for a girl:
Cleo – My daughter is called Clio, so I'm partial to this name – and really, all ends in 'o' names for girls. They're quirky and unexpected, and definitely cool. Some, like Marlo, feel retro. Cleo actually was fairly common in the early twentieth century, but has faded since then. Others with this feel: Juno, Echo, Marlo.
Djuna – The D is silent. No, really. It was the name of poet Djuna Barnes, invented by her starving-artist father. It's an offbeat, bohemian name. Another daring possibility: artist surname name Kahlo.
Dree – The Hemingways are stand-out namers. Mariel Hemingway – granddaughter of Ernest – named her daughters Dree Louise and Langley Fox. Dree could be a creative spin on Bree, or it could be short for Andrea. Either way, it's a cool, modern possibility for a girl.
Leta – Blogger Heather Armstrong's daughter Leta Elise put this mythological possibility back on the map. It's usually spelled Leda in Greek myth – either spelling works in American English. Leta/Leda brings to mind Lena, as in Dunham, as in Girls, which has a lot of cool style, too – but is much more common.
Liv – Tailored, simple, and with a great meaning – life – Liv feels like an edgy name with plenty of substance. There are lots of slim, trim names for girls, and while some might feel too prim for your tastes – I'm not sure Bess is a rocker name – it's another good place to start.
Readers, what do you think? Are there names that feel edgy and cool that you can suggest to Jamie?